Sound Of Victory Expression holds on Sunday December 15th, 2019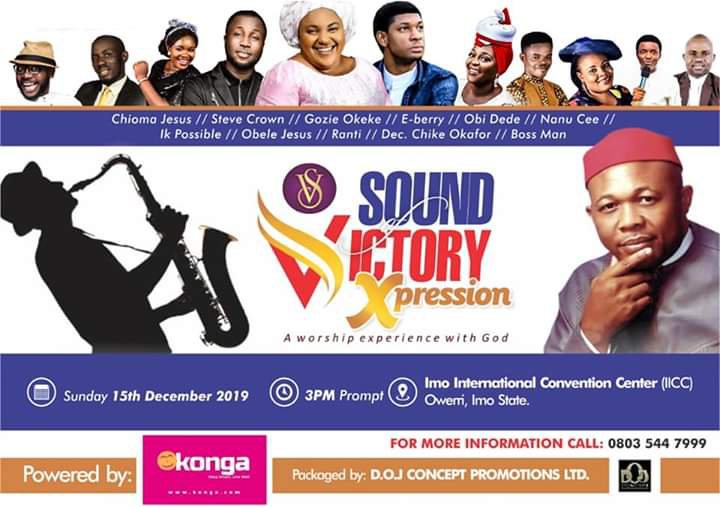 Sound Of Victory Expression holds on Sunday, December 15th, 2019

Are you depressed?
Are you emotionally down?
Are you financially crippled?
Are you passing through a hard phase of life?
Then, the Sound of Victory Expression is specifically and specially organized and created for you.
Have you been to Sound of victory before?
If your answer is NO, then my dear you have missed out, but that you can recover with the sound of victory expression.
It is going to be a straight 4 hours of praise and worship experience with no interruption.
Sound of Victory is not a religious gathering nor a church gathering, it is a platform for the willing mind and soul to praise God. We ask for nothing in return just come and praise God however you wish to praise him.
Sound Of Victory Season Expression promises to be glory filled as we will be having the likes of Chioma Jesus, Steve Crown, Gozie Okeke, E-berry Akalonu, Obi Dede, Nanu C, Ik Possible, Obele Jesus, Ranti, Dec. Chike Okafor, Bossman and many more minister ready to lead us to the Glory of God.
TIME: 3 pm WAT
DATE: Sunday, December 15th, 2019
VENUE: Imo International Convention Center (IICC) Warehouse, Owerri
Don't miss it!!!