The OZB Carnival 2019

It's about that time again, that date OZB picks a winner from every category and changes his/her life for the better.
It's #ozbcarnival.
We shall have as usual: Music talent Hunt, Dancing, Competition.
Nkwerre/Isu, Nwangele/Njaba are you ready?
We are hitting it up on the 30th…
Let's do it togetther, last year was hot,
This year promises to be fire.
#datmediagal will be covering it live and directly from the stage
Where are my potential winners?
Start turning up, Because Hon. Ugonna Ozuruigbo aka OZB has sworn to keep you smiling all your life…
Special Act by: Slowdog, Mc Tboy, Vigo, Skoa (USA), Chief Imo, UC Flamez, Spice Girls, Snaz Beat, British Pastors, Hyper Mc, Onye Army, Mc Zuby, Dance Extreme, Nonso Nkwa and Many more.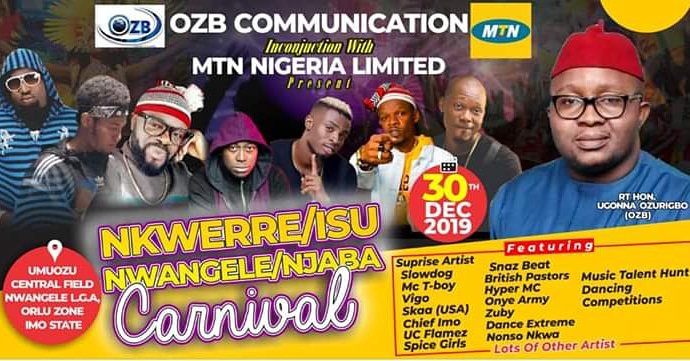 Follow us on our Facebook page: The OZB Carnival
Date: December 30th 2019.
Venue: Umuozu Central Field, Nwangele L.G.A Imo State.
#Ozbcanival
#ozby