OZB's Carnival 13th Edition was a success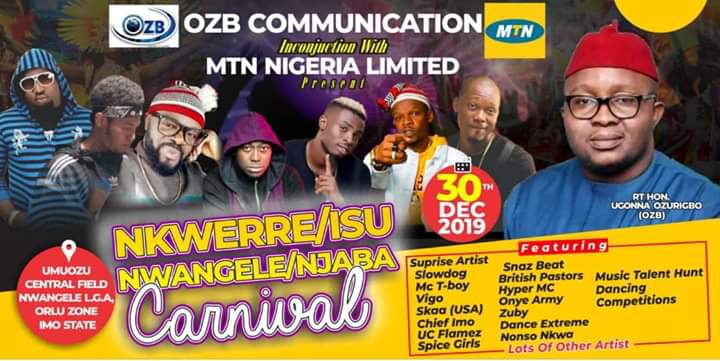 OZB host his people again as they celebrate their Carnival 13th Edition

The member representing: Isu, Njaba, Nkwerre, and Nwangele hosts his annual Carnival in style! This time around it was not just for Nwangele LGA but he went as far as including the other LGA's that he is representing.
Rt Hon. Ugonna Ozurigbo (Enyioha) born on November 26, 1976, is a Nigerian politician, served as a Deputy Speaker of the 8th Assembly of the Imo State House of Assembly.
On April 11, 2015, he was reelected by his people for another term in the Imo State House of Assembly. In the 7th Assembly, he was the House Chief Whip. He chaired, co-chaired and was a member of many committees. In the 8th Assembly, he was elected Deputy Speaker.
In the year 2019 general elections, Ozurigbo was elected to the Federal House of Representative to represent Isu/Njaba/Nkwerre/Nwangele.
Quingist Media was there to capture the carnival. The likes of Engr. Obinna Ozurigbo, Hon. Barr. Pascal Onwukaike, MTN Nigeria Boss,
Performance from: Spice girls, Skaa (USA), Vigo, Onye Army and band, British Pastors, Chief Imo & Anty Maggi, UC Flamez, Slow Dog and many others were there to thrill the crowd, and MC Tboy was the official Master of ceremony, he held the microphone ensuring there was no dull moment.
From the talent hunt, Dance competition in male and female categories, 2motorcycles were given aware, 2 refrigerators, 2 generators, Money and phones were also won.
Rt Hon. Ugonna is a man with a large can and he has won the heart of his people through his generosity. To the people of his constituency, with Ozb the sky is the stepping stone. They even went as far as promising him the governorship seat come 2023 and Presidential after.
OFFICIAL PICTURES LOADING: