IMO GUBER SUPRME COURT JUDGEMENT; THE VICTOR AND THE VANQUISH BY AWURUM DARLINGTON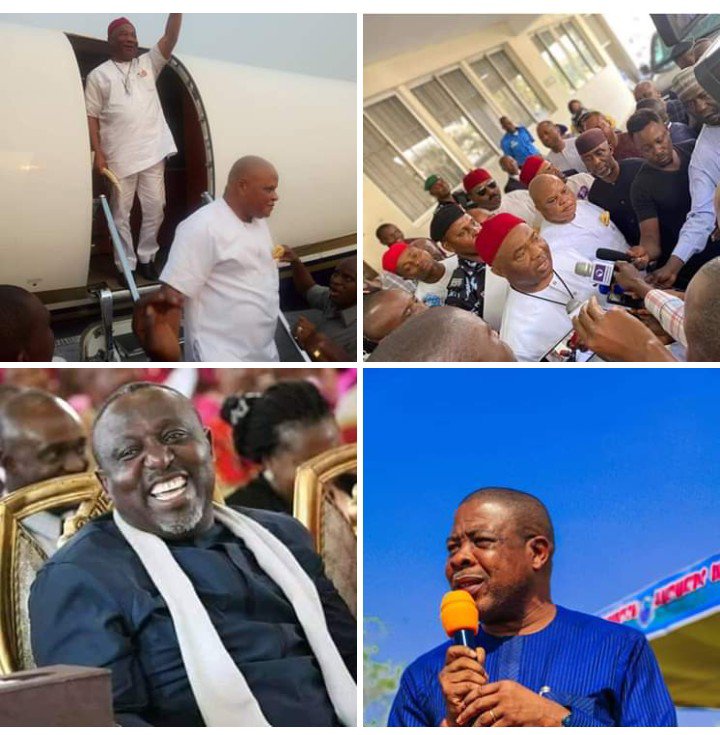 IMO GUBER SUPREME COURT JUDGEMENT; THE VICTOR AND THE VANQUISH.
… a justified political ambush; the victim is as guilty as the mob.
A new twist in our political landscape and history, a new political precedence, it was a mob justice, an ambush of the law. But, are we happy with this development? The fact is, it has happened and the Victors should be magnanimous in victory, while the vanquished will be allowed to heal. The victim is as guilty as those who mobbed him. There's always a lesson to learn from such incidents. This world is not our own.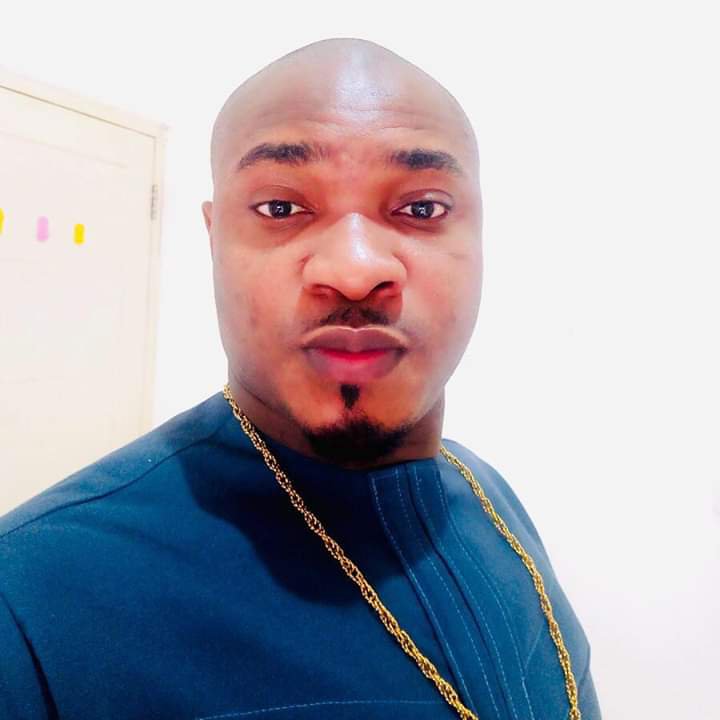 If you can remember, immediately after the general elections in Imo State, I made an open statement not to support or identify with the litigants and their ongoing litigations respectively, and I kept that promise up until this moment. The reason is not because I was comfortable with Chief Ihedioha or his style as Imo Governor, neither was i his fan, but I wanted political stability in Imo, and an undistracted opportunity for him to attend to Imo many Problems as glaringly facing the ordinary citizens.
But if you watched closely too, at a time, I stoped writing about the Rebuild Imo government, when to my disappointment, I found out the government wasn't vision-driven, just as always. Yes, from a distance, you would admire the Mbutu born former Deputy Speaker's style of governance because, he took over from an administration that lacked due process and good branding.
Imolites were like a man locked in the dark for several years that suddenly saw the light from a lamp.
From destruction of Okachi tower, we landed at 27 Stadia and the same people who criticised 27 general hospitals, applauded 27 stadia. It was a different style of madness to me. From 27 stadia, we landed at 27 LGA Secretariats, and the same people who condemned 27 LGA Chapels, applauded it. I lost interest. Na still dem.
The Rebuild Imo government stepping into the leadership court, met several challenges facing Imolites, but opted to chase their impaired dreams just to retire funds. There was no assessment of damages and how it was harshly affecting the masses directly, and how to lift off the heavy burdens from them as quickly as possible.
They immediately resurrected all the political ancestors who served under Mbakwe, Evan Enwerem and Achike Udenwa. The youths were sent to the Internet to bully us and cast aspersions on the previous government, and even blame their numerous incompetence on them.
Awarding roads for construction, building blocks and edifices here and there, isn't the main barometer to measure good governance. But, what do we know? The naive and unenlightened were busy applauding road constructions and snapping Stadia up and down for a government squandering billions of our federal allocations and IGR.
No governor can boast of road construction and block works in Imo State better than Rochas Okorocha. Where are the roads and what are the direct impacts of those edifices to ordinary Imolites? I thought the Rebuild Imo would take a leave from that style. I was disappointed.
The Rebuild Imo administration hit the ground running without a single clear-cut policy for the youths. There were no policies promoted at least for the Youths, it was about the old tradition of building blocks and putting bulldozers here and there.
We are faced with several moribund/ dilapidated institutions like Adapalm, Imo Shoes, Imo Newspapers, Avutu Poultry, Imo Smelter factory Inyishi, Imo Teaching Hospital, destroyed urban and rural markets all over Imo State LGAs, to mention but a few; life was and still difficult for ordinary Imolites. A few of these institutions if fixed with all the monies spent on useless stadia, would create thousands of Jobs, better than the Stadia would have created professional footballers and unprofessional gardeners etc. He was a Kilomiti Governor too.
WHAT WERE THE POLICIES TO affect the lives of the citizens directly?
An old woman in my LGA have a right to living a good life in a state she spent her youthfulness paying taxes; of what use is a road beautifully constructed in Owerri to her when she doesn't have a car nor visit Owerri twice in a year?? Then how can the government she voted benefit her? ONLY THROUGH GOOD GOVERNMENT POLICIES! The rural dwellers are the bigger victims of bad governance.
In as much as I am not completely at peace nor very comfortable with this present reality, I am not disturbed by it either. The former governor and those who worked with him directly and by proxy, came with a different style of madness and approach entirely. They refused to walk on the ground.
The former governor seemed calm in the public (I don't know his actions off cameras), but he had bullies working with him, from his Deputy, State Secretary, illegal Recovery Team and to his internet warriors.
What happened at the Supreme Court was a pre-informed gangup and highjack of political process, just as the Mbutu former Deputy Speaker systematically highjacked the governorship election. You can't be demanding equity when your hands are not clean.
Sometimes we are blindfolded by emotions and on the other hand, pride, which doesn't allow us think rationally to tighten loosed ends.
The signs were glaring, but how is it possible to understand these signs while busy bragging about kicking people out of PDP to APC and knowing Abuja more to influence what the court decides?
Okorocha's Suspension from the party was lifted and you didn't think.
The Coalition regrouped and you saw no danger.
Mbaka Spelt it out on ABCD simple format; as he was Pre-informed to do. You bullied him for the expo he gave freely.
Uche Nwosu declared willingness to support the winner.
Were you thinking Uche Nwosu made that statement to support Chief Emeka Ihedioha after all he did to him, his wife and father in-law??? You guys didn't think at all.
You played opposition for years, yet you were not magnanimous in victory. Today, we have seen the table turn around again and you are back to your opposition status. It should be a lesson to all of us, including those to work with the new government.
Chief Hope Uzodinma should do well to work with vibrant men of action and vision (Street Credible Youths and not Bouncers), the expectation is high and he must work to deliver as the Governor of Imo State, not as a governor of Owerri municipal, Orlu town or Okigwe town.
Security should also be of paramount interest to him, if not, I see a lot of people taking advantage of his position to make the state ungovernable for him. I see the 1996 era returning back to Imo. God forbid!!
I wish him well and also advise his followers to be magnanimous in victory. Nothing lasts forever.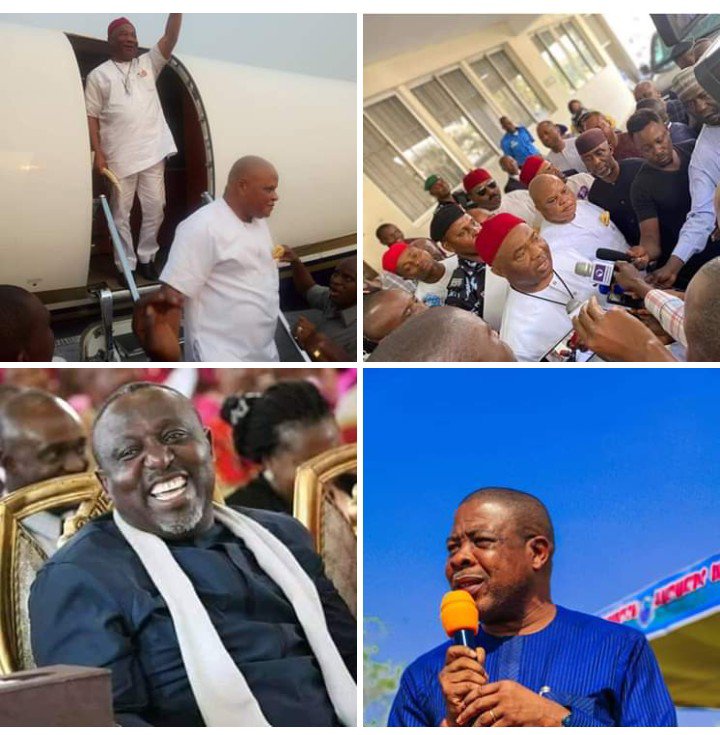 May Imo State Progress.