Clash of Queens Commission presents Queen Of Achievement World 2020/ Award Night.
Clash of Queens Commission a branch of Sempe Obodo Production, the organizer of Imo International Keep Fit Marathon Race & Dance To The Throne, Ukwu Nwanyi Owerri Pagent, and many others.
Is here again with another bomb, QUEEN OF ACHIEVEMENT WORLD 2020/ AWARD NIGHT.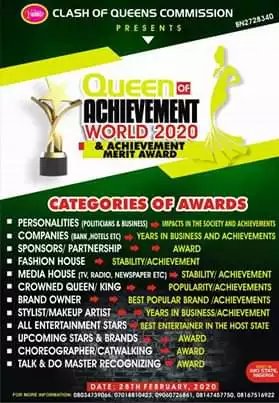 The winners of the pageantry go home with a brand new car, cash prizes, and other endorsements.
TICKETS AVAILABLE ARE:
Regular: 1k
Couple Special: 2,500
VIP: 5k
Table for 2: 25k
Table for 4: 50k
Silver: 100k
Gold: 150k
We will also have an award session where your talents will be appreciated, we are not selling the award it's strictly by merit.
There will be an awesome amazing performance from Imo born talents, in comedy and music.
So hurry now and get your tickets
Date: 28th February 2020
Venue: ICE Event Center, plot 9A/B ICE road, beside Saga Suites New Owerri, Imo State
Time: 7:00pm
For more information and sponsorship call: 07030090163, 07018810423, 09095385154 or check flyer.
Be there, yours truly will be there too. Join me.