FAREWELL NDUBUISE EMENIKE, OTOTONWA. A DREAM HAS BEEN CUT SHORT!!!
With tears in our eyes, a deep sense of loss but in total submission to the Almighty God.
The family of Professor E.U. Ndubuise of Umuduru Nsu Autonomous Community in Ehime Mbano L.G.A. Imo State, announce the painful and sudden death of their son, husband, father, brother, uncle and inlaw Engr. Ndubuise Emenike (A.K.A.) Ototonwa eji eme on.
Who was brutally taken away on the 26th of January 2020. 1985 – 2020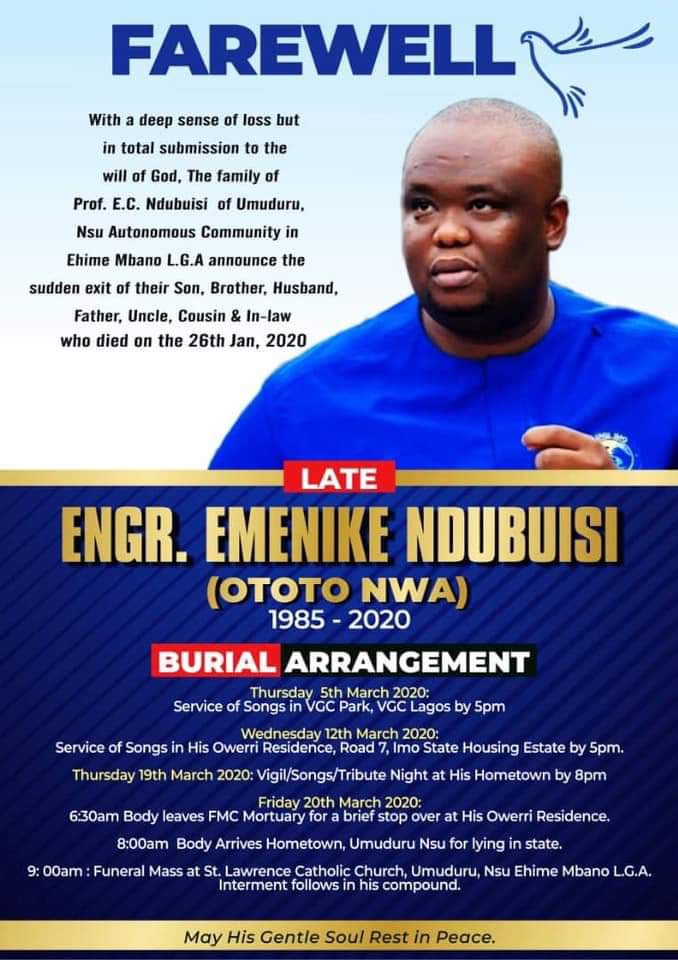 BURIAL ARRANGEMENT:
Thursday 5th March 2020: Service of Songs in VGC Park, VGC Lagos. Time: 5pm
Wednesday 12th March 2020: Service of Songs in his Owerri Residence, No 7 Imo Housing Estate. Time 5pm
Thursday 19th March 2020: Vigil/Songs/ Tribute night at his hometown Ehime Mbano. Time 8pm
Friday 20th March 2020: 6:30 am, body leaves FMC Mortuary for a brief stop in his house, proceeds to his hometown. 8:30 am, the body arrives at his hometown for lying in state. 9:00 am, funeral mass at St. Lawrence Catholic Church Umuduru Nsu in Ehime Mbano L.G.A.
Interment follows immediately. Rest on Ototonwa.