APC crisis thickens as Emmanuel Ibediro is sacked as the National Organizating Secretary of APC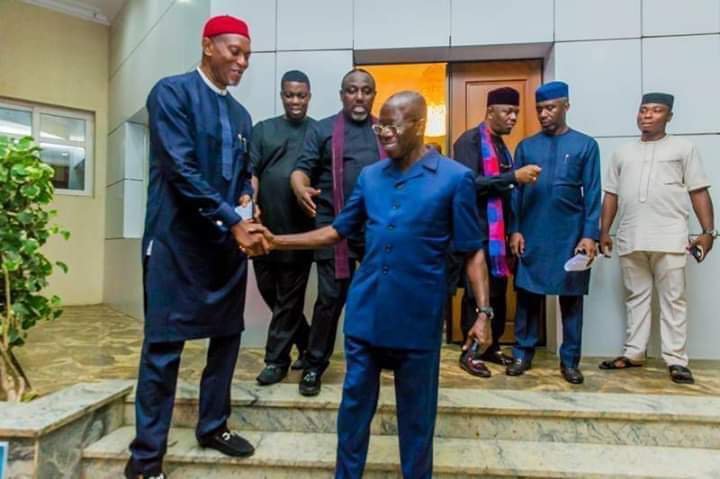 APC crisis thickens as Emmanuel Ibediro is sacked as the National Organizating Secretary of APC
Emmanuel Ibediro the supposed National Organizating Secretary of APC has been relieved of hid duties as of today.
The leadership tussle within the APC National Working Committee (NWC) has took another turn for the worse as Mohammed Sani Ibrahim, the Deputy National Organizing Secretary of the party declared himself the Acting National Organizing Secretary, in place of Emmanuel Ibediro, the substantive holder of the office.
Ibrahim told journalists in Abuja that Ibediro's election was nullified by a federal high court in 2018 but that the suspended National Chairman of APC Comrade Adams Oshiomhole, in his alleged autocratic manner, failed to give effect to that the ruling of the court.
According to Ibrahim "Emmanuel Ibediro, no doubt contested the election of the National Organising Secretary. By virtue of respect to constituted authorities and rule of law, the Federal High Court under Justice Dimgba annulled the election of the National Organising Secretary. It was a clear judgment and can't be appealed. So by the virtue of judgment passed on the 14th of September, 2018, there is judgment nullifying all that happened till fresh elections are held"
In the said judgement, Justice Dimgba indeed granted the plea made by Senator Osita Izunaso nullifying the election of Ibediro and ordered a fresh election by the party. Ibediro, however, appealed the ruling.
Reacting to the development, Ibediro, a lawyer, described his Deputy as a rabble-rouser given to causing disaffection.
"The man is a rabble-rouser. He took me to court in Abuja recently and the court threw away his case, telling him that he has no locus.
That he is not a party in the main suit and in the appeal, and that he did not even contest the position. The court threw away his case two weeks ago. The man is just a rabble-rouser. And he forgot that the case is still in the appeal. He cannot fish in troubled water"
The investigation, however, shows that Ibrahim is cashing in on Ibediro's glaring lack of support for the proposed March 17 National Executive Council of the party. The APC NWC under the Acting National chairman is not comfortable with Ibediro, believed to a staunch supporter of embattled Oshiomhole.
It seems like Oshiomole is about to welcome his boy back and make a bigger ally.
Who do you think is behind all these predicaments befalling APC?
#datmediagal #Imo #datmbanogal #News #quingist #Imolite #newsinImo #politics