#COVID19: Rt. Hon. Ugonna Ozurigbo (Ozb) Inaugurates Credible Distribution Committee Across His Constituency.
Office of The Member Representing Nkwerre/Isu/Nwangele/Njaba Fed. Constituency
Press Release
COVID-19:
RT. HON. UGONNA OZURIGBO (OZB) SET TO FLOOD NKWERRE/ISU/NWANGELE/NJABA FEDERAL CONSTITUENCY WITH FOOD ITEMS (AS PALLIATIVES PACKAGES FOR CONSTITUENTS).
… INAUGURATES CREDIBLE DISTRIBUTION COMMITTEE ACROSS THE FOUR L.G.As.
In a bid to cushion the adverse economic effect of the Coronavirus pandemic and the necessitated lockdown in the State, Rt. Hon. Ugonna Ozurigbo (OZB), member representing Nkwerre/Isu/Nwangele/ Njaba Federal constituency has concluded plans to distribute food items to the most vulnerable and the poorest families in the villages of his Federal Constituency.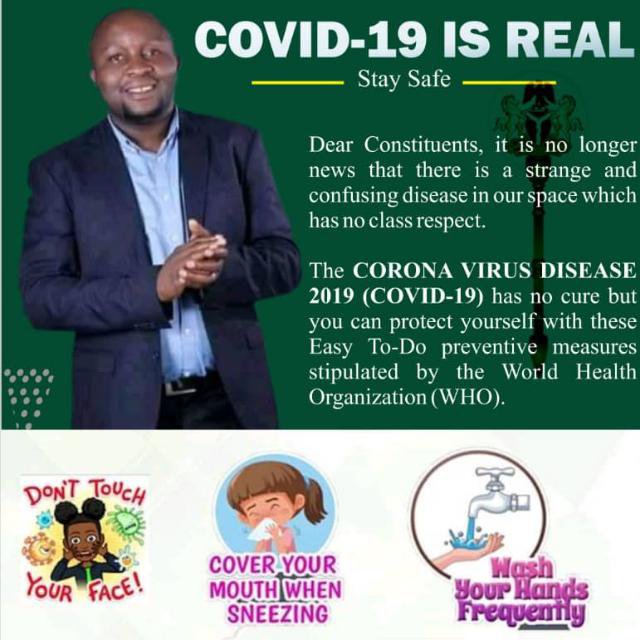 This comes after over 5000 individuals in the federal Constituency received health talks and sanitizers for safety against the Coronavirus Disease.
To achieve this second phase of palliative distribution, Rep. Ozurigbo has set up adhoc committees charged with the task of driving down the intentionof the donor to various villages through the Local Governments that form the constituency.
MEMBERS OF THE COMMITTEE ARE:
CENTRAL COMMITTEE MEMBERS
Ichie Nobert Okoro (Comittee Chairman & Coordinator Njaba L.G.A)
Barr Paschal Onwukaike (Nkwerre Coordinator)
Chief Cyracus. Dike ( Isu Coordinator)
Chief. Ozigbu Ugochukwu (Nwangele Coordinator)
Barr. Dike. Uche -. Secretary
Chief. Val. Osuala – Member
Hon. Chizobam O. Chizobam – Member
Barr. Jude Uzoukwu – Member
Chief Ike Christo EKwem – Member
Barr. Tony Onuoha – Member
Comr. Henry Anyaegbu
Dike Philip – Media and Publicity
To ensure the target individuals are accessed, a Sub-committee has been set up at the Local Government level to be manned by the following:
Njaba L.G.A Sub-Committee
Ichie Nobert Okoro ( Coordinator)
Chief Ike Christo
Chief Sam-Jack Okoro
Hon. Louis Duru
Hon. K.C. Njepuome
Hon. Ezenwa Akuta
Hon. Mrs. Adaobi Ijeomah.
Hon. Damian Ezeji
Ike Uche ( Network)
Prince Ikem Obioma
Nwangele L.G.A Sub-Committee
Chief Ozigbu Ugochukwu (Coordinator)
Barr. Jude Uzoukwu
Hon. Chizobam O. Chizobam
Comr Henry Anyaegbu
Hon. Onyema Agbarakwe
Mr. Charles Dike
Chief Izunna Obasi
Mrs. Florence Uzoma
Mr. Dike. Philip
Mr. Charles Obiefule
Nkwerre L.G.A Sub-Committee
Barr Paschal Onwukaike (Coordinator)
Barr. Tony Onuoha
Chief Felix Anueyiagu (Aririerimba)
Mrs Lisa Asugha
Hon. Ken. Ejiogu
Dr. Pauly. Ojukwu
Barr Augustine Mbagwu
Hon. Betty Uzoma
Chikezie Nwadike
Francis Ashamkonye
Isu L.G.A Sub-Committee
Chief Cyracus Dike (Coordinator)
Chief. Geoffrey Asika
Chief Val Osuala
Chief. Vitus Ubah
Hon. Chimezie Nwadike
Hon. Ibeh Onyedikachi
Mrs. Philomena Ofonagoro (Iron Lady)
Ms. Obims Augusta
Mr. Ozurumba Chimezie
Pharm. David Madu
All Committee members are expected to put in their best to ensure the palliatives reach the most disadvantaged persons in the Federal Constituency.
A date for the commencement of the programme will be made public soon.
Signed
Dike Philip
S.A. Media
Nkwerre/Isu/Nwangele/Njaba Rep. Member.