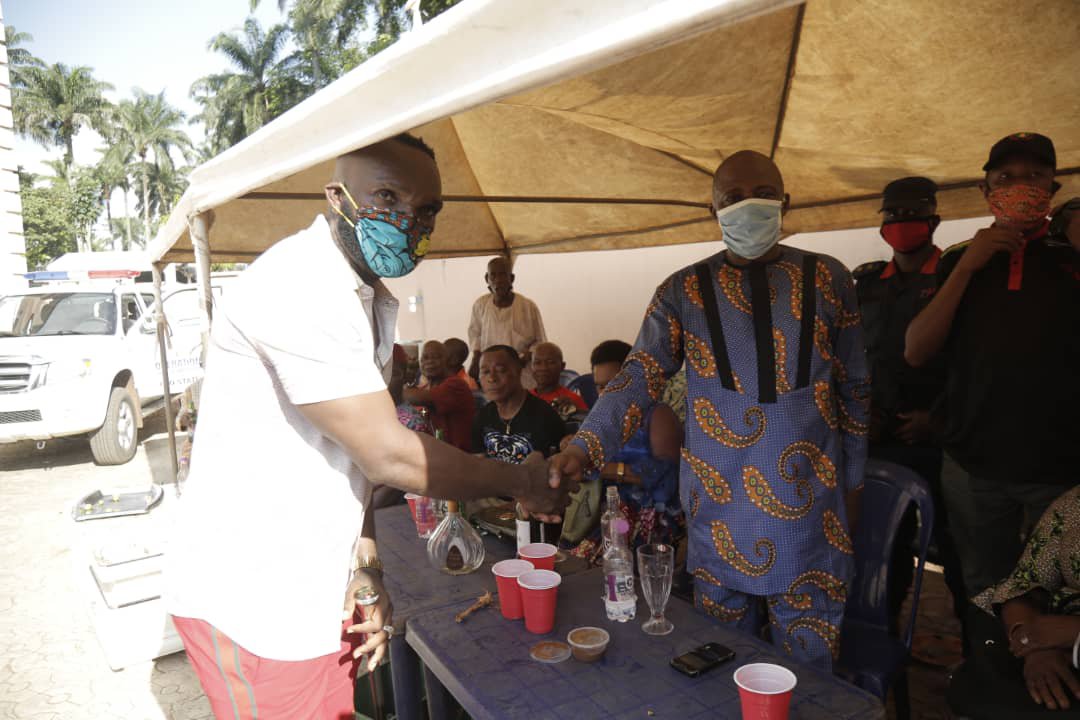 #APC: MORE STRENGTH FOR APC AS PRESSING FORWARD DECLARES SUPPORT IN ISU LGA.
Sunday, May 17, 2020 witnessed the gathering of Governor Hope Uzodinma's supporters at the Ebenato Ekwe country home of Simon Chibuzo Emelu also known as Pressing Forward, as he was officially welcomed into the APC in his ward.
Leading party faithfuls to the epoch making occasion were the Interim Management Committee Chairman of Isu Local Government Area Hon. Kenneth Uka and Hon. Lilian Obi, the APC Chairman, Isu LGA.
They each spoke on the past and present support given to the party and the political candidature of Senator Hope Uzodinma by Chief Simon Emelu. In their separate speeches, the party leaders noted that even while the popular Nollywood film star, producer and distributor was yet to become an active party man, he had contributed immensely to the success stories of the All Progressive Congress in his ward and the LGA. The IMC Chairman commended Pressing Forward for his exemplary roles and urged him not to relent.
Present to witness the event were Nollywood key players including Zubby Michael, Nneoma Ukpabi, Johnbosco Iwu and Chuma Mmeka who came in solidarity for one of their own. Other party structure leaders like the CampHope Woman Mobilizer Ike Basilia, the APC Isu LGA Women Leader Lolo Patricia Chukwujiwu, the Chairman of Ekwe Ward 2 Hon. Charles Ibekwe, and the APC Youth Leader for Ekwe Ward 2 Mr. Ononiwu Macdonald were not left out.
Speaking on behalf of the Nollywood community present, the immediate past Chairman of the Actors Guild of Nigeria Imo State Chapter, Amb. Nneoma Ukpabi in a brief remark reiterated that Chief Simon Emelu was indeed a role model. She revealed that many years ago, Nollywood filmmaking was confined mainly to Lagos, Asaba and Enugu areas. However she recounted how Pressing Forward changed that narrative when he broke the monopoly by single handedly bringing filmmaking to Imo. According to the screen diva, this has made it possible for film stars to be discovered from the state.
In the same vein, Hon Lilian Obi told media men that with the giant strides of Pressing Forward in the Nollywood industry and politics in the area, it would be wise for the state government ably led by His Excellency Senator Hope Uzodinma to consider him for a worthy appointment. She noted that it was instructive that ever since the governor of Anambra State appointed Zubby Michael as SA on Entertainment, that state had witnessed greater achievements in youth mobilization and empowerment. She encouraged the state government to do the same by appointing Pressing Forward to such a motivating role, stating that that would mean placing a round peg in a round hole.
Several speakers from Ekwe Ward 2 commended Chief Emelu's engagement and empowerment of youths in the area as highly emulatable.
Simon Chibuzo Emelu is a Lagos based socialite and businessman who holds a B.Sc. in Mass Communication and the traditional Chieftaincy title of Nwa-Eji-Aga-Mba 1 of Ebenato Ekwe in Isu LGA of Imo State. He is also a national exco of the Film and Video Producers Marketers Association (FVPMAN).
Content created by Chuma Mmeka