NCDC Reports 653 New Covid-19 Cases In Nigeria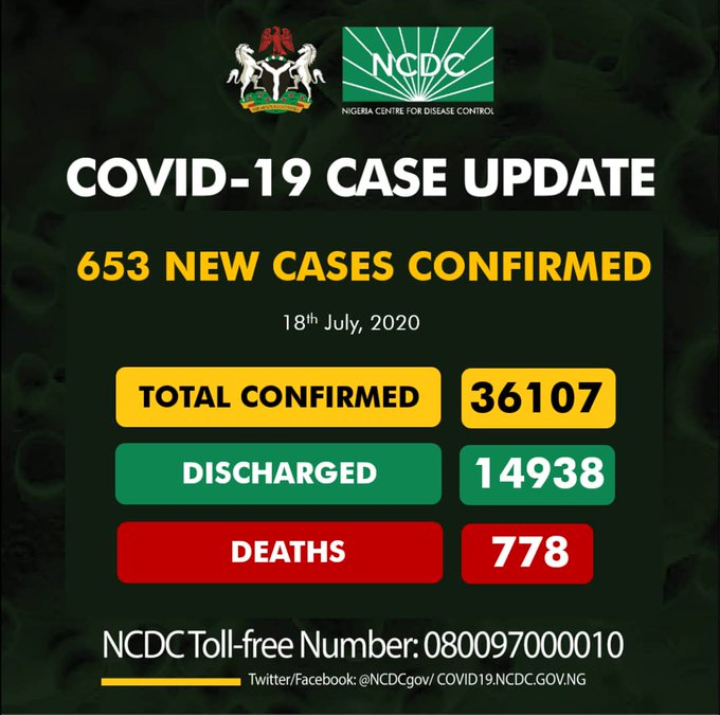 Quingist Entertainment reports that the NCDC confirmed 653 new covid-19 in Nigeria in a series of tweets on the micro-blogging site, Twitter, on Saturday evening, July 18.
According to the NCDC, of the six hundred and fifty-three new coronavirus cases recorded on Saturday evening, 115 were recorded in Lagos, Nigeria's commercial city, Kwara-85, Enugu-80, FCT-78, Rivers-36, Ondo-35, Oyo-30, Katsina-28, Kaduna-19, Abia-19, Nasarawa-18, Plateau-17, Imo-16, Ogun-9, Ebonyi-9, Benue-9, Kano-9, Delta-8, Bauchi-7, Ekiti-6, Gombe-4, Bayelsa-4, Adamawa-4, Osun-4, Cross River-1, Yobe-1, Borno-1, Zamfara-1.
This brings the total number of confirmed cases to 36,107.