Mc Banana Mouth Officially Unveil His Brainchild RACA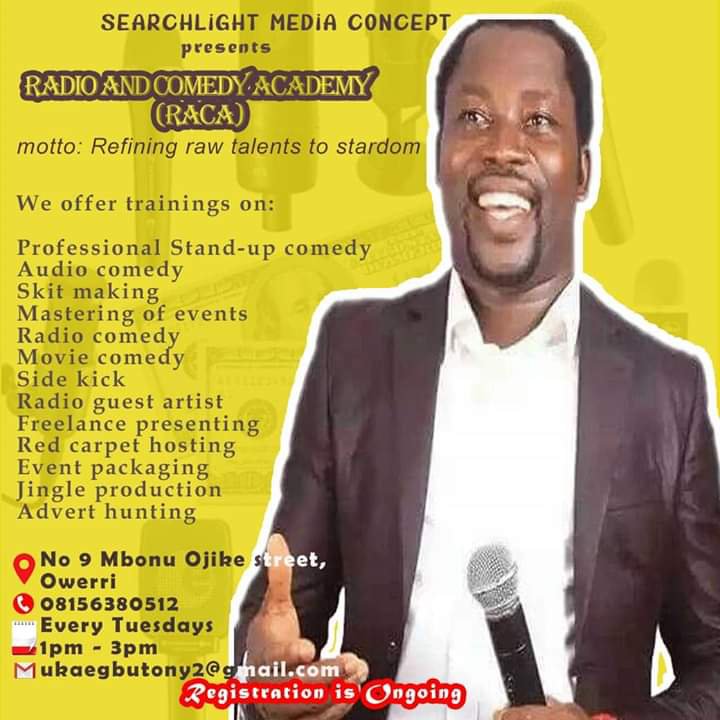 Mc Banana Mouth Officially Unveil His Brainchild RACA
WHAT IS RADIO AND COMEDY ACADEMY (RACA)?
RACA Is The Brain Child Of Social Media Searchlight Concept Which is Registered With Cooperate Affairs Commission
Our Vision:
Is To Discover & Refine many hidden Raw Talents.
Our Mission:
Is To Make these Young Generation givers and not beggars through the activation of their God-given Talents.
RACA is not a comedy show like some people think, It is not a seminar and It is not a radio program.
RACA is an Academy(Training Center) Where we Train people and help them to reshape their God-given Talent in Radio Presentation and Comedy.
Most people are comically pregnant but have not seen the Labour room(Avenue) to deliver the loaded goods inside them, that is what RACA has come to do.
This Academy will Run a three months full session to discover some hidden talents and expose them to the Labour Market; After Going Through RACA for a Period of Just Three Months, You Will Become a Hot Commodity.
RACA Has Been in Existence For The Past Eight(8) Years, Since 2012, That is The Refinery That Refined Celebrities Like:
Barrister Mouth,
Mc Tboy of Hot Fm,
Mc Mr. Comedy,
Mc Musa,
Mc 2Much,
Another Miracle,
Mc Emperor,
Mc Bishop Lilian,
And So Many Other Notable Comedians, MCs and Radio Podcasters Who are Brand Ambassadors Now.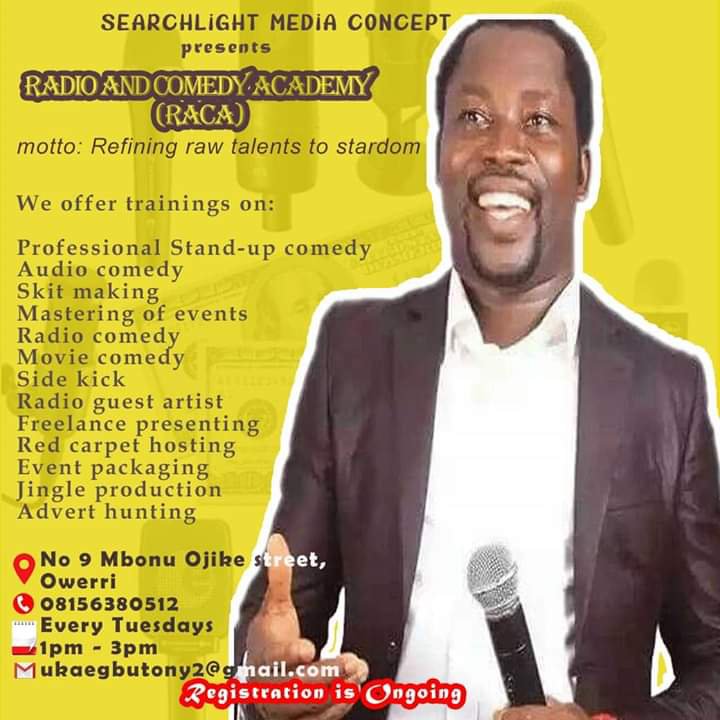 We Operate With The Grace of God That is Why It is Working Like a Magic, Many People Have Tried it, But Some didn't Succeed in Raising a Single Person, It Is By His Grace and We Have Come To Do More.
You Can Be The Next Brand To Hit Stardom in Just Three Months, Take a Decision today, Let RACA Train You, Mentor You and Transform Those Wasting Hidden Talents To Limelight.
You Can Refer and Pay Registration Fee For Someone, By Gods Grace, You Have Succeeded in Taking Somebody Out of This Rugged and Hunger Ravaging Street To His or Her Dreamland.
We Have Seasoned Lecturers That Will Take You On The Trending Techniques of Professional Stand Up Comedy, Audio & Movie Comedy, Skit Making, Jingle Production, Radio Guest Artist, Radio Freelance Side Kick, Advert Hunting, Red Carpet Hosting, Mastering Of Events, Event Packaging, Artiste Management, Music Promotion Etc.
After Your Graduation By The Special Grace of God, We Shall Fix You Somewhere That Will Practically Open Your Eyes To Know Where You Truly Belong.
Our Lectures Will Be Coming Up Once a Week, Every Tuesday 1 pm to 3 pm At Our Head Office Conference Room, Number 9 Mbonu Ojike Street, Ikenegbu Owerri, Imo State.
For More Enquiries: Call 08156380512 or 08063888140.
Radio And Comedy Academy(RACA, Transforming Hidden Raw Talents To Stardom)
#datmediagal cares… #raca #bananamouth #searchlightmedia