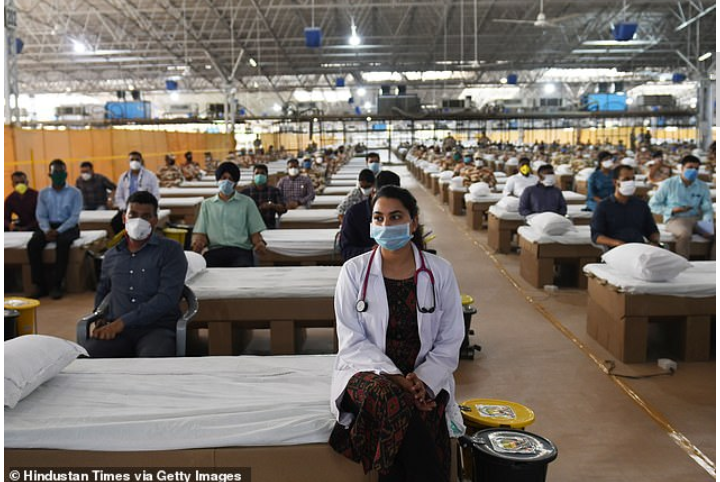 Police arrested two men after the victim reported the attack to a family member
The victim and both men have now been moved to different separate facilities
A 14-year-old girl has allegedly been raped by a coronavirus patient in a bathroom in India's largest quarantine centre while his friend stood guard.
Both men and the girl had all tested positive for coronavirus, exhibiting mild symptoms, and were in quarantine at India's largest Covid-19 centre, in Delhi.
The alleged rape took place on July 15 at the 10,000-bed facility and police say that the accused, 19, and another man, who allegedly filmed the attack, have been arrested.
It is believed the girl had only been at the quarantine centre for around a week.
Police were contacted after the girl told a family member at the centre what had happened.
Speaking to The Indian Express on Thursday, senior police official Parvinder Singh said: 'The accused have been arrested and sent to judicial custody but will remain in institutional care until they recover from the infection.
Parvinder also said that the girl was transported to a different hospital and the two men were taken to another different location where they remain in custody.
Investigations are still being carried by the police.
The latest data suggests that India has had 1,288,108 confirmed cases of coronavirus with 30,601 people dying because of the virus.