The All Progressives Congress (APC) Governorship candidate in the upcoming Edo State election, Pastor Osagie Ize-Iyamu has likened his initial exit from the party as that of a prodigal son.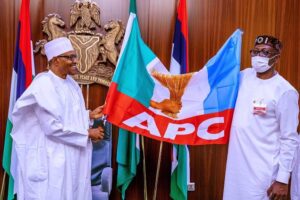 He stated this with regret when he met with President Muhammadu Buhari at the Aso Rock Villa in Abuja on Friday.
Recall that Ize-Iyamu had earlier decamped to People's Democratic Party (PDP) where he contested for the State's Governorship election in 2016 and returned to the ruling party recently.
He thanked the President for the warm and fatherly reception, saying he was honoured to receive the party's flag from the President.
Pastor Ize-Iyamu told State House Press Corps that he was fully in charge of his campaign as a popular candidate who served the State as Chief of Staff and Secretary to State Government in previous administrations.