#BYE-ELECTION: THE TRUTH THAT WILL SHAPE THE OKIGWE SENATORIAL BYE-ELECTION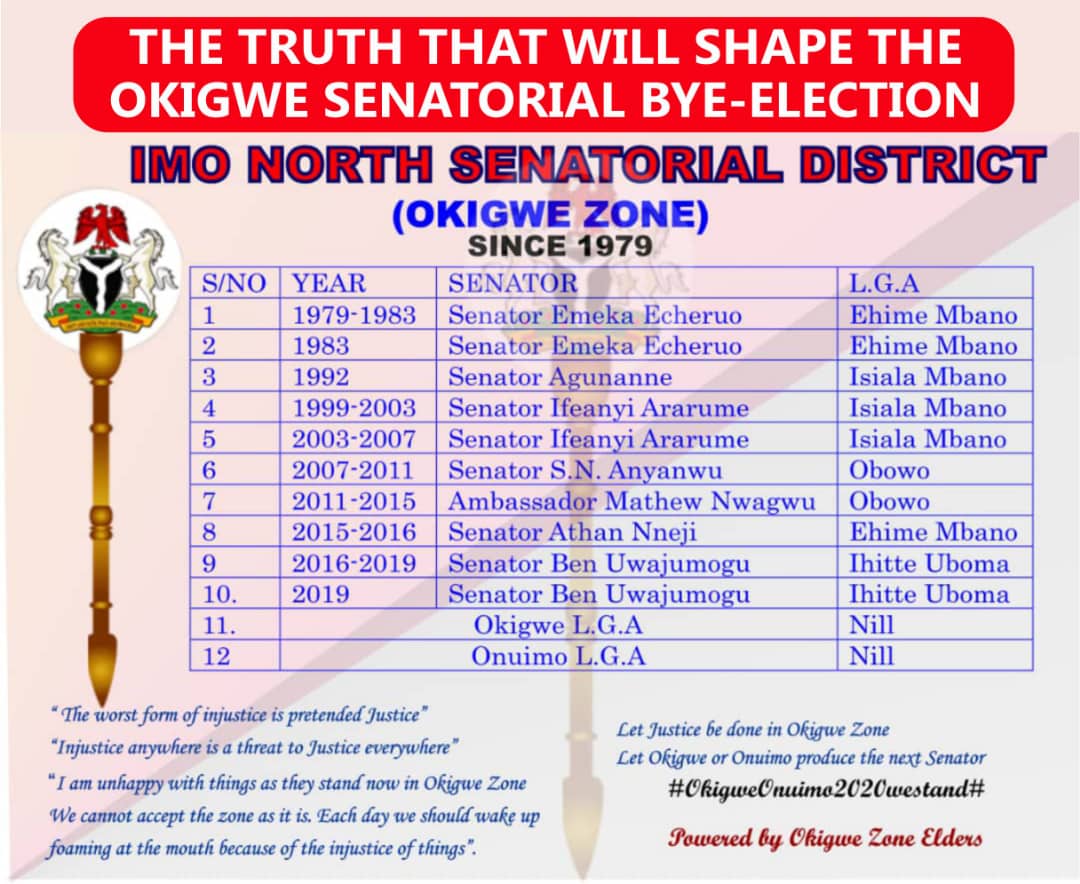 THE TRUTH THAT WILL SHAPE THE OKIGWE SENATORIAL BYE-ELECTION
It was the French Chemist, Henry Louis Le Chatelier, who in the expatiation of his principle of equilibrium opined that "when a settled system is disturbed, it will adjust to diminish the change that has been made on it"
For a very long time since the creation of Imo State, February 3rd 1976 and particularly the emergence of Okigwe Zone, known as Imo North Senatorial District; Okigwe LGA, which is the headquarters of the zone and her close brother, Onuimo LGA have been shortchanged of their political inheritance and have continued to suffer different forms of manipulations from the political class within and outside Imo State, in the Senate position for the zone.
Time after time, year after year and tenure after tenure, these conspiracies have prevailed to impose representatives against these LGAS due to their peaceful disposition.
This smouldering fire of deprivation has reached its boiling point, of which a salvaging intervention has become categorically imperative, hence this clarion call for absolute justice and equity.
Justice in the standard word web simply refers to the quality of being just or fair. To be just, points to what is ethically or legally right, proper or fitting. It is being fair to all parties as dictated by reason and conscience, free from favouritism or self-interest or bias or deception, and conforming with established standards or rules. To be just simply means to be of moral excellence.
When you consider these indices above and juxtapose the background of Okigwe and Onuimo LGAS with the Okigwe Senate representations, you can't but marvel at the level of pathetic injustice the two LGAS have lived with over time.
Background of Okigwe and Onuimo LGAS
An abridged background of Okigwe and Onuimo LGAS will show how richly endowed they are in natural resources, human capital and intellectual development even in the face of these absurd conspiracies.
Okigwe and Onuimo share borders at different poles with Ideato North, Ideato South, Isiala Mbano and Ihitte Uboma LGAS in Imo State. They also have boundary lines with Abia and Anambra States respectively. The name Okigwe Zone is a derivative of Okigwe LGA as the father of the zone.
Okigwe primarily harboured the old Imo State University (now Abia State University), while the Federal Government College in the city is among the best unity schools in Nigeria. They are blessed with various tourist and historical sites which continually play host to military courses due to its hills and mountain tops.
The population of Okigwe LGA revolves around 130,000 people with a voting strength of 75,155 registered voters, and Onuimo with a little population below that of Okigwe.
In the area of human capital and intellectualism, these LGAs have produced national and international figures including but not limited to, the prelate of the Methodist Church Nigeria, Dr. S. C. K. Uche, Catholic, Methodist and Anglican Bishops (Late Anthony Ilonu, Onyeagba and Dimoji, Dr. Nwizuzu) among others in the religious sector.
Foremost Nigerian professor of finance in the University of Lagos, former Chairman Union Bank and Institute of Bankers of Nigeria, Eze Prof. G. O. Nwankwo, Nigeria's number one locomotive historian, Late Prof. Adiele Afigbo, Professor of History and Dean Faculty of Arts, Nigeria Defense Academy, Prof. Chinedu Ubah and Professor of Law and jurisprudence, and former Dean Faculty of Law, Imo State University, Prof. Nnamdi Obiaraeri are just but a few in the academia.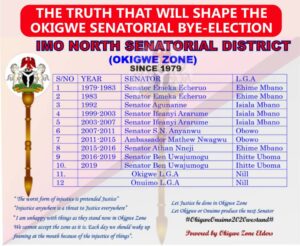 Air Vice Marshall Walter Ogujiofor and late Assistant Inspector General of Police (AIG Julia Okparaeke) stand in for the Armed Forces and Police.
Mazi Clem Owunna (Pharmacist and Industrialist), Chief Promise Ofomezie (CEO Proxy Group), Engr. Emeka Ekwebelem (Nigeria's foremost indigenous manufacturer of Switch Gears) and Chief J. S Enyogasi (OK 2000 Constructions) represent the many captains of industries.
In politics, the former Deputy Governor of Imo State, Engr. Ebere Udeagu, former Speaker Imo State House of Assembly and President, Commonwealth Parliamentary Association (CPA) Rt. Hon. Acho Ihim, former members of the House of the Representatives, Hon. Patrick Ndubueze, Hon. Mike Ohia and Hon. Matthew Omegara, the current National Organizing Secretary of the All Progressives Congress (APC), Chief Barr. Emma Ibediro and the immediate past Imo State Chairman of the Peoples Democratic Party (PDP) Chief Barr. Charles Ezekwem are among the leading politicians from these LGAS.
The above is without prejudice to the array of stars of different calibrations adorning the firmament of these two Local Governments.
The Composition of Okigwe Zone
Okigwe Zone consists of 6 Local Government Areas of Okigwe, Onuimo, Isiala Mbano, Ehime Mbano, Ihitte Uboma and Obowo. The 6 LGAS are traditionally made of 3 clans – Okigwe Clan (Okigwe and Onuimo LGAS), Mbano Clan (Isiala Mbano and Ehime Mbano LGAS) and Etiti Clan (Ihitte Uboma and Obowo LGAS).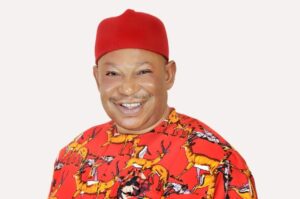 The Zone is composed of 2 Federal Constituencies – Okigwe North (Okigwe, Onuimo and Isiala Mbano LGAS) and Okigwe South (Ehime Mbano, Ihitte Uboma and Obowo LGAS).
A clear look at the tabular presentation below of the Senate representations since 1979 will show that Okigwe Clan in Okigwe North Federal Constituency, that is Okigwe and Onuimo LGAS, has not gone to the senate at all, while Isiala Mbano which shares Okigwe North Federal Constituency with them has gone to the Senate for two times of approximately 9 years – Late Sen. Agunanne (1992/1993) and Sen. Ifeanyi Araraume (8 years)
OKIGWE NORTH SENATORIAL DISTRICT
OKIGWE ZONE
SINCE 1979
S/NO
YEAR
SENATOR
L.G.A
1
1979-1983
Sen. Emeka Echeruo
Ehime Mbano
2
983
Sen. Emeka Echeruo
Ehime Mbano
3
1992
Sen. Agunanne
Isiala Mbano
4
1999-2003
Sen. Ifeanyi Araraume
Isiala Mbano
5
2003-2007
Sen. Ifeanyi Araraume
Isiala Mbano
6
2007-2011
Sen. S. N. Anyanwu
Obowo
7
2011-2015
Sen. S. N. Anyanwu
Obowo
8
2015-2016
Sen. Athan Achonu
Ehime Mbano
9
2016-2019
Sen. Ben Uwajumogu
Ihitte Uboma
10
2019
Sen. Ben Uwajumogu
Ihitte Uboma
11
Okigwe L.G.A
NILL
12
Onuimo L.G.A
NILL
Ehime Mbano of Mbano Clan has also had its turn through late Sen. Emeka Echeruo (5 years) and Sen. Athan Achonu (2015-2016) who all together served approximately 6 years. The Etiti Clan of Ihitte Uboma and Obowo LGAS served through Senators S. N. Anyanwu, Amb. Matthew Nwagwu and Late Ben Uwajumogu for a total of 11 years and above.
It must be clearly stated that since Senator Ifeanyi Araraume served out his two terms of 8 years in 2007, the Okigwe Senate position has remained in Okigwe South Federal Constituency for 13 unbroken years.
In all, either as a clan or Federal Constituency, Okigwe and Onuimo LGAS have not had a shot at the Senate of Nigeria since 1979, what an unspeakable injustice!
The world can now see the bare injustice and why the anger in Okigwe Clan has reached crescendo and threatening like the Coronavirus pandemic.
Relating the present situation in Okigwe Zone with Owerri Zone
Since the Senate position is the focus, it will be good to further insulate this presentation from bias or deception and place it in consonance with enshrined standards in our sister zone, Owerri, that had wisely handled a similar situation Okigwe Zone is faced with today.
When Owerri Zone lost her Senator, the late Amah Iwuagwu, from Mbaitoli LGA of Mbaitoli/Ikeduru Federal Constituency, Owerri Zone did not allow Mbaitoli LGA to produce Iwuagwu's replacement, rather they went to another LGA, Owerri North of Owerri Federal Constituency to elect Senator Eze Ajoku.
The wisdom underlining the decision of Owerri people remains commendable as it will encourage people of a given area to jealously guide and preserve their Senator knowing that losing him will mean losing the position to another area. A contrary decision would have encouraged ceaseless deaths of Senators from overzealous and inordinately ambitious relatives who may want to kill their own with the intention to replace him.
Conclusion:
It is in the light of this clearly exposed injustice against Okigwe and Onuimo LGAS that we call on all authorities (low and high, external and internal) to prudently and swiftly activate their justice mechanisms to ensure that Okigwe Clan of Okigwe Zone produces the next Okigwe Senator in the spirit of justice, equity, fairness and peaceful coexistence.
The said absolute justice for this area has become significantly inevitable to save the zone from further bleedings as it is said that "e mee mbem, mbem a laa".
Signed:
Copy to:
President Mohammadu Buhari, Thro: the Office of the Secretary to the Government of the Federation (SGF)
The Speaker, House of Representatives, Thro: Hon. Princess Mariam Onuoha, Member, Okigwe North Federal Constituency.
The National Chairman, All Progressives Congress (APC) Thro: The National Organizing Secretary, Barr. Emma Ibediro.
Governor Hope Uzodinma (Onwa), Thro: The Secretary to the State Government (SSG), Chief Cosmos Iwu
The National Chairman, Peoples Democratic Party (PDP), Thro: The National Deputy Financial Secretary, Mr. Henry Ekpe.
The National Chairman, All Progressives Grand Alliance, Thro: The Imo State Chairman, Mr. John Iwuala.