The Okigwe(Imo North) Bye Election And Our Voting Guide.
Your Unbiased Answer To This Objective Question Below Will Clearly Show Who And What Party Okigwe People Should Vote In The October 31st Senate Election.
What type of Senator does Okigwe need at this critical time(in the remaining two and half years of this 9th Senate) ?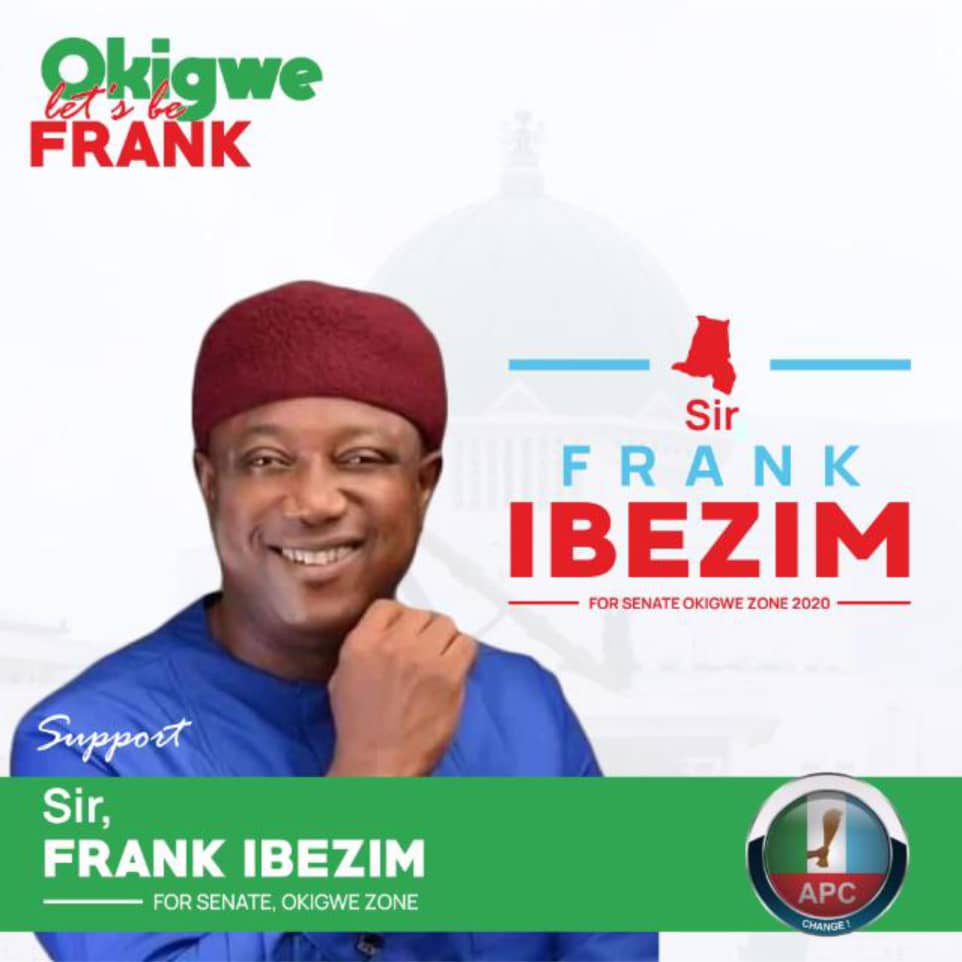 (A) The Senator whose political party and relationship with the current Senate leadership can only guarantee the collection of his Salaries and Personal Entitlements.
(B) The Senator whose political party and relationship with the current Senate leadership will guarantee the quick recovery of lost grounds in Committee Chairmanship/Membership and proceed further to generally attract desired Dividends to the people.
Frankly speaking, all those who genuinely love Okigwe and desire her growth and development for the people's wellbeing must go for the B option as the correct answer to the question above.
HISTORY WILL BE OUR GUIDE AND PLAY A VERY BIG ROLE IN SETTLING THIS MATTER THUS:
The current President of the Senate of Nigeria, Senator Ahmed Lawan, was a member of the House Of Representatives in 1999 with our brother, the serving Honourable Minister of State for Education, Barr Chukwuemeka Nwajuba.
Both of them were close associates and chairmen of House Committees at the time, Ahmed lawan was the Chairman of Education and Agriculture while Nwajuba was the Chairman of Land,Works and Housing.
This cordial relationship has remained verifiably sustained.
The serving Governor of Imo State, Senator Hope Uzodimma,was in the Senate for Eight unbroken years with the current President of the Senate, Ahmed Lawan.
They have maintained their wonderful relationship as seen in the Governor's recent outings in Abuja.
THE CONNECTING SYNERGY FOR THE GOOD OF OKIGWE ZONE.
There is no doubt that today, Sir Frank Ibezim who was the Special Adviser(Political) and close ally of the Honourable Minister of State for Education, Barr Emeka Nwajuba, is the APC Candidate for the Imo North Senate Election.
There is no doubt also that the Imo Governor, Senator Uzodimma and Honourable Minister Nwajuba are members of the National Caucus of the APC with the Senate President,Ahmed Lawan.
Both Nwajuba and Uzodimma(leaders of Imo APC) are among the frontline supporters of the APC Candidate, Frank Ibezim.
If Okigwe people become wise enough to vote Frank Ibezim into the Senate, he will automatically leverage on this heartwarming Ahmed Lawan-Emeka Nwajuba-Hope Uzodimma relationship to recover Okigwe from development deficits the long moments of litigations and death placed on the zone.
Consequently, a close look at the Candidates and their political parties will show without ambiguities that Sir Frank Ibezim of the APC is the only one through whom the great demands of Okigwe zone in the Senate at this critical time can quickly be met.
Let Okigwe people selflessly and wisely vote Frank Ibezim of the APC come 31st October 2020.
To be Frank,this is the right thing to do for our people's good.
Hon.Irouno Chukwunonye
(For Okigwe people of selflessness)