#EFCC Declares Omotade CEO of Inksnation Wanted Over N32m Fraud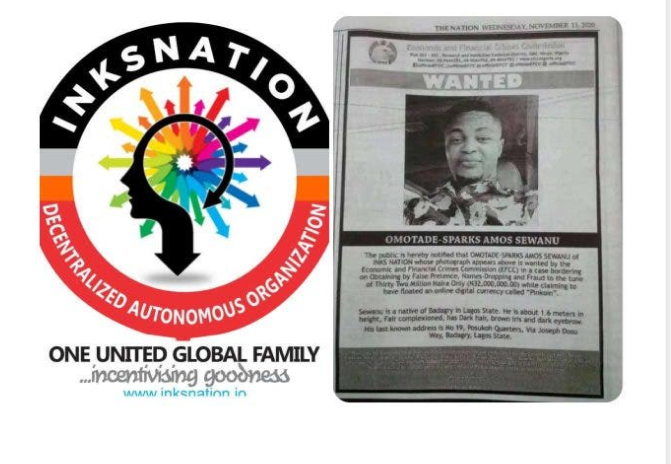 #EFCC Declares Omotade CEO of Inksnation Wanted Over N32m Fraud.
Omotade Sparks Amos Sewanu CEO of Inksnation has landed himself in serious trouble over an alleged fraud of N32 million.
The Economic and Financial Crimes Commission (EFCC) has declared him wanted,
A report by BusinessDay estimated that "nearly 200,000 Nigerians – with over 5,000 people active, daily – still claim membership of a Telegram group created by InksNation."
According to reports, Omotade-Sparks Amos Sewanu is wanted for an alleged fraud worth N32 million while floating a digital currency called "Pinkoin."
Omotade Sparks is the owner of iBSmartify Nigeria, Inventor of the "the World's First Philanthropic Blockchain (InksLedger) and the World's First Charitable Trust DAO (InksNation) which Is said can end poverty in any country in less than 9 months incentivizing goodness, promoting love, unity, oneness, peace and equitable distribution of wealth also invented the world's first Reserve Cryptocurrency called PinKoin, Africa's first QR Debit Card called PinKard and lots more.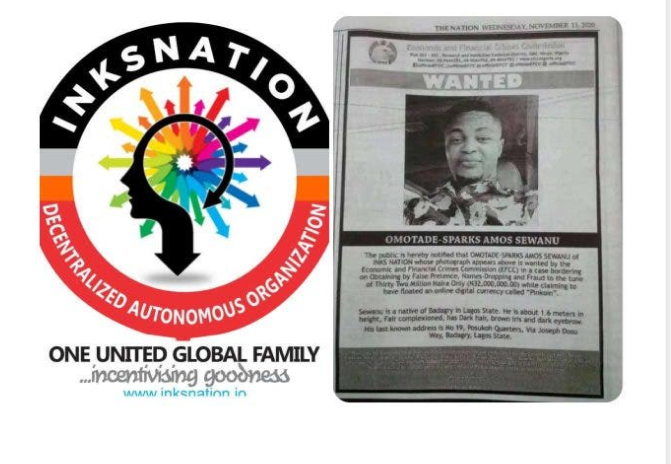 In a Press Release in The Nation Newspaper dated the 11th of November 2020, The Economic and Financial Crimes Commission declared the founder Omotade-Sparks Amos Sewan wanted for series of financial frauds.
"The Public is hereby notified that Omotade-Sparks Amos Sewanu of Inksnation whose photograph appears above is wanted by the Economic and Financial Crimes Commission EFCC in a case bordering on obtaining by pretense, names Dropping and Fraud to the tune of thirty-Two million Naira Only (32,000,000) while claiming to have floated an online digital currency called "Pinkoin".

"Sewanu is a native of Badagry in Lagos, he is about 1.6 meters in height, fair complexioned, dark hair, brown iris, and dark eyebrow."

"His last known address is No 19, Posukoh Quarters, Via Joseph Dosu way Badagry, Lagos state."
Although the Securities and Exchange Commission of Nigeria has fore classified the activities of Inksnation Illegal and fraudulent in a press release dated 26/06/202. SEC said,
The attention of the Commission has been drawn to the activities of iBSmartify Nigeria the promoters of a Blockchain known as iBledger (iBcashcryptocurrency) and InksNation.
In their own words "The general public is hereby advised that neither the promoters of iBSmartify Nigeria nor the illegal products they offer are registered or regulated by the Commission.

Because of the above, the general public is hereby WARNED that any person dealing with the said entity and others in the same business in any manner whatsoever, does so at his/her own risk."
The Stakeholders in the Blockchain Technology Association of Nigeria (SIBAN) in June labeled InksNation's purported crypto coin, Pinkoin, a scam.
SIBAN warned that "members of the blockchain community and the general public should beware of the InksNation project.

We have labeled it a scam because it has a Ponzi scheme model, whether the promoters and followers concede to this reality or not.

Sooner or later, the promoters and their followers will come to realize this, if they do not already do".
Copyright © 2020 Quingist Entertainment Empire Media