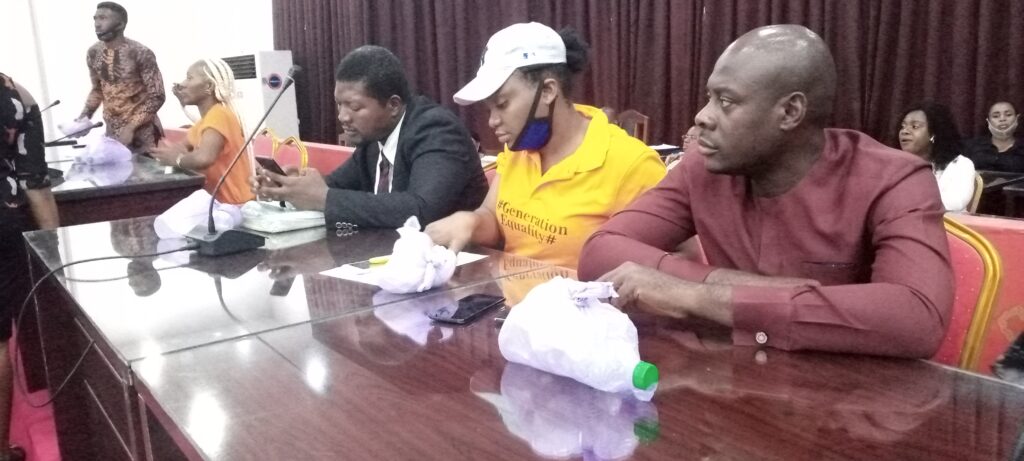 AT THE  PUBLIC HEARING ON THE  VIOLENCE AGAINST PERSONS PROHIBITION  BILL,  VAPP , WHICH  HELD ON Monday  7/12/2020 AT THE IMO STATE  ASSEMBLY  CHAMBERS.
The reading attended by lawmakers, girl child organizations, such as the girls' guide, civil society activists, NGO's, like (SWAG) Squad with a goal, (AFA) alliance for Africa, media, persons living with disability PLWD, Albinos, Bloggers, Religious groups, survivors of GBV of both sex and many other organizations…
The public hearing of the bill which is statutory for contributions, amendment, correction, and direction is centered on:
1. The elimination of violence in private, domestic, and public life,
2. All forms of Gender-based violence
3. Harmful traditional practices,
4. Discrimination against persons
5. Protection and remedies for victims of rape, electoral violence, and other related matters
6. To punish offenders of rape, defilement, incest, and other related matters.
Present at the reading, in no particular  order:
Rt. Hon. Paul Emezie (speaker)
Rt. Hon. Chiji Collins (former speaker)
Hon. Amara Iwuanyanwu (deputy speaker)
Hon. Ator Ibe, Hon. Opera, Hon. Onyemachi, Hon. Uche Ogbuagu, Hon. Mrs. Uju (Igolo, Bill sponsor), Hon. Chigozie Nwaneri, Hon. Mrs. Nkechi Ugwu commissioner MGVGA, SA Diaspora affairs to the governor (Hon. Mrs. Cecilia), Rev. Fr. Gerald Njoku (representing his grace  Arch Bishop Amarachi Obinna, Mrs. Chioma Nwaneri, Dr. Phillip Njemanze, Hon. Mrs. Obiageri Perri sec.MGVGA, Mrs. Marjorie Ezihe, Mrs. Joy Daberechi Onuoha of the child protection Network And many others.
The session was declared open and contributions, observations, adoptions, and corrections based on earlier submissions were heard.
At the end of the day, we came to understand that, many of the public misunderstood the reason for the bill, especially those in the religious cycle, who instead of seeking directions went ahead to shoot themselves in the leg… Well, I'm glad they were cleared and asked to go back and make observations based on worrisome sections observed and not blatantly condemning. Advising you can't kill what you don't understand, you can only seek directions and guidance.
This bill will do Imolites greater good than harm, it will give men and women the right to stay safe in a place like Nigeria where the poor no longer have rights…
This bill is here to stay
And we urge everyone to support this #Vappbill, it's our guarantee to a better today and tomorrow for us and our children born and unborn.