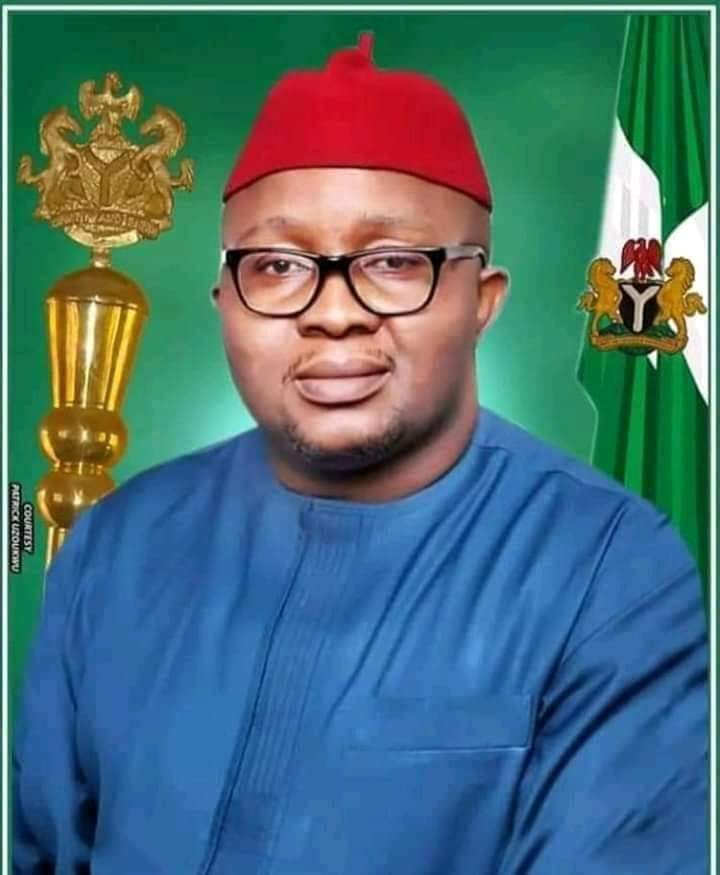 THE SUCCESS STORY OF HON UGONNA OZURIGBO (OZB) AT 43.
On Monday, December 14, 2020 all roads will lead to the Central School field Umuozu in Nwangele L.G.A as constituents, Political Associates, friends and well-wishers gather to celebrate a rising star, a leader par excellence, a man of many exciting part, Hon. Ugonna Ozurigbo (OZB), the member representing Nkwerre, Isu, Njaba and Nwangele Federal Constituency in the National Assembly as he marks his 43rd birthday.
The birthday celebration will afford, the many admirers of Hon. Ugonna Ozurigbo (OZB), the opportunity to join him in thanking God for the gift of fruitful and purposeful life granted him. It will also be a great opportunity for the indefatigable representative to put smiles on faces of his constituents as he unveils the third phase of his empowerment scheme.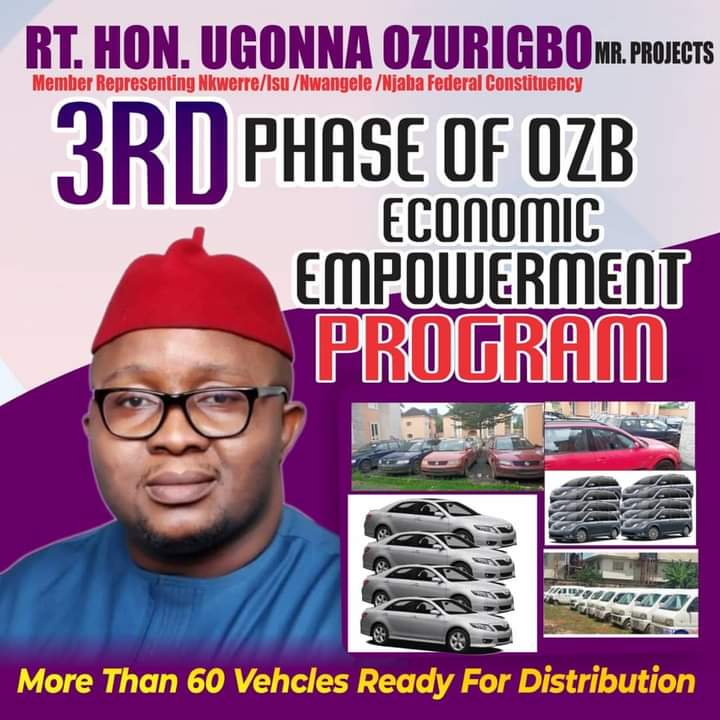 Born on November 26, 1977 to the family of Chief and Lolo Donatus Ozurigbo of Umudurueze Umuozu in Nwangele L.G.A, he is the fifth child of his parents. OZB as he is popularly called showed early signs of brilliance. He attended Ikenegbu Primary School Owerri 1983 -1989 Government Secondary School Owerri 1990-1995 and made high grades in his Senior Secondary School exams. Without delay, the young and promising OZB gained admission into the Federal Polytechnic Nekede Owerri to study Buisness Administration and in 1997 he had his OND in Business Administration with the academic curiosity of St. Thomas Aquinas, Ugonna enrolled into Abia State University Uturu in 1998, where he obtained a Bachelor of Science in Government and Public Administration in 2002. He was posted to Ogun State for the National Youth Service where he served meritoriously and passed out in 2005.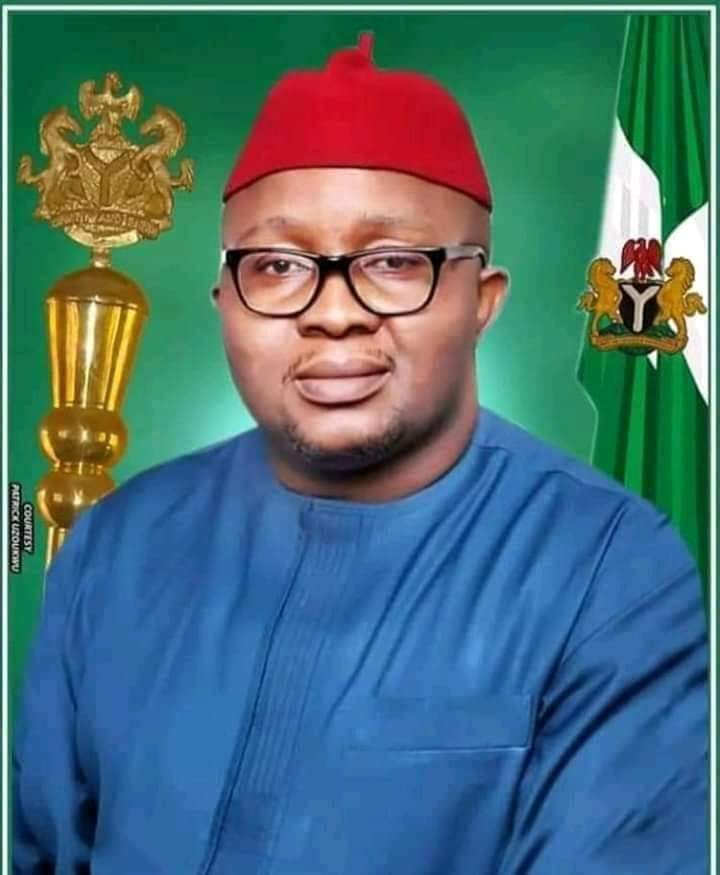 Hon. Ugonna Ozurigbo (OZB) never believed in dull moments. He has always been on the move. As a student he had different positions at different positions at different stages of his academic pursuit. He was Student Union President (Interim) Abia State University, President Nigeria Catholic Students Fellowship ABSU, Director of Welfare, SUG, ABSU, Director of Socials Federal Poly Nekede, National President Nwangele Student s Association.
His choice of course and extra-curricular activities no doubt prepared the young Ugonna for his present business and political success stories.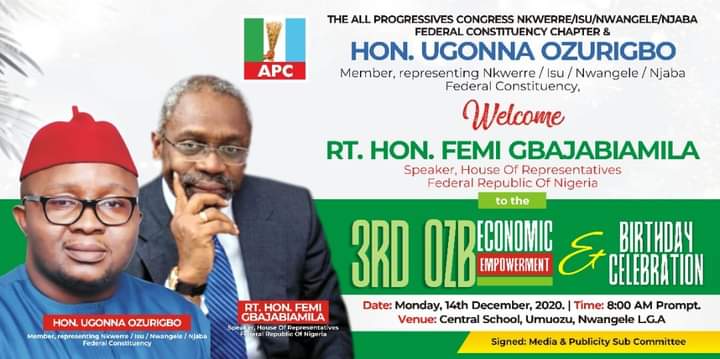 Propelled by hardwork and the desire to be self reliant Hon. Ugonna Ozurigbo (OZB) "Enyioha" rejected white collar job and went into private business as an airtime and mobile phones distributors and as Divine Providence would have it, it did not take him long to exhibit wit, business acumen and sagacity to make his mark in the telecommunications industry. Today he has to his credit the most reliable communications outfit in Imo State, OZB Communications Ltd.
As a business guru of repute with a broad mind and necessary tentacles for growth, he further expanded his business horizon into the hospitality industry and agriculture. His multiple ventures include Kelvic Suites and Towers Ltd, Kelvic Farms, Kelvic Fast Food, Sweet Peace Suites and others.
No doubt, OZB's venture into active politics has brought out the best of this focused, intelligent, unassuming gentleman. Since 2007, he joined active politics, he has continued to maintain astute followership humility, consistency and all these have contributed to his steady growth in the arena. He has been propagating the concept of politics without bitterness. In 2011, OZB was elected into the State House of Assembly to represent Nwangele State Constituency and he gave a good account of himself, prompting his people to support him for a re-election in 2015. In his second term, he later because the Deputy Speaker of the House. Interestingly, in 2019, Hon. Ugonna Ozurigbo (OZB) was elected into the Federal House of Representative for Nkwerre/Isu/Nwangele/Njaba Federal Constituency. Again he is providing his constituents purposeful and effective presentation to the Glory of God. He is the House of Representative Chairman Committee on Justice. As a State Legislator, he was House Committee Chairman on Tourism, Religion, Public Utilities, Chairman Joint Legislative and Executive Committee on IGR, Majority Chief Whip and Deputy Speaker. Indeed his best is yet to come by the Grace of God.
As Associates, Constituents and friends gather for this historic event that will have the Speaker Federal House of Representatives Rt. Hon. Femi Gbajabiamila as Special Guest of Honour and many notable political Religions and Traditional Leaders in attendance, it is believed that the people of Nkwerre/Isu/Nwangele/Njaba Federal Constituency, Orlu Senatorial Zone and indeed Imo state will in one voice say, "This our beloved son in whom we are well pleased.
It is also believed that numerous beneficiaries of the third phase of OZB's empowerment scheme will smile as many cars, buses, grinding machines, motorcycles, tricycle and cash will be given out.
Indeed Hon. Ugonna Ozurigbo's 43rd birthday celebration is going to put people in the moon for Christmas and we are wishing him a happy birthday and God's guidance in his endeavours.