Where do we learn anti-marital practices? from? By Sunrise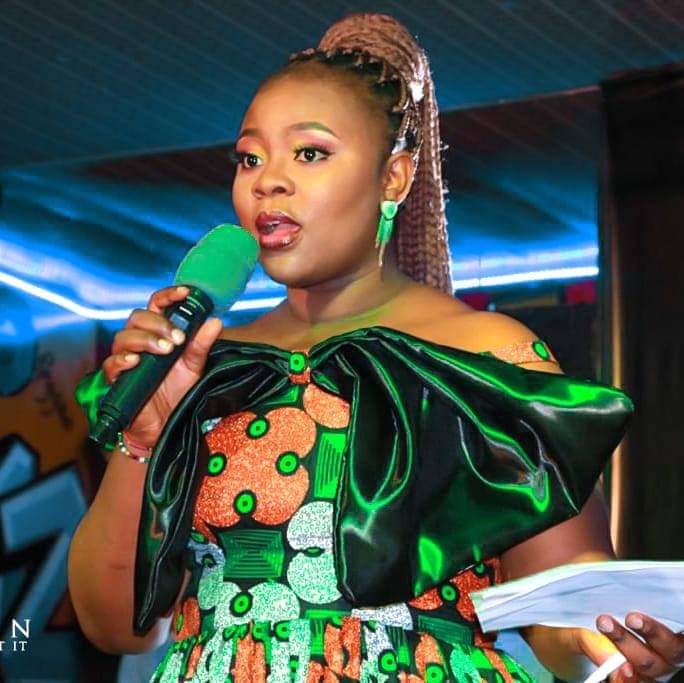 Where do we learn anti-marital practices? from? By Sunrise.
I CAN'T SEEM TO UNDERSTAND THIS THING..
Imo based media personnel, Miss Sunrise Oluebube Chukwukaike yesterday took to her Facebook account to lament on the latest trend, the trend on why families should go for DNA test…
In her own words, "You leave the one you love to marry the one who is ready but still go back to practice Okafor's law with your ex and even have kids with them?
What do people really even think marriage is? Some advanced video game?
Isn't it better to have children outside wedlock than get married and go ahead to engage in anti-marital practices?
You are exchanging vows before the altar and yet asking your bestman to collect the number of a girl you are eyeing at your own wedding. Sir your own wedding!
Even your cuncubines kuku attended the wedding!
You book an appointment a month/week/day to your wedding to give your ex boyfriend good bye sex? What the hell does that even mean? What wrong with all of us self?
Where do we learn these things from?
The movies??
Some wives can't remember the last time they performed their conjugal duties because they are married to some shameless randy man and out of fear of getting infected with STDs or their oga kpatakpata HIV/AIDS they resort to just doing mummy duties and answering wife for mouth.
You knew well that the man is almost always not around and you can't deal with the distance but you went ahead to marry him and now you are an award winning cougar.
Even your gate man shares you with his oga.
Your wife's sister comes to live with you people and you won't let her be. Always sneaking up on her and all. Your wife's sister!!
You brother in-law has chiseled abs and your hubby doesn't and so nwa bobo won't rest for you!
What in God's name is wrong?
If you know you can't be faithful why not delete the idea of marriage from your head?
This faithfulness thing involves both of you. Both not one!!
I usually don't like to attend wedding services because when I hear the vows being exchanged all I wonder is if the couple even understand what they are agreeing to.
What kind of oath they are taking?
Wait! Do we now marry just to prove to our village people that we can marry or because we understand that we are about to build and institution ordained by God himself and is made up of terms and conditions, roles, duties and responsibilities?
If you can't sit down to count the cost then don't get on with it!
See, the reason I still desire to be married is because apart from the fact that it's in line with purpose here on earth and that my case is different, I have parents whose marriage worked and is still working.
If not, all the rubbish is see is more than enough to make me give up on the subject of marriage.
How is it that married men are more in our dms than single men?
How is it that we now have a club for cougars in town? People's wives!!
This thing na agu akwa eziokwu!! 😭😭😭😭"
After going through her view on the issue, I ask,
What is the way forward?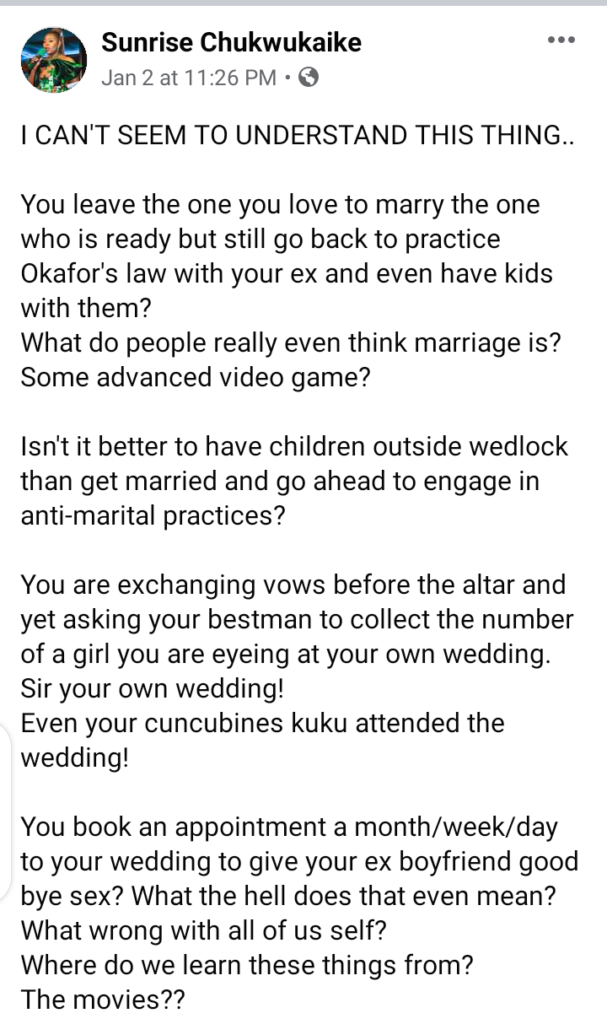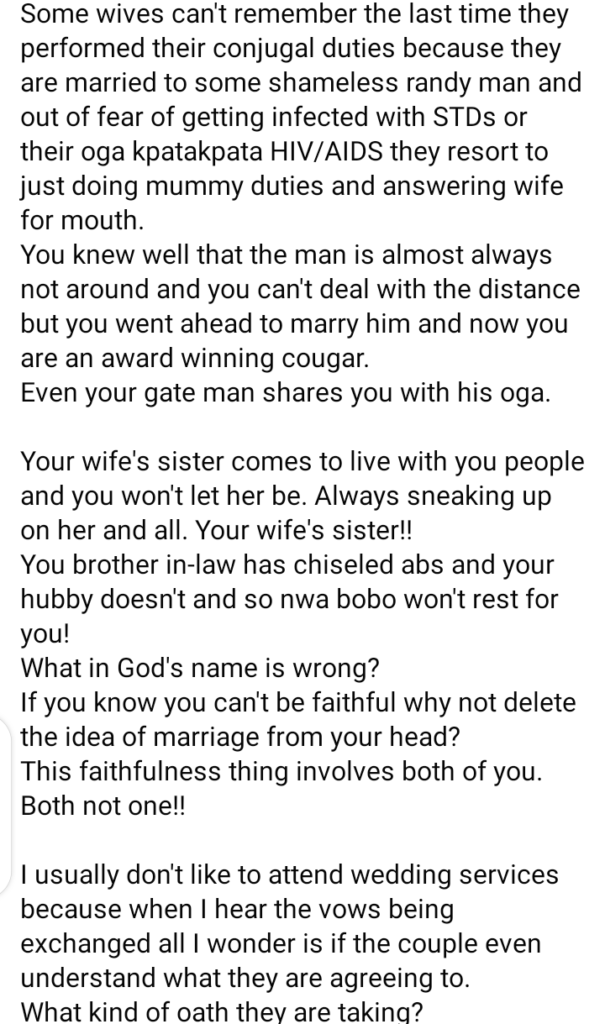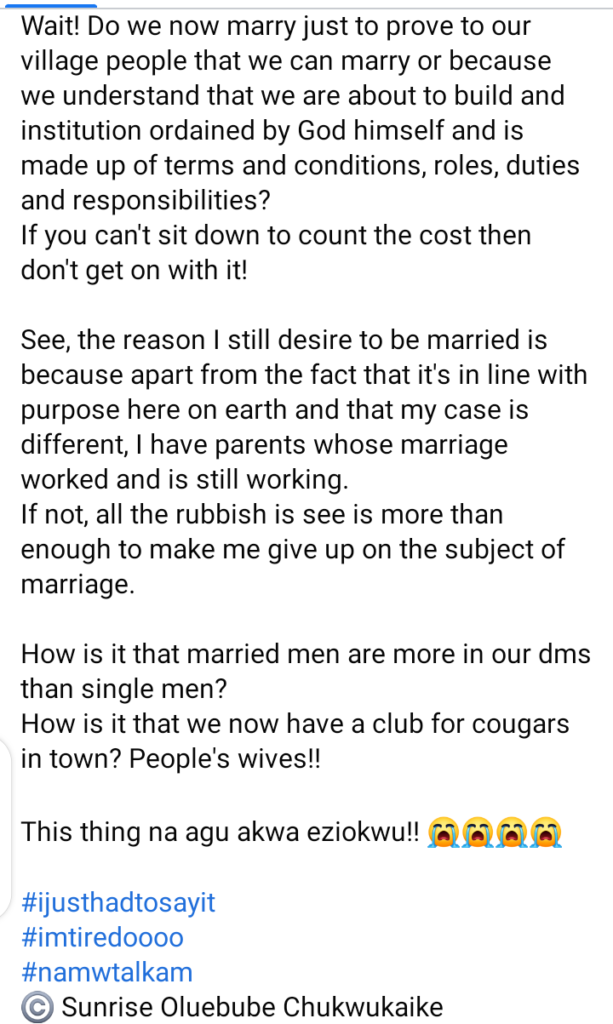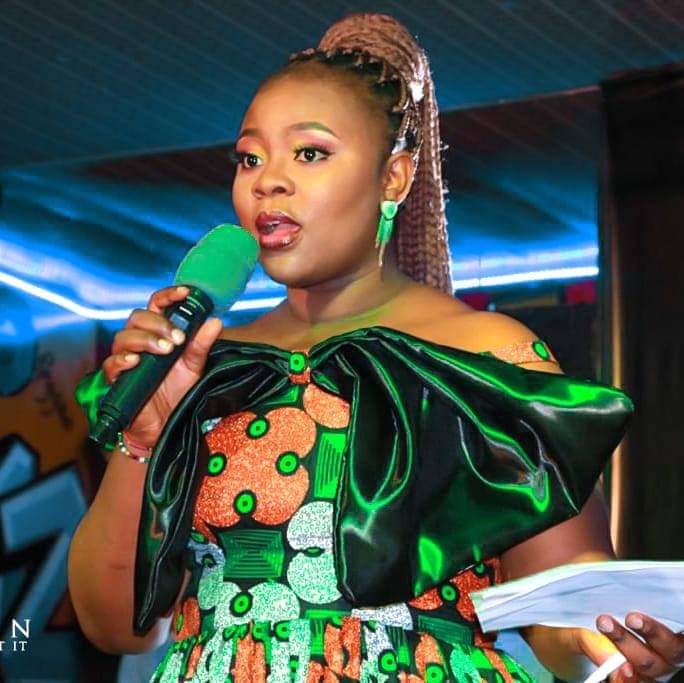 © Sunrise Oluebube Chukwukaike