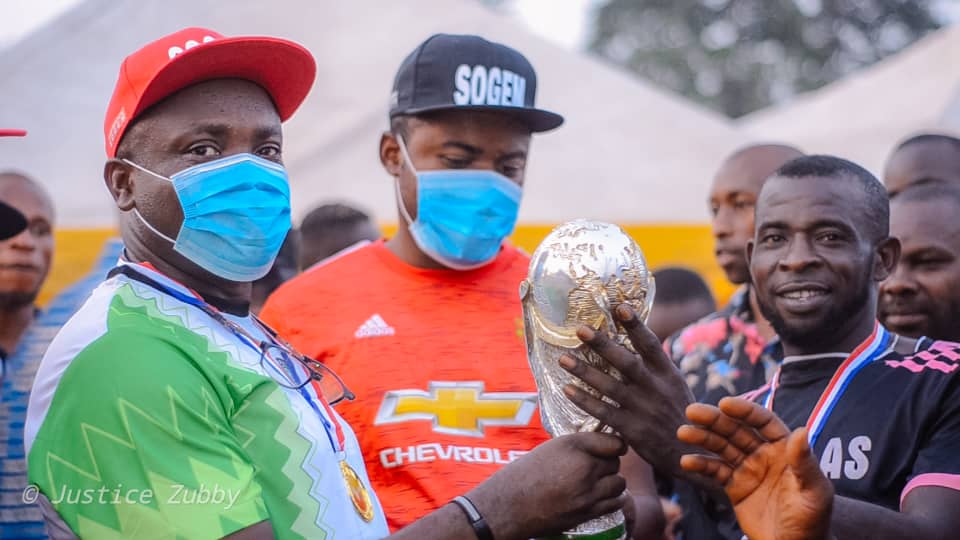 SIR ARC OGE EMMANUEL ODOR DOLES OUT MILLIONS TO HOST NKWERRE UNITY FOOTBALL COMPETITION.
–Promises to sustain the gesture to other parts of Obiano constituency–
Sir Arc Oge Emmanuel Odor, A renowned national construction maestro, an architect by profession, who doubles as the founder of a progressive movement called Sir Oge Emmanuel Odor movement (SOGEM) doled out millions to unify the Nkwerre communities through the football competition.
It was indeed a Wembley display as many Nkwerre indigenes trooped out en masse to witness the historical football competition which in recent times unified the Nkwerre communities, and left undeniable smiles in the faces of the participants and spectators.
The competition captured different communities who fully participated in the epoch making event; but came to conclusion yesterday 4th January 2021 at St Augustine grammar School field having the Umuko village and Ukwu/umuokpo Village as finalists, it was a tug of superiority conquest as the Umuko village defeated Umu/Umuokpo to a lone goal to none.
The highlight of the event was during the awarding session were the best teams and players were given their medals, trophy and cash prizes for their outstanding performances.
Thereafter, the host of the event Sir Arc Oge Emmanuel Odor thanked the organizers of the event for assisting him to ensure the football competition was a huge success.
He went further to throw more light on his reason for hosting the football competition he said " football is a unifying factor, and he has seen alot of division among Nkwerre community and decided to put up this competition at least to bring back the brotherly spirit which almost evaporated in Nkwerre.
The construction giant Arc Emmanuel, went further to reassured them that his organization has a lot in stock for not just for Nkwerre people, but has enough to capture other local governments in the federal constituency.
Moreover, Some dignitaries whom honoured the event made an open confession to the media personalities that" this is the best football competition played so far in Nkwerre, and voted that they would like the competition to be sustained" Nze Barrister B. Amajuoyi said.
They thanked the host Sir Arc Oge Emmanuel Odor for deeming it fit to initiate this unifying competition which has not been witnessed recently in Nkwerre enclave.
The tournament was hugely celebrated by the winners and participants, they were elated that at least a Messiah has come to revamp the Unity,love,and brotherliness the competition brings to the people of Nkwerre community.