HELP: Imo Controversial Comedienne Ada Jesus gets diagnosed with kidney issue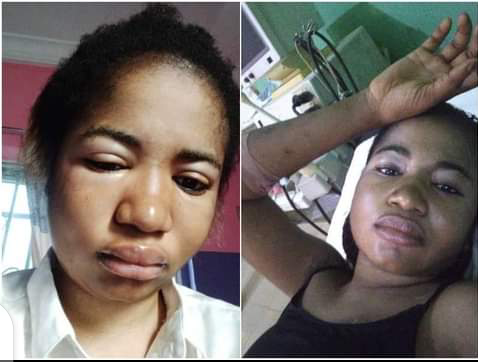 HELP: Imo Controversial Comedienne Ada Jesus  gets diagnosed with kidney issue.
According to reports flying up and down, which was later confirmed by Mr. Paulcy Iwuala, that the comedian is down with a kidney problem and needs money for treatment to commence.
The comedienne Mmesoma Mercy Obi popularly called Ada Jesus is critically ill as her friends and family have taken to social media to call for help and also to apologize for all her harmful words and plead for forgiveness on her behalf.
Mmesoma Mercy Obi
Fidelity Bank
6550125816
According to Paulcy Iwuala of Genius Eyes International Foundation on Facebook, Ada Jesus has a kidney problem and has been admitted to a hospital in onitsha Anambra State.
In his own word "
Truly I am not meant to be around this kind of situation being that I'm recovering or to say I'm battling with being in good health and good state of mind, but having being called upon by many to make verifiable claim on Ada's situation if this is true or false;
Well I decided to come here from owerri to Onitsha, to make a short live video to enable all persons be at peace with assisting this lady who have in one way cause a smile to people's faces even in her shortcomings and way of life,
We all have in one way offended people even I that speak have made mistakes and utterances that might have offended one to even wish me death, and I also this days ask to be forgiven as you forgive and assist our sister,
We all are in one way or the other going through difficult times but we keep pushing and striving daily to be better than our former, this is a call for you to forgive this my sister in anyway and assist her,
I am not here today and one who owns an NGO or here on doing my usual thing I am here as a common man like all, I am here as Nnamdi Paulcy Iwuala, I am here as an imperfect being, I am here as a naked man in and out asking for you to help this girl,
I might not revisit this place again because truly I am battling a lot but have decided the battle is between me, my God and my loved one, but on behalf of my Sister I have taken this trip through my weakness to come here to prove to you that she is going through this and she indeed needs your help ..
Ladies this is not a time to tear your fellow woman down this is time to show solidarity in support for your dying gender and help her to live again,
Enclosed here is her personal account, not mine, not the NGO's own but her's, as you contribute so will I too, all support I shall give I will give in terms of making it possible for her to live this country as soon as possible,
I understand times are hard but trust me there are people to make exceptions for and she is one of those, please I beg you all ..
I'll stop here as you watch the live video and be the judge yourself enclosed is her account number verifiable as you choose …
Mmesoma Mercy Obi
Fidelity Bank
6550125816
#voiceofchange, #prayforadajesus,