Star Nite Owerri by Dj Saquo, 17th Edition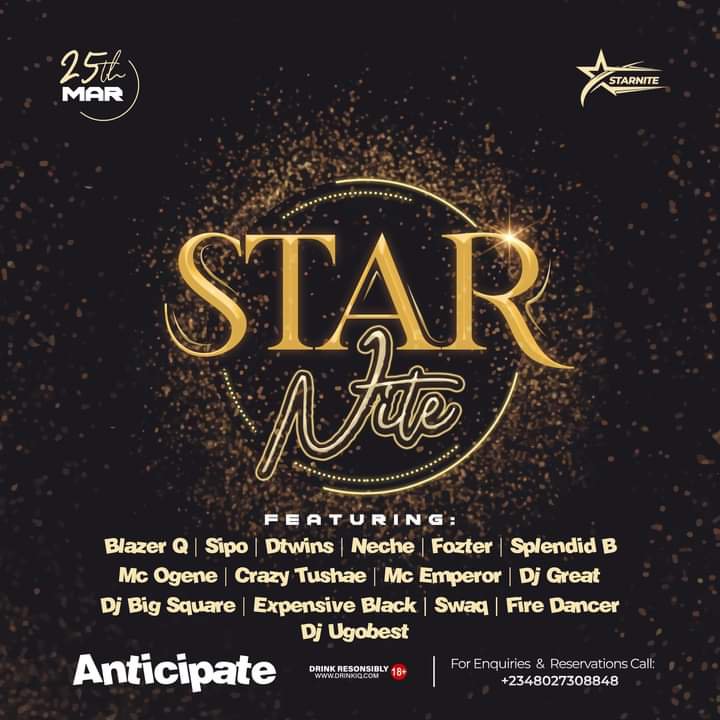 Star Nite Owerri by Dj Saquo, 17th Edition.
StarNite Owerri is one of the brainchild of Imo State most popular Disk Jockey Dj Saquo, according to Dj Saquo, "Star Nite Owerri is an Industrial nite Event, aim at:
* Creating an interactive platform for all the players in the entertainment Industry.
* Making sure all branches of entertainment are carried along.
* Creating a platform where the bigwigs and the smallest wigs can connect.
The first edition of Starnite was on February 28th, 2013 which had 13 Performing Artistes and ever since then we have recorded 16 successful editions.
Speaking to Dj Saquo and his team, on the vision for this platform,
He said
"It is our firm belief that the development and enhanced prospect of the entertainment Industry in Owerri hinged on positive, reflux interactivity amongst relevant players occasioned (in this instance) by a goal-oriented, band-driven Industry Nite event. Hence Our model DJ SAQUO'S Star Nite Owerri, our Vision is to Create an Entertainment Hub east of the Niger while promoting urban value through a purpose-driven goal-oriented professional band"
Starnite Owerri by Dj Saquo, 17th Edition will take place on the last Thursday of March 25th, 2021.
This edition will feature a Red Carpet Event and multiple performances from up to 20 performing artiste (Including invited guest performers) DJs, Comedians and Dance Groups.
Team SaqNation believes strongly in their ability to pull together human and allied resources to achieve our objective. As a team, they realize that sacrifice breeds quality and quality in turn is competitively market.
According to one of the team members, Dj Dica Divine, who said
"It is our goal to create and manage "THE" most successful industry event in eastern Nigeria. By creating an enabling environment for interaction, optimizing human resources; talent and enshrining professionalism, we will catalyze the growth and development of the entertainment industry in our local. Entertainment is a viable business".
For PARTNERSHIP and SPONSORSHIP call/whatsapp: +234(0)8032881008
Proudly Powered by #TeamStarNite