#2023Elections: Obasanjo Unfit to Recommend President for Nigerians, Tinubu Fired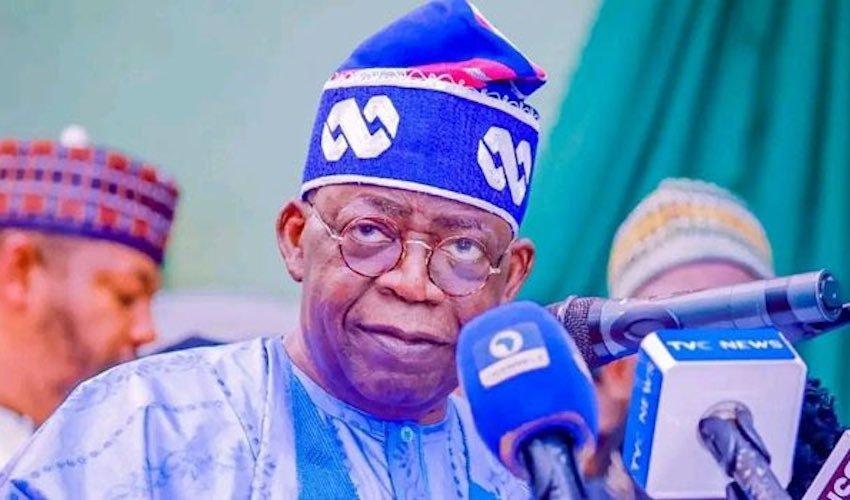 #2023Elections: Obasanjo Unfit to Recommend President for Nigerians, Tinubu Fired
Mr. Bola Ahmed Tinubu, The All Progressives Congress (APC) presidential candidate, yesterday strike back at former President Olusegun Obasanjo, saying the ex-president was not qualified to recommend or endorse anyone as President of Nigeria because of his failures.
While speaking yesterday, at the APC Presidential Campaign rally held at the University of Benin Sports Complex, Ugbowo Campus, Benin, the APC flagbearer said Obasanjo failed to develop the country when he had the opportunity, but rather was fighting his then vice president, Atiku Abubakar, while accusing each other of spending the country's money for their personal comfort.
The former Lagos governor was responding to Obasanjo's new year's letter, where he had endorsed the Labour Party's presidential candidate, Mr. Peter Obi and had said Tinubu and the PDP presidential candidate were not fit to lead the country at this time. But Tinubu noted that after spending $16 billion on electricity, Obasanjo and the PDP government could not deliver electricity for Nigerians to make even popcorn.
As Governor of Lagos, Tinubu recalled how he brought Enron Power to generate electricity and solve the power problem in the commercial nerve centre of the country but the project was frustrated by the Obasanjo-led PDP government."I brought Enron to solve electricity problem and help Lagos economy but Obasanjo and PDP frustrated it. They punished me and Lagos people and even began deducting our money."I created local governments in Lagos to accelerate development and create employment for our people but Obasanjo seized our allocation and punished us for that.
In his own words "That was wickedness and such a man said he endorsed a man for you to vote as President. Can you follow such a man? Can Obasanjo recommend a leader for anyone in Nigeria? A man who does not know the way cannot show the way."
On his main opponent, Atiku, the former Governor of Lagos said the PDP presidential candidate was not qualified to be president of Nigeria having indicted himself on his record as a civil servant.
"Atiku and Obasanjo accused themselves of using Nigeria's money to buy cars for their comfort. Atiku was a Custom officer who said he made money selling cars, that is smuggling. He didn't even know that a civil servant cannot do any other business apart from agriculture. That is enough to disqualify him and he is not fit to be president," he added.
On his plan for the economy and Edo people, Tinubu said it was time to eliminate darkness and make the economy of the country productive through massive industrialisation, promising to make Edo State a hub of industrial activities and an energy state.At the very electrifying rally, Tinubu told the people that prosperity and happiness have come. He applauded the return of Benin artefacts by some Western nations but urged the countries to pay some money to Edo State having made huge money from the returned artefacts through tourism and exhibitions.
"Edo people, prosperity has come, happiness has come, hope is back in your homes, knowledge is back in your community. I am happy about the returned artefacts. They are bringing our artefacts. I support the Oba of Benin who said our heritage must come back but I disagree with the Europeans. They have used our artefacts for exhibitions and tourism for decades in their museums to make money. They should not just send them back without money. When I become President I will ask them to pay us restitution. I will contribute to the building of the museum in Benin."
On his competence and readiness for the job, Tinubu told the mammoth crowd that his administration would focus on job creation through small scale industries, build a credible credit system for capital formation, bring multibillion dollar investments to Edo State and end estimated electricity billing.
"I will turn Edo State to energy State. I will convert Yahoo boys and make them useful by converting their talents and intellects to produce chips for industries. We can defeat poverty, ignorance and homelessness. We have the knowledge, we have the brain to do it. Trust me. I am an expert in finding the way where there is no way. I found a way to tame the Atlantic and turn it to money- making machine," Tinubu said in a statement by the head of his Media Office, Tunde Rahman.Tinubu also spoke on his motivation to make life better for the poor and why opportunities must be created for young people to move up on socio-economic ladder.
"I believe the children of boli and groundnut sellers should become doctors, engineers, nurses etc. That was why I started the payment of WAEC fees for their children as governor in Lagos."If you want to become rich, elect me. If you say I should go and retire, it means you want to retire diamond and gold. Edo people, I am telling you like I say everywhere in Nigeria, elect me," he said.
In his address at the rally, former governor of Edo State and Deputy Director- General of the Tinubu-Shettima Campaign, Adams Oshiomhole, said come February 25, Edo people would use their PVC to appreciate Tinubu as a father of multi-party democracy in Nigeria."If you want to understand why Obasanjo failed to turn Nigeria into a one-party state, it was the resistance of Asíwájú and others."Obasanjo also wanted to take over Lagos. Asíwájú said you can't do it. If you are a military general, I am a general of politics. He fought him to a standstill," Oshiomhole said.
He charged the mammoth crowd at the rally to mobilize their relatives and friends back home to vote for the APC candidate.Oshiomhole also threw jibes at presidential candidates of Labour Party, Peter Obi, and that of PDP, Atiku Abubakar, asking Edo people to reject them."Peter Obi is a joke," he said, adding that Obi could not address the erosion problem in his state of Anambra.Oshiomhole said Atiku cannot unite this country.
"Someone who cannot unite his house, how can he unite Nigeria?"Edo State APC Chairman, Col David Imuse (rtd), said Edo had always been with Tinubu and would always be there for him to ensure victory in the February 25 election.
"There is no political party that has a candidate that is as qualified as our candidate, in terms of experience, in terms of pedigree and performance."Kano State Governor Abdullahi Umar Ganduje, APC National Woman Leader Beta Edu, former Minister of Niger Delta Affairs, Senator Godswill Akpabio; Minister of State for Budget and National Planning, Clem Agba, former Chief of Defence Staff, General Olanisakin, Senator Andy Uba, among others, attended the rally.Meanwhile, the immediate past Osun Governor, Adegboyega Oyetola, yesterday inaugurated the Osun Tinubu/Shettima Presidential Campaign Council (PCC), in Osogbo.
Oyetola who is the State Coordinator, Tinubu/Shettima Presidential Campaign Council tasked the newly-inaugurated members of the PCC to begin to intensify efforts towards ensuring all round victory for the APC presidential candidate and his running mate,Tinubu and Alhaji Kashim Shettima and all APC candidates in the forthcoming general elections.
This was even as Oyetola reiterated that Osun would ensure the delivery of over a million votes for the party's flag-bearer in the next presidential election saying APC has offered the best candidate to turn around Nigeria's fortunes.Inaugurating members of the Council, at Osogbo, Oyetola said no stone would be left unturned to ensure the emergence of Tinubu and Shettima as well as all the candidates of the party in the national and state assemblies elections.
Oyetola noted that the country was in dire need of a competent individual like Tinubu to build on the gains of the incumbent administration and drive the nation's potential for socioeconomic growth and development of the country.
According to him, there was no room for experiment on the choice of next president at this critical time in the history of Nigeria, hence the need to elect Tinubu whose political pedigree, good, responsible and responsive governance antecedents are second to none."Our presidential candidate is not only a problem solver, he is a genius, a roadmap designer and an implementor who out of little or nothing, turned around the socioeconomic fortunes of Lagos State.
"Additionally, the team is the only one that has the required capacity and political wherewithal to reposition Nigeria by building on the gains of the President Muhammadu Buhari-led administration," he said.While tasking the members of the party to remain resolute, united and unperturbed, Oyetola expressed delight in the firmness of the party's structure and commitment of the leadership and members of the APC in the State, saying it is signal to the fact that the party remains the party to beat anytime and any-day in Osun.