Association of Nigeria Movie Directors {ANMD} honors AMB (Dr.) Armstrong Moses with a "Fellow award"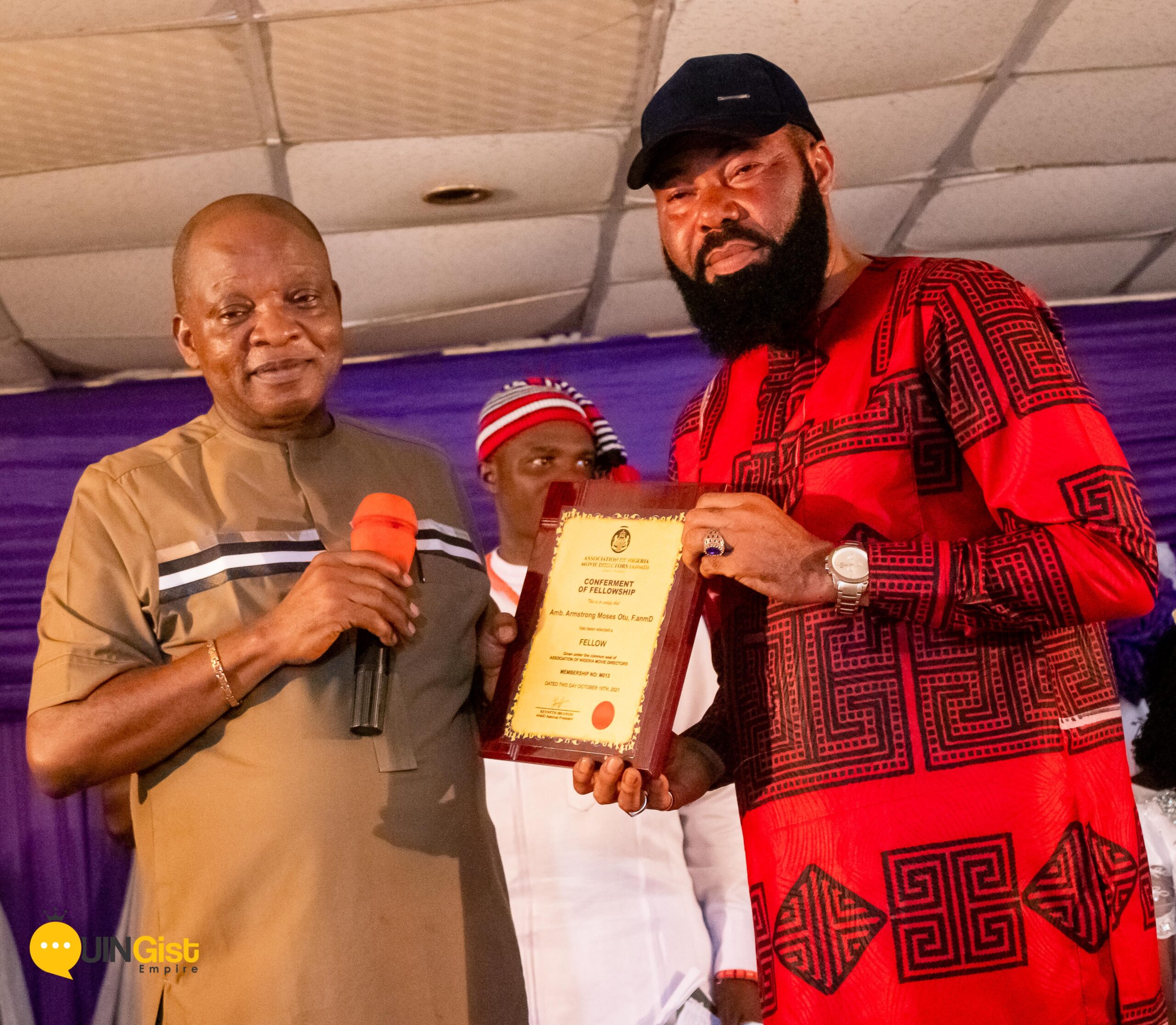 The Association of Nigeria Movie Directors {ANMD} honors AMB (Dr.) Armstrong Moses with a Fellow award on the 16th of October 2021 at their 3rd National conference/ induction of new members' ceremony held at Credlewood hotel Imo State
AMB (DR.) ARMSTRONG MOSES
An excellent drama actor a media personality a cheerful mediator and a versatile grassroots mobilize, Armstrong Moses is an astute entertainment entrepreneur.
---
His investiture as a Peace Ambassador stands him out for his exemplary role in the society. This was performed by the International Association of the World Peace of the United Nations as "Peace Ambassador" in 2006. A Doctorate Degree Honorary from Bible University of Canada as "Doctor of Humanity" 2011 and an international endorsement as Brand Ambassador to Natures Extracts and Indian Based Organic Drug Organization 2021.
---
He attended ST. FRANCIS SECONDARY SCHOOL, Ikot Ataku, Okon Eket in Eket Local Government Area and furthered his education as an international student where he studied catering and Hotel Management under (Food and Nutrition) at Sung Hwah University Seol, South Korea. He Subsequently obtained both National Innovation Diploma (NID) in Media & Performing Acts and Higher National Diploma (HND) in Mass Communication at MAURID Polytechnic Mbiaso, in Nsit Ibom Local Government Area of Akwa Ibom State.
---
Armstrong has actively spent well over 23 years in the Nigerian Movie Industry (Nollywood) as an actor, scriptwriter, and movie producer with over three hundred and fifty movies to his credit.
As a political element, he is variously involved in movie-related associations at the national level including the Actors Guild of Nigeria (AGN). A stakeholder and BOT Forum of Akwa Ibom State Movie Practitioners (FAMP). Also, a card-carrying member of a political party.
---
As a mentor he has a growing population of over 26,000 mentees under the creative platform, ARMSTRONG MOSES EMPIRE (A 10 million Family) on social media, and his family is consistently increasing by the day.
Armstrong Moses has bagged a handful of awards both competitive, excellence, and recognition awards. The Latest is the award of recognition as "Father of Actors and Actress in Akwa Ibom State Movie Industry" by the face of Ibom Nollywood (FOIN). The organizers of The Face of Ibom Nollywood Pageantry and award. This and many more.
---
Armstrong Moses is also a politician, having served his state as the Special Assistant to Akwa Ibom State Governor on Agriculture in 2015 – 2019. Currently running a political group of over a million membership strength under the name "Akwa Ibom Youths Earnestly Ask For The Next Governor AYEAFONG.
Armstrong Moses is currently fully back to Nollywood after five years of political services to his state, with his all-round versatile acting skills in comedy, action, romance, and epic movies all in one person. And he is quite ready for your scripts and locations.
---
Ladies and gentlemen I present to you the man Amb, (Dr.) Armstrong Moses, A versatile actor and a philanthropist and Congratulations on your newest award..
Pictures: