#cookingguilde: Nigerian Egusi Soup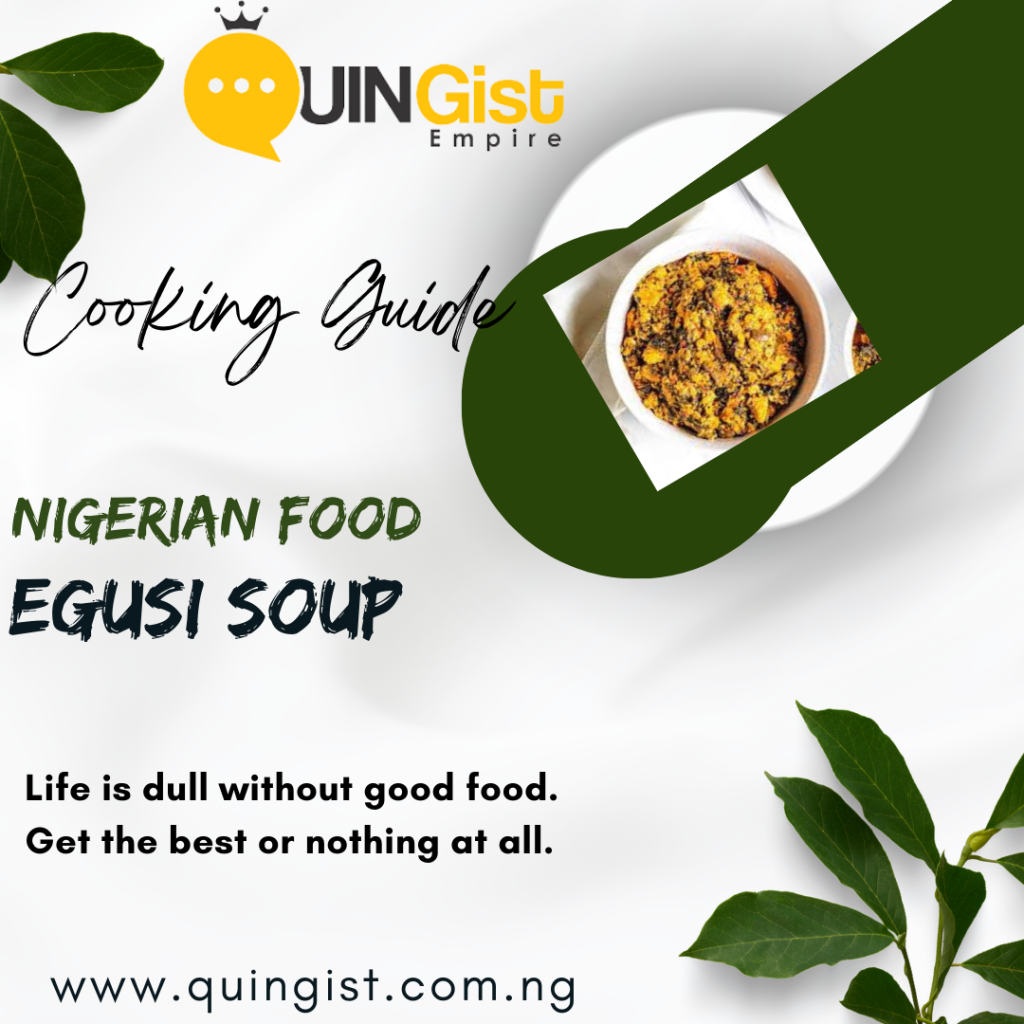 #cookingguilde: Nigerian Egusi Soup
Egusi soup is a delicious and popular Nigerian dish made from ground melon seeds. It is usually cooked with a variety of vegetables, meat, and fish, and seasoned with different spices. Here's a recipe for making Egusi soup:
Ingredients:
2 cups egusi (ground melon seeds)
1 kg meat (beef, goat, or chicken), cut into bite-sized pieces
1 cup assorted meats and/or fish (optional)
2 cups chopped vegetables (spinach, bitter leaf, pumpkin leaves, or a combination)
1 medium onion, finely chopped
3-4 fresh chili peppers, finely chopped (adjust to your spice preference)
2-3 tablespoons palm oil
1 tablespoon ground crayfish (optional)
2-3 stock cubes (bouillon cubes)
Salt to taste
Water for cooking
Instructions:
1. Place a pot on medium heat and add the palm oil. Allow it to heat up for a few seconds.
2. Add the chopped onions and chili peppers to the pot. Sauté until the onions become translucent and fragrant.
3. Add the assorted meats (if using) and the meat pieces to the pot. Cook until the meat is browned and well-sealed. Stir occasionally to prevent sticking.
4. Pour in enough water to cover the meat, season with salt and stock cubes, and simmer until the meat is tender. This can take about 30-45 minutes depending on the type of meat. Add more water if necessary during cooking.
5. While the meat is cooking, place a dry frying pan on low heat and add the egusi. Toast the egusi in the pan, stirring constantly until it changes from a pale color to a slightly darker shade. Be careful not to burn it. Remove from heat and set aside.
6. Once the meat is tender, add the toasted egusi to the pot. Stir well to combine with the meat and the cooking liquid. The egusi will thicken the soup.
7. Add the ground crayfish (if using) and adjust the seasoning to taste. Simmer for about 10-15 minutes, stirring occasionally to prevent burning.
8. Add the chopped vegetables to the pot and stir.
Allow the soup to cook for an additional 5-10 minutes until the vegetables are wilted but still vibrant in color.
9. Taste the soup and adjust the seasoning if needed.
10. Remove from heat and serve the Egusi soup hot with a side of pounded yam, fufu, or rice.
Note: You can customize your Egusi soup by adding other ingredients such as smoked fish, dried shrimp, or other vegetables based on your preference. Enjoy your delicious Egusi soup!
Duru Eunice Adaku
22/05/2023