Create your "I will be there" for Jesus Squad 2021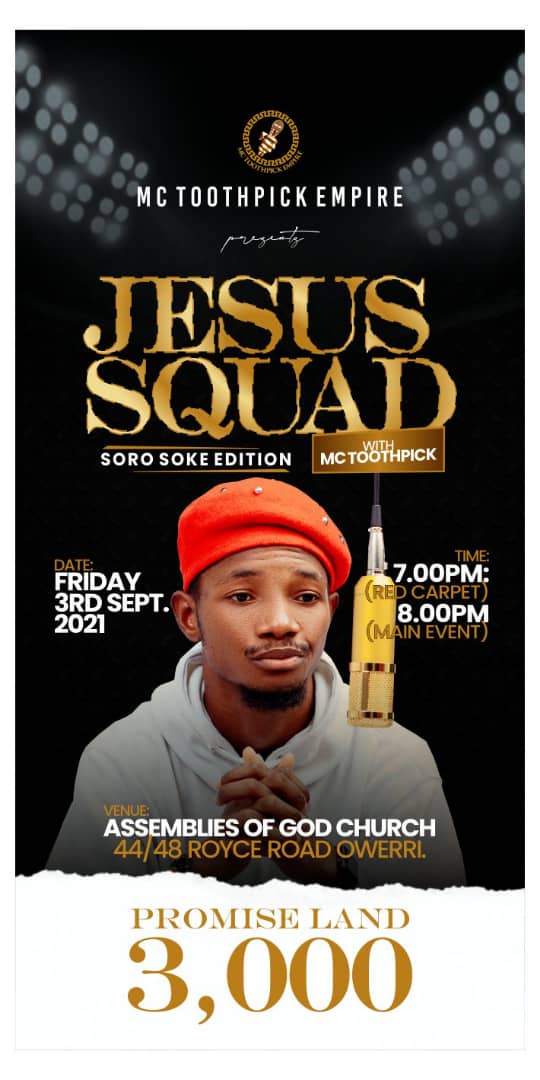 I will be at Jesus Squad 2021 on September 3rd…
??????????
Create your Confirmed Flyer here…
☝☝☝☝☝☝☝☝☝☝
Remember, Jesus Squad Concert is organized by Mc Toothpick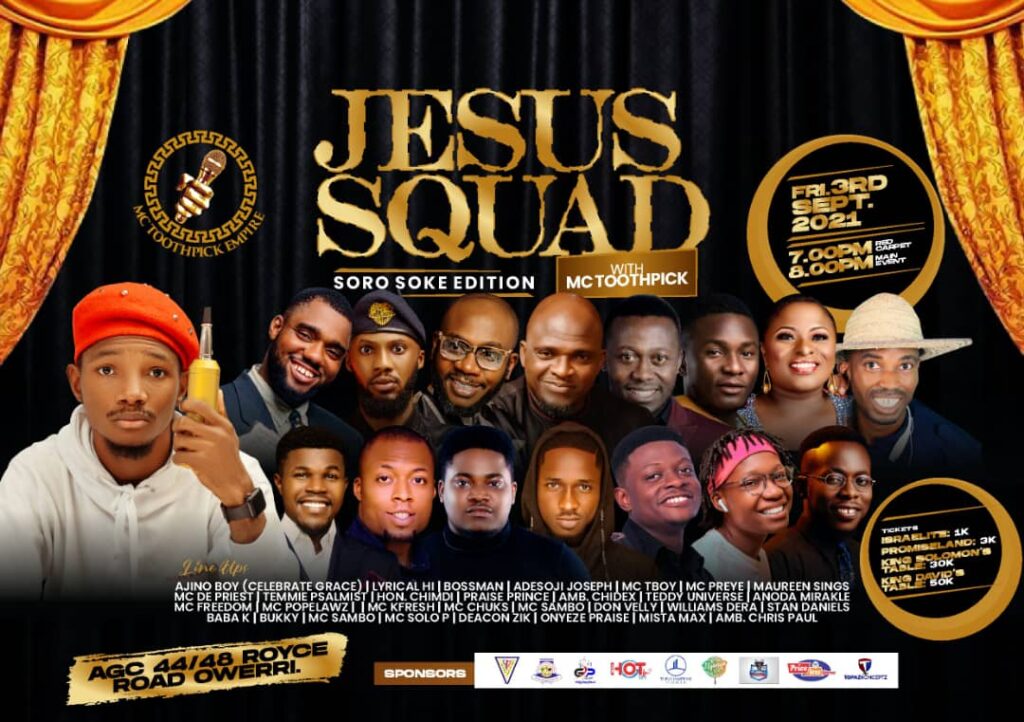 DATE: 3rd September 2021
VENUE: Assemblies Of God Church 44/48 Royce Road Owerri.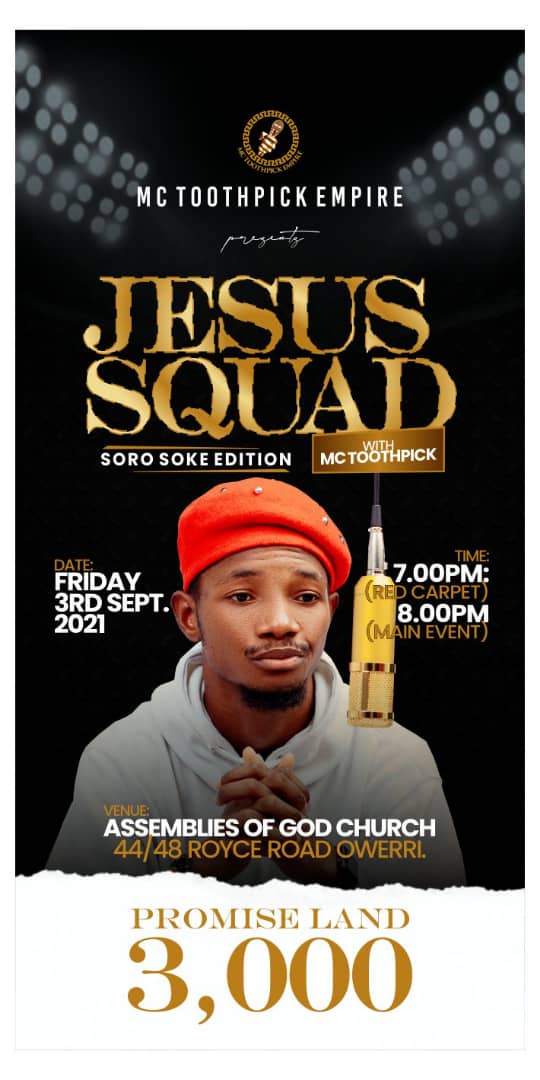 TIME: Red Carpet 7 pm
Main Event: 8 pm
SPECIAL GUEST PERFORMANCE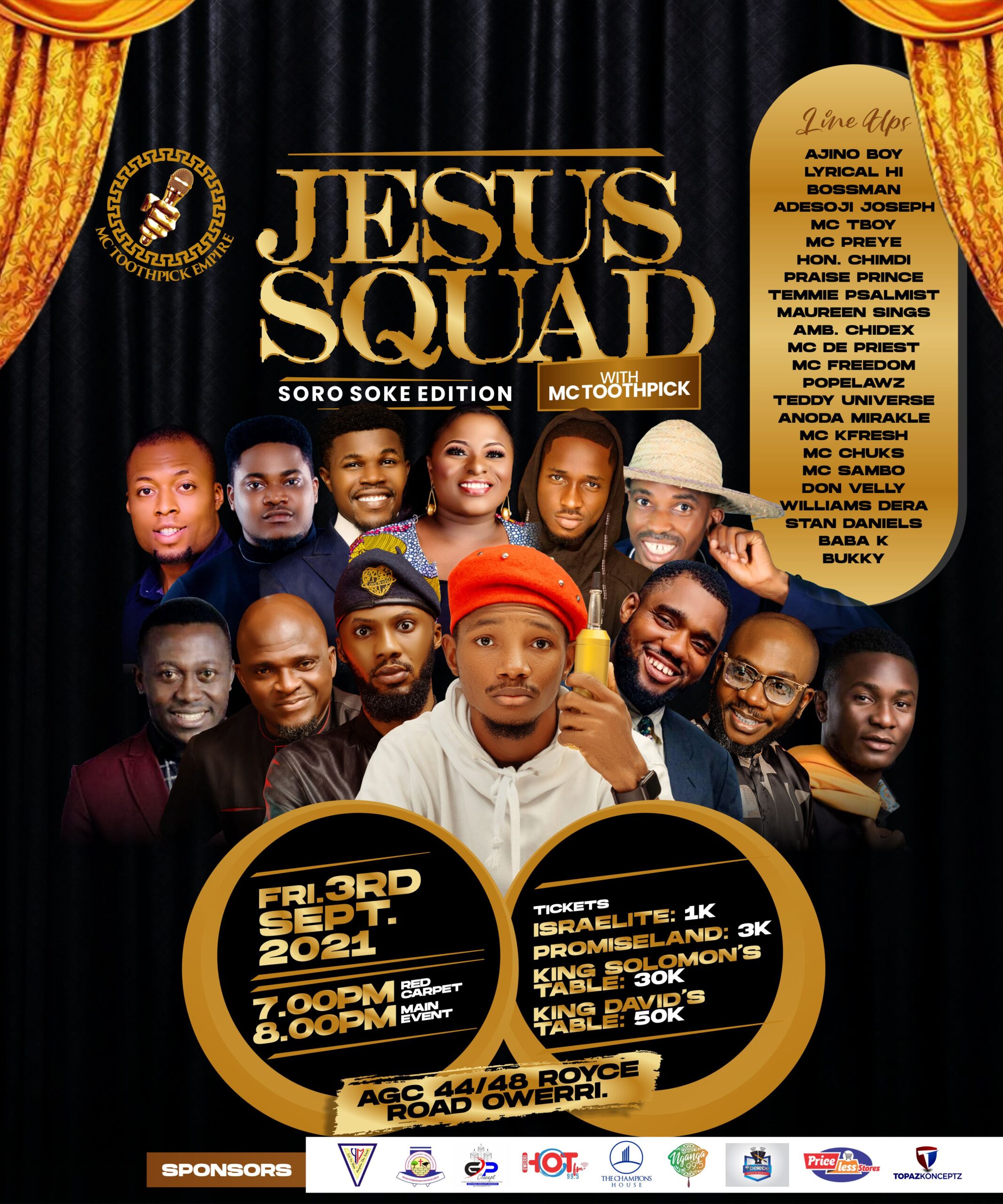 Ajino Boy Aka (Celebrate Grace, Zoulakate)
Lyrical H. I (Spiritual)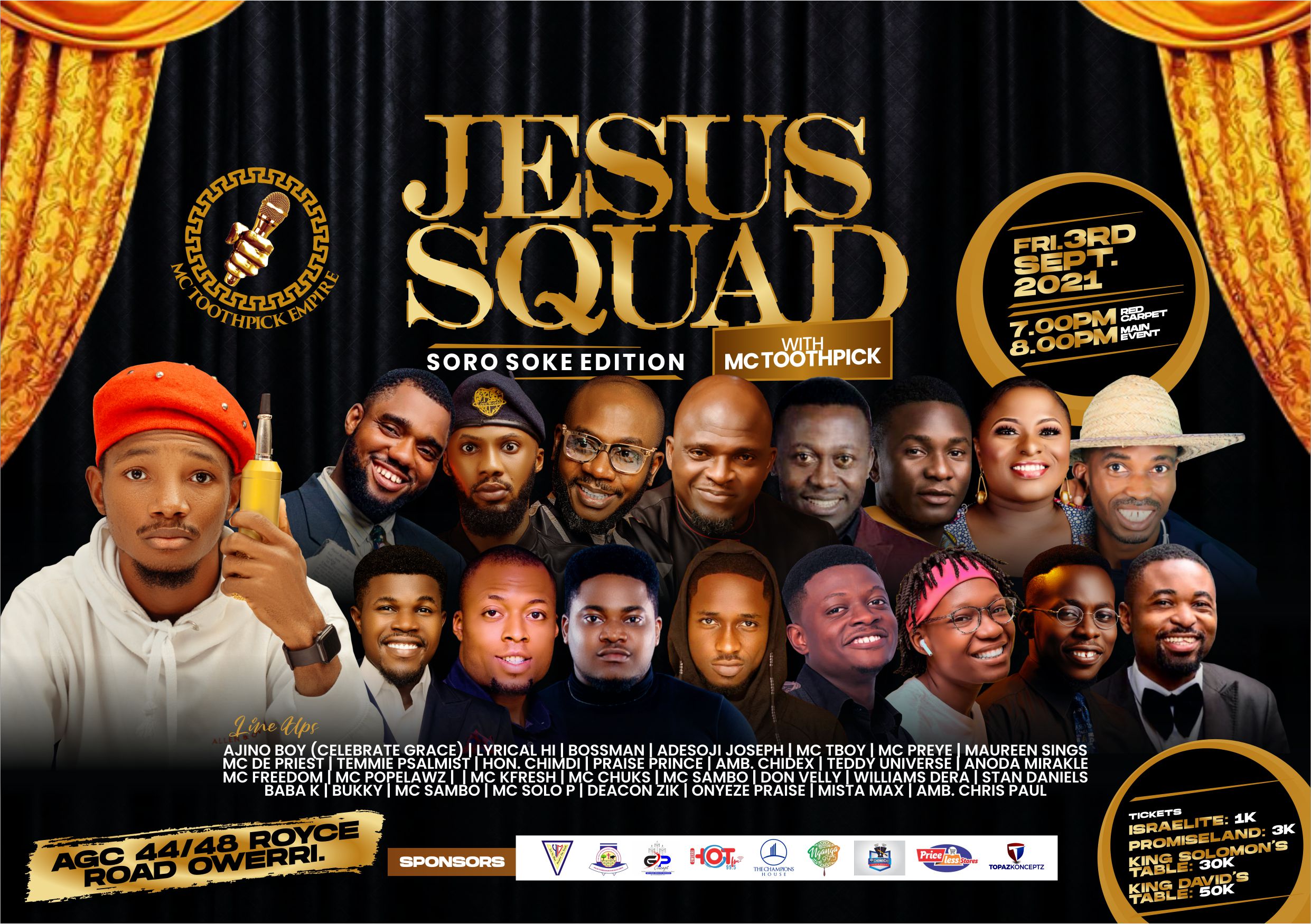 Artist
Adesoji Joseph
Maureen Sings
Amb Chidex
Donvelly
Hon Chimdi
Praiz Prince
Temmie Psalmist
Williams Dera
Olivia De Worshiper
Onyeze Praise
Stan Daniels
Baba K
Tabitha Sings
Mista Max
Faithful Anozie
Obere Nwa Jesus
Gray Walker
Bukky
Min Ned
Glory Francis
Amb Chris Paul
One Family Voice
House Of General
House Of Praise
Comedians
Bossman
Mc Tboy
Mc De.Priest
Mc Popelawz
Mc Freedom
Mc Preye
Ice Candy
Teddy Universe
Anoda Mirakle
Mc Kfresh
Mc Chuks
Mc Sambo
Mc Chizzy
Mc Bigman
Mc Stejay
Deacon Zik
Mc Solo P
Mc Chizzy
Son Of Man
Mc Donjay
Mc Promkey
Mc Zik
Mc Gold
Mc Ckc
Freetouch Ob
Aunty Fifi
Praise Ndukwu And Many More ..
---
Anchors
Teddy Universe
Mc Preye
Anoda Mirakle
---
Red Carpet Hosts
De Talker & Mc Sunrise
---
Music Policy
Dj G.Icon
---
Tickets
Isralites (Regular 1k )
Promised Land (Vip 3k )
King Solomon's Table Of 5 (30k)
King David's Table Of 10 ( 50k )
---
Ticket Outlets.
Priceless Stores Orji
Hotfm Owerri Onitsha Road
U-davis Investment Royce Road
---
Or Call 08164810081
Proudly Sponsored By
Priceless Stores,
Hotfm Owerri,
Rhema Youth Champions House,
Chizzy Technical Consults Limited,
Gp Concepts,
Oak International Christian School, Quingist Empire,
Ebelebe News Media,
---
Get Ready For Good Jokes & Good Music