#Diaspora Day: King Eze Obilam hosts 1st African/Nigerian Diaspora day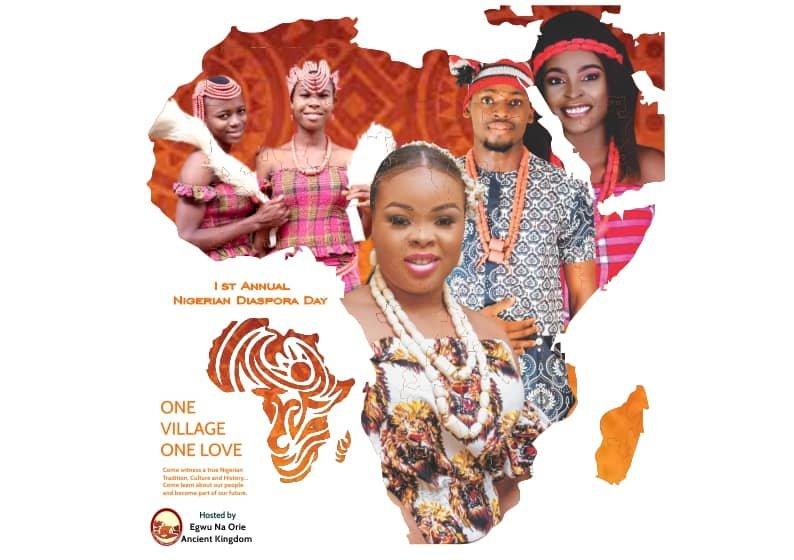 #Diaspora Day: King Eze Obilam hosts 1st African/Nigerian Diaspora day
The 1st African/Nigerian Diaspora Day held in Egwu Na Orie Ancient kingdom, on Tuesday, the 28th of December 2021.
It was indeed a day to be remembered, ideas, positive contributions, and the way forward for Africans and their brothers and sisters in the Diaspora were shared.
The magic happened at the prestigious Egwu Na Orie Ancient kingdom, oh, what a day of learning, networking, understanding, and sharing of positive contributions from Nigerians to the rest of the world, and their relationship with those in the Diaspora it was.
The event was represented by different tribes and speakers from Igbo, Yoruba, Mafa, Haiti and the Diasporans.
Venue: Egwu Na Orie Ancient kingdom. Egberemiri, Eziudo, Ezinihitte Mbaise LGA. IMO State Nigerian.
The event was a total show of love and oneness just as it was
Themed: OneVillage Onelove
The Opening prayer was handled by De Ik Njoku, followed immediately by the blessing of Kolanut just like our custom requires by Nze Patrick and Eze Okey Adiuku
Massive presentation of Traditional Musical/ Cultural Dance by Umu Ada dance, the women of Egwu Na Orie ancient kingdom, The Ikoro dance.
The event witnessed the contest for who the crown of Ada Na Opara fit
Folktale time had the History and Relationship of Africans and their relations in the Diaspora was told by the eldest man in the village: De Isaac Nwachukwu and Adaeze Eze
Mrs LeAndra Hammond the co-host of the special event narrated the History of African/Nigerian Diaspora day.
The official Host is: King Eze Obilam and is Co-hosted by Mrs. LeAndra Hammond
Poem presentation by Little Toria and little Chikaodi Luke
The event had very important Speakers from the Diaspora, the likes of:
Cassette Hall
Pamela Jessie and Michael Muse
A Yoruba speaker:
Peter B Betiku
Igbo speakers:
Chief Francis Duru (actor)
Mrs Victoria Egejuru
Haitian speaker:
Pastor Jose Etienne
Mafa speaker:
Jerry Luna
Lots of Activities including, dancing, sharing of gifts, and donations from both Egwu Na Orie people and their brothers and sisters in the Diaspora.
Award presentation of Ada eji agamba to Mrs LeAndra Hammond
Vote of thanks was taken by King Eze Obilam and Mrs LeAndra Hammond.
Follow Nigerian Diaspora Day on Facebook: