#Disgrac: A lady slaps and humiliate her boyfriend for proposing to her.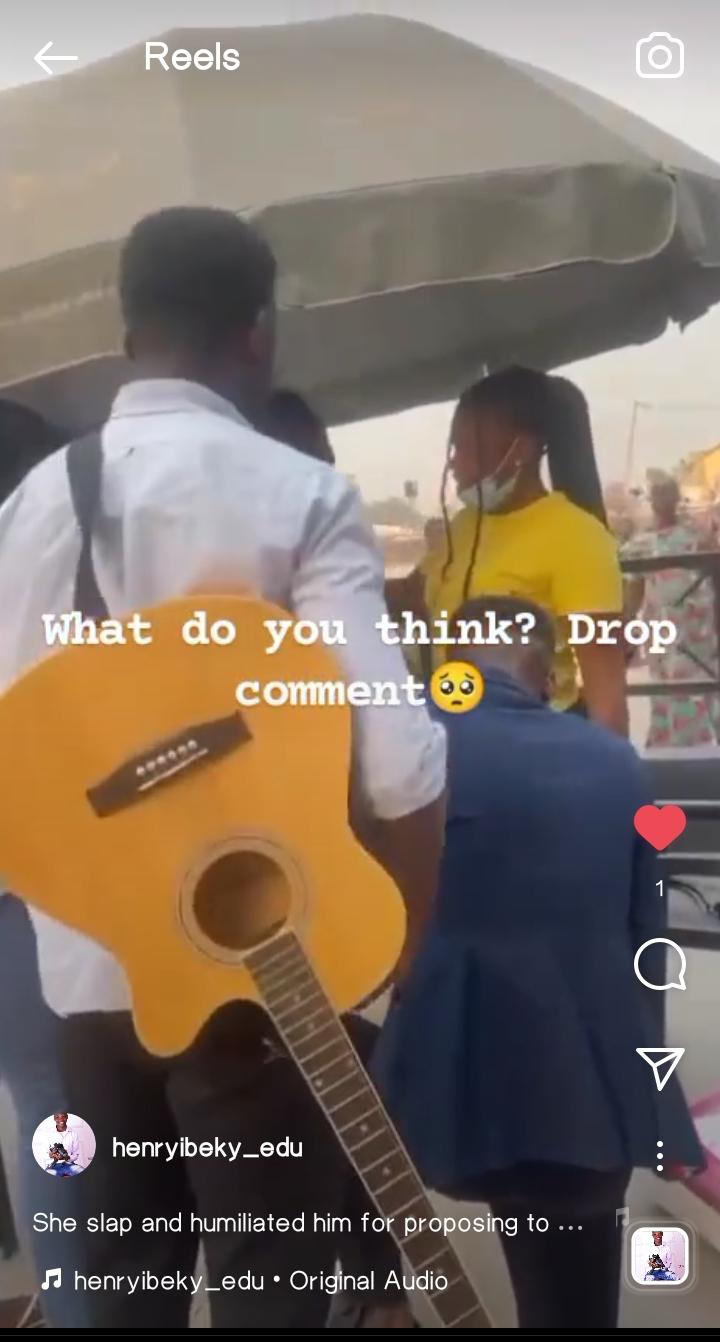 #Disgrac: A lady slaps and humiliate her boyfriend for proposing to her.
While some men rejoice and celebrate a successful proposal, some face rejection and disgrace.
This was a fate of a man who proposed to a lady in an open area. The lady who felt irritated, disgusted and annoyed reiterated in a wicked and violent manner.
There is nothing wrong with proposing, and there is nothing wrong with saying NO to a mam you want to avoid marrying. What the Lady did is wrong and calls for questioning.
The lady who reacted negatively to the proposed gave him two dirty slaps, admits curses and insults. She said 'do you think I am like other ladies as she gave him a dirty slap'.
When passerby tried stopping her and claiming the situation, she took it to another level. After slapping ad insulting the man, she slammed him the proposal cake he made.
Some Twitter users reacting to the video said it is a skit, while most condemned her action. See some replies…
Kingmaker @nathan_oji – 23h
Replying to @Eazykel
Alot of women in the comments are saying it has to be a skit.. This is simply bcos they saw a glimpse of how unreasonable and violent a woman can be.. something we talk about all the time and it seems like a myth to them..
Ekele Kingsley [Nw] @ekele… 11h I dated a lady, she was so violent I virtually use to hide in my room ehen she comes around to see me… I was so scared of her..most times when I want to talk to her about something I have to sugar-coate it so she won't get the slight irritation
You can watch the video by clicking this link.
What do you think about this, share with us.