Empowering Youth Through Education: Eric Cares Foundation's Inspiring back to School giving back outreach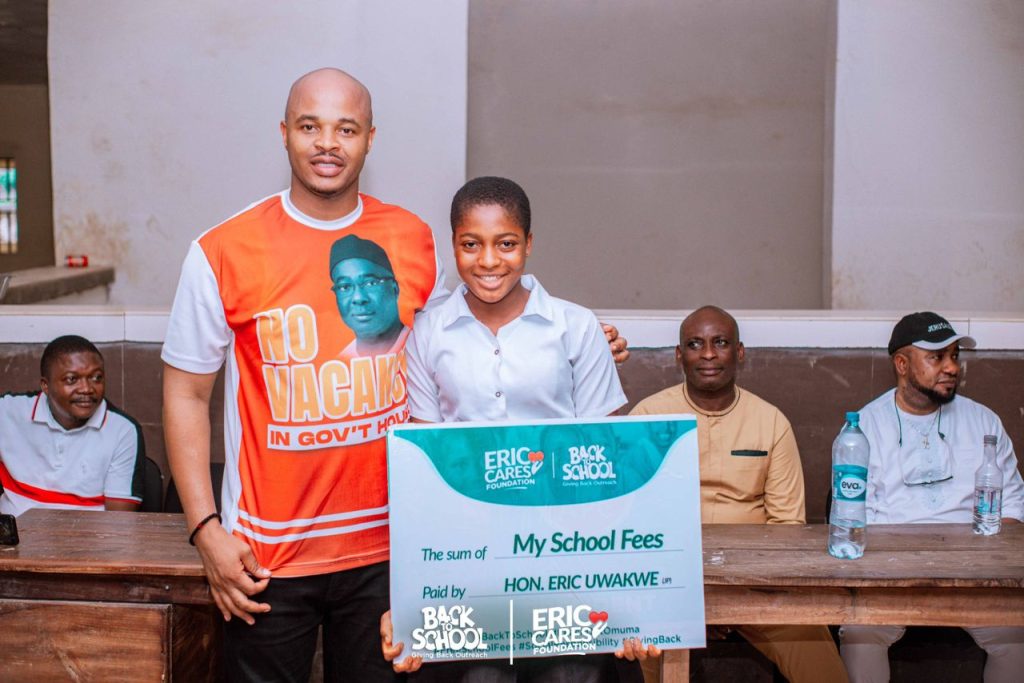 Empowering Youth Through Education: Eric Cares Foundation's Inspiring back to School giving back outreach
In a heartwarming display of compassion and dedication, Eric Cares Foundation, led by the visionary Hon Eric Uwakwe (JP), embarked on a remarkable initiative called the Back to School Giving Back Outreach. On July 1st, 2023, this program brought immense joy to the pupils of primary schools and students of secondary schools in Omuma, Oru East.
The Back to School Giving Back Outreach, designed by Eric Cares Foundation, aims to support underprivileged children in our community schools, providing them with the necessary tools for academic success.
Under the leadership of Hon Eric Uwakwe, who serves as the Director of Eric Cares Foundation, Special Adviser to the Imo State Governor on Youth Affairs, and Director General of the Apex Youth Structure in Imo State known as the Shared Prosperity Youth Movement (SPYM), the foundation distributed hundreds of essential materials. These included school bags, exercise books, water bottles, and scholarships to students from several schools in Oru East LGA, including OZUH Omuma Community Primary School, Omuma Technical School, Divine Favour Secondary School, Akatta Secondary School, Uche Secondary School, and Amiri Secondary School.
During the event, Hon Eric Uwakwe passionately recounted his personal journey and the profound influence of his mentor, His Excellency Dist. Sen. Hope Uzodimma. Inspired by Governor Uzodimma's commitment to youth development and his selfless leadership, Hon Eric Uwakwe initiated this impactful program to transform the lives of Imo youths.
Hon Nze Celestine Nnamdi Onyewka, the Sole Administrator of Oru East LGA, lauded the visionary leadership of Eric Cares Foundation and commended their efforts in creating such a significant program for students in rural communities. The Chairman of the Parent Teachers Association expressed heartfelt gratitude to Hon Eric Uwakwe for his thoughtfulness and urged him to remain steadfast in his beliefs.
Taking the opportunity, Hon Eric Uwakwe encouraged parents and teachers to support the re-election of the Shared Prosperity Government of Dist. Sen. Hope Uzodimma. He highlighted the Governor's outstanding achievements, such as effectively curbing insecurity, spearheading infrastructure projects like the Owerri-Umuahia Road, Okigwe Road, and Orlu Road, and implementing the Skill Up Imo project that has trained and empowered over twenty thousand Imo youths. Furthermore, the Governor empowered fifteen thousand youths with seed capital of two hundred and fifty thousand naira (N250,000) for small-scale businesses, and introduced the Imo Social Security Benefit Number, among other remarkable initiatives.
Hon Eric Uwakwe emphasized that the re-election of Dist. Sen. Hope Uzodimma would catapult Imo State to new heights, attracting foreign investors and creating abundant opportunities for the people.
Concluding his address, Hon Eric Uwakwe expressed profound gratitude to the school leadership and encouraged them to continue their selfless service of imparting knowledge to the students in their respective schools.
Photos: