#EUCHOMES: Continous Investment With EUC HOMES Pays Alot- Says Expert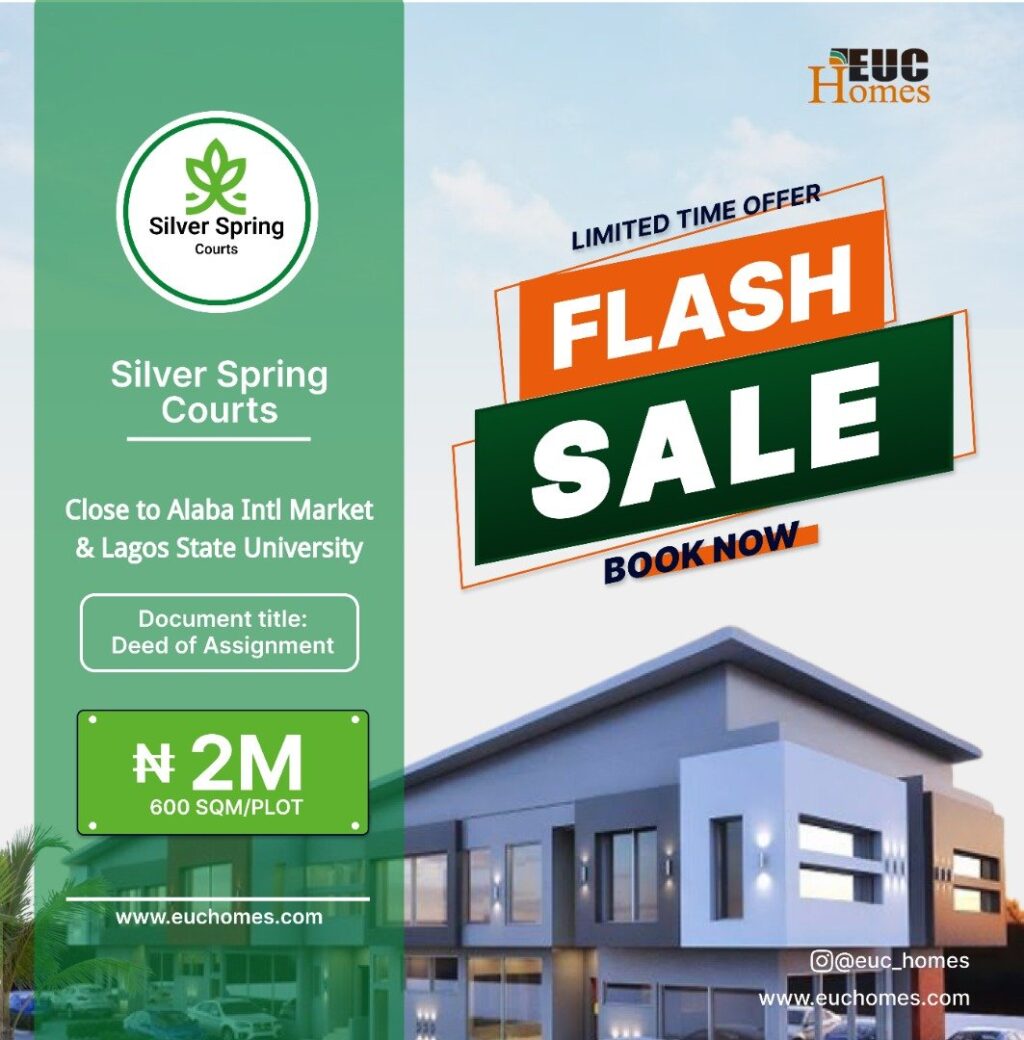 #EUCHOMES:  Continous Investment With EUC HOMES Pays Alot- Says Expert
Invest in an estate rich with luxury and assures a quality lifestyle.
It is ideal for those who admire a secure, sensational and easy way of living.
Palmsville Courts is the perfect property for the smart investor who wants to gain high return on investment.
Invest in Palmsville Courts this month and benefit from EUC HOMES.
?Location – Orimedu town in Ibeju Lekki.
?Plot Size – 600sqm
?Title – Proposed Governors Consent
?Actual Price – 4.5million
PALMSVILLE COURTS:
Has close proximity to
?Lekki Free Trade Zone
?Dangote Refinery
?Lekki Deep Seaport, etc.
PROPOSED INFRASTRUCTURE:
?Security Services
?Gate house
?External Perimeter Fencing
?Drainage system
?Water Supply and a lot more.
FOR MORE ENQUIRES CALL
08171947272
09080030000
08104645436
Invest with EUC HOMES today and enjoy affordable luxury.
Everyone wants a piece of land. It's the only sure investment. It can never depreciate like a car or washing machine. Land will only double its value in few years.
EUC HOMES has given us the opportunity to grow while sleeping with our SPECIAL PROMO.
LOCATION:
OJO is located in Lagos , though it contains some major markets like Alaba International market, Lagos International Trade fair complex, Iyana – Iba market, Alaba live stock market.
TYPE OF PROPERTY:
Silver Spring is a multi purpose, serving as both an investment and BUY and BUILD property.
With the rate of development in lagos and growing OVER-population, Here in Iba town, it's no longer news that it's already developed with thousands of people living within.
DOCUMENTATION:
Silver Spring Estate comes with a deed of Assigment and C of O in progress.
LANDMARKS
?Lagos State University
?Alaba International Market
?Ojo Barracks
?Festac
?Satellite Town
FOR MORE ENQUIRIES CALL
08171947272
09080030000
08104645436
EUC HOMES