Have you tried Quingist Cucumber Juice?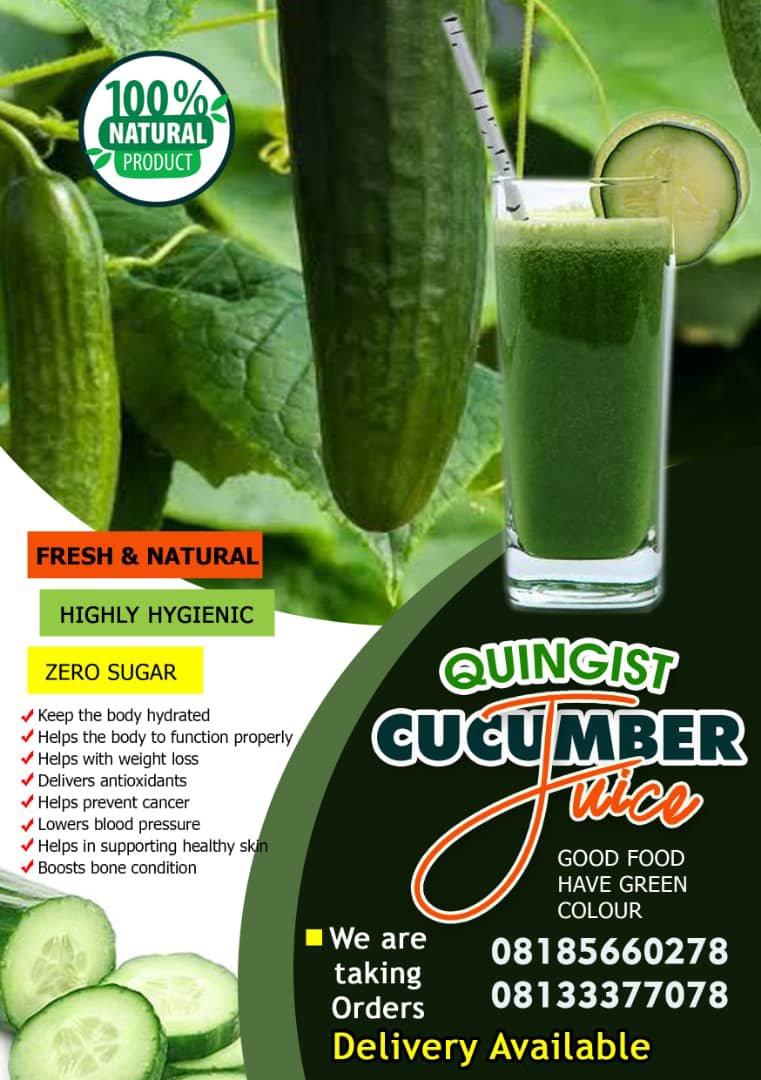 Have you tried Quingist Cucumber Juice?
From the Stable of QuinGist Empire makers of #Quingistpopcorn
We present to you
Quingist Cucumber Juice
---
ACKNOWLEDGEMENTS
First of all, I want to give special thanks to God, for inspiring me, and every others person for their support and encouragement, it means a lot to me.
---
Quingist Cucumber Juice is the vision of a young entrepreneur Miss Duru Eunice Adaku CEO of Quingist Empire. This business will contribute to society by helping the old and young improve their health, through the provision of healthier natural fruit juice,
---
Simultaneously, employment opportunities will be created for everyone. Surplus cucumber in @Imo State will be used constructively in the process.
---
This is the first of its kind business juice in the East. This cucumber juice will create a more health-conscious society that pays closer attention to their bodies and enables longer life.
---
Our Production and marketing will operate from Owerri Imo State.

A lot of people are working on weight loss and how to eat, and drink, you hit the gym, shed some weight, and before you know it you have just added more weight through what you ate or drank…

If our diet was improved, we would not be overweight. But how do we get to appreciate healthy eating, and refrain from making unhealthy choices?
Still, on the matter of obesity, the majority of our youths and parents do not get as much exercise as they should. We are busy running after money and we do not realize how much damages we have subjected our bodies to. As such, as we do not have time to go outside and exercise, or we simply go home and sleep, play video games or watch television.
---
Hence the idea for Quingist Cucumber Juice as birthed you just drink and sit or work, it does all the works.
Imo State is blessed with an abundance of fruit which cucumber is among. A lot of people don't like the act of chewing cucumber and they have not tried to drink it, which makes a majority of the fruit go to waste, which presents another issue: how can we capitalize on this natural resource?
---
At this point, Quingist Cucumber Juice is here to help you:
1. Combat weight gain
2. Encourage eating right
3. Make full use of locally produced cucumber.
PRODUCT OFFERING
All Quingist Cucumber Juice products will be made of locally produced cucumbers, free of additives and artificial preservatives.
There will be no need for adding sugar, as the fruits contain natural sugars.
---
As an incentive, special discounts will be given to regular customers and those that testify of the product results on their body.
"Quingist Cucumber Juice" is here to serve its customers, by making their lives as simple as possible.
We aim to give everyone a productive way to stay healthy and lose weight.
---
COMPETITION AND THE MARKET
As it stands, existing fruit and soda companies are our competitors but, It is intended that 'Quingist Cucumber Juice' will eliminate the existing negative competition through competitive pricing and promotions regarding health.
---
Our product is unique because, not only are consumers offered a completely different drink without preservers, i.e., cucumber fresh fruit, they also get to understand the benefits of Quingist Cucumber Juice to their health.
BENEFITS OF QUINGIST CUCUMBER JUICE TO ME
Cucumber juice isn't just for spas anymore. More people are enjoying this healthy, refreshing drink at home.
---
Keeps the body hydrated,
Helps the body to function properly,
Helps with weight loss,
Delivers antioxidants,
Helps prevent cancer,
Lowers blood pressure,
Helps in supporting healthy skin,
Boosts bone condition,
Quingist Cucumber Juice is Highly Hygienic, Fresh & natural, and Delivery is available
100% natural
To place your order call Duru Adaku Quingist Eunice QuingistEmpire on 08185660278 or 08133377078