Hurry now and Register for How to Make Money From YouTube with David Chukwuoma Nzenwata (The Youtube Guru)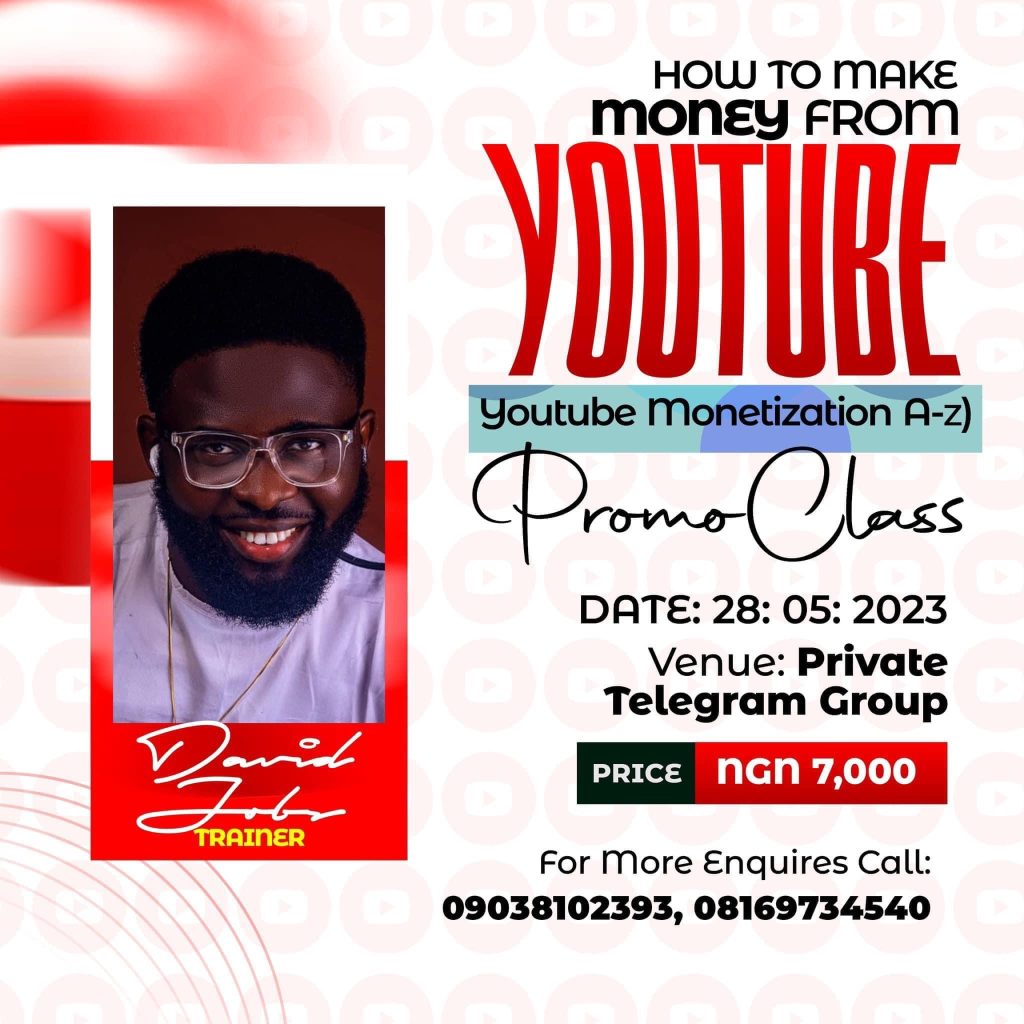 5 reasons you need to register for How to Make Money From YouTube with David Chukwuoma Nzenwata (The Youtube Guru)
David is someone I know very well and I can tell you that he is very patient with people, if he promises to teach you, he will give you his best
Below are 5reasons why you need register for this class asap
1. Expert Guidance: David Jobs, is an experienced professional in the field of YouTube monetization. By registering for his workshop, you will gain access to his expertise and receive valuable guidance on how to make money from YouTube. Learn from someone who has already succeeded in this area and can provide you with insider tips and strategies.
2. Comprehensive Coverage: The workshop titled "How to Make Money From YouTube with David Jobs Chukwuoma" offers A-Z coverage on YouTube monetization. Whether you are a beginner or have some knowledge about YouTube, this workshop will provide you with a comprehensive understanding of the process. From setting up your channel to optimizing your content and exploring different monetization methods, you will learn it all.
3. Exclusive Promo Class: As part of the workshop, there will be a special promotional class on the 28th of May 2023. This class will give you additional insights and techniques to enhance your chances of success on YouTube. Take advantage of this exclusive opportunity to gain extra knowledge and stay ahead in the ever-evolving world of online content creation.
4. Affordable Investment: The registration fee for this workshop is only 7,000 naira. Considering the immense potential of earning money through YouTube, this investment is highly affordable. By participating in the workshop, you are making a small financial commitment that can lead to significant returns in the long run. It's a cost-effective way to gain valuable knowledge and skills.
5. Personalized Support: During the workshop, you will have the opportunity to interact with David Jobs Chukwuoma and ask questions specific to your YouTube channel and goals. This personalized support can greatly benefit you in understanding how to tailor your content, engage with your audience, and monetize your channel effectively.
Take advantage of this chance to receive guidance directly from an industry expert.
For more inquiries or to register for this workshop, please call 09038102393 or 08169734540. Don't miss out on this opportunity to learn from The YouTube Guru and take your YouTube monetization journey to new heights!
Duru Eunice Adaku
24/05/2023