Imo women staged a protest accusing INEC and APC of rigging the election in favour of the APC candidate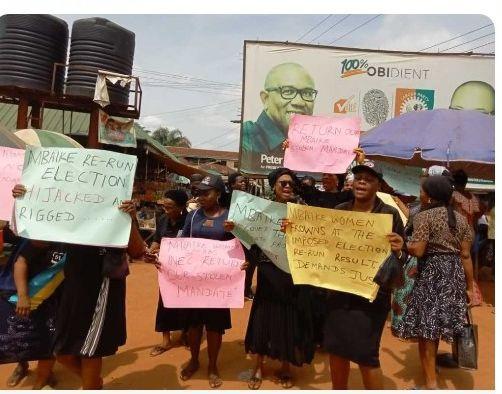 Imo women staged a protest accusing INEC and APC of rigging the election in favour of the APC candidate
Mbaitoli/Ikeduru Federal Constituency supplementary election held on April 15, 2023, has generated controversy, as Imo women staged a protest accusing INEC and APC of rigging the election in favour of the APC candidate.
Mrs. Hope Ihuoma, the leader of Mbaike women who spearheaded the protest in Owerri, accused the Independent National Electoral Commission (INEC) and the ruling All Progressive Congress (APC) of manipulating the election results to favour their candidate. Mrs. Ihuoma condemned the alleged conspiracy of the electoral umpire with the APC, describing it as a despicable act on the side of INEC.
According to her, "Mbaitoli and Ikeduru voted massively for Uche Ogbuagu, the Labour Party candidate for Mbaike federal constituency seat. However, INEC, in connivance with the ruling APC, manipulated the results of Mbaike to the favour of their candidate."
Mrs. Ihuoma also accused INEC of reneging on its promises to conduct a free, fair, and credible election by recruiting some compromised staff who acted in concert with the APC and security agents to subvert the will of the people.
Lady Chioma Ubochi and Mrs. Chinenye Oleru, both from Ikeduru LGA, also lamented the trauma, fear, and intimidation which the security agencies working for the APC subjected the electorates during the exercise. They called on INEC to review the supplementary exercise to ensure justice is done in the land of Mbaike, giving reference to the Adamawa state governorship election.
The women, however, expressed optimism that Uche Ogbuagu's mandate, which, according to them, was freely given to him by the people of Mbaike, will be restored to him sooner than later.
It is imperative that INEC investigates the allegations of rigging to ensure that the will of the people is not subverted. Free, fair and credible elections are the cornerstone of any democratic society, and INEC must ensure that the people's mandate is upheld.