#Imostar: Meet Achinike Promise Obinna, a Master of Ceremonies Embracing Freedom and Life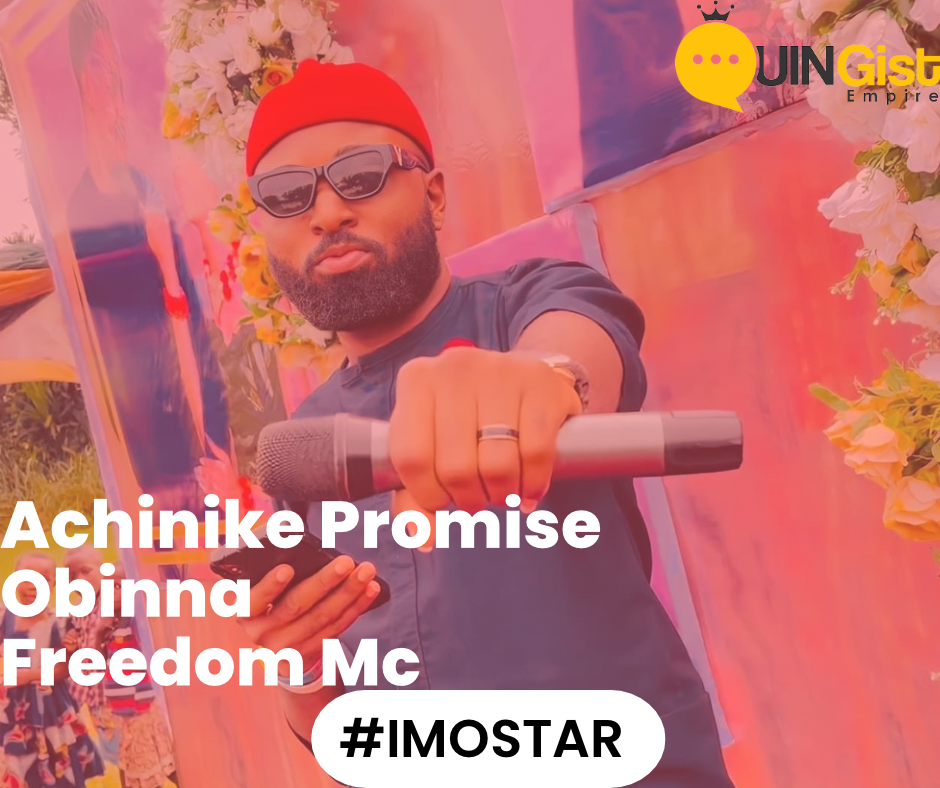 #Imostar: Meet Achinike Promise Obinna, a Master of Ceremonies Embracing Freedom and Life
Meet Achinike Promise Obinna, known as Mc Freedom, a versatile and passionate entertainer, hails from Umuneke Obazu Mbieri in Mbaitoli LGA, Imo State. As the first child of his parents, Mc Freedom's upbringing instilled in him a strong foundation of faith, discipline, and determination.
With a background in Animal Science from Imo State University, Freedom's journey in the entertainment industry began with his involvement in church drama and music groups. Today, he is a respected MC, comedian, graphics designer, event manager, and consultant, leaving a positive impact on both the industry and his community.
Freedom's love for entertainment blossomed during his pre-degree studies at IMSU, where he found inspiration in the performances of renowned artists such as Apama, Mc Chuks, Mc Jonky, Yellowmouth, Mc Dynamite, MOP, and talented dancers like Nasky Boy, Chimmy Boy, and Nwaba. These experiences ignited his desire to be part of the vibrant entertainment scene. In 2015, he co-founded the Klasikal Entertainment Crew, showcasing his dance skills until 2017 when he transitioned into the world of MCing and comedy. Since then, Freedom has carved a niche for himself, leaving an indelible mark in the industry.
Promise's journey has not been without its challenges. Rejection and intimidation tested his resilience, but he stood strong and persevered. Today, he is reaping the fruits of his determination, dining with the kings of the entertainment industry. His unwavering passion, coupled with his ability to overcome obstacles, has propelled him to where he is today.
As the convener of the highly anticipated event "FreedomToSpeak," Promise has created a platform to showcase his talents and bring people together. He has also made positive impacts in the industry and the community at large, earning the respect and admiration of those who know him best. His multifaceted skills, including graphics design, event management and consulting, portrait production, and fashion design, demonstrate his commitment to continuous learning and improvement.
Freedom draws strength and inspiration from the people he admires on social media. Their stories, motivations, and personalities serve as beacons of influence. While he doesn't have specific role models, his biological father, Rev. Leonard Achinike, has been a mentor and a source of guidance through his journey. He values his father's advice, which has served as a guiding light in both his personal and professional life.
Freedom's current project, FreedomToSpeak7, showcases his dedication to his craft. In addition, he is building relationships and preparing for family life as he walks down the aisle soon. He aims to erect a reputable family and career, making a mark that will be worthy of emulation. His commitment to personal and spiritual growth remains unwavering, as he believes in taking life as it comes and living each day to the fullest.
Achinike Promise Obinna, known as Mc Freedom, embodies the spirit of embracing life and pursuing one's passions. From his humble beginnings in church drama and music groups to becoming a respected MC, comedian, and multi-talented professional. Overcoming challenges and drawing strength from his values and faith, Freedom's determination has propelled him forward. With a bright future ahead, he is poised to make a lasting impact, living his life to the fullest and inspiring others to do the same.
Eunice Adaku Duru
16/07/2023
#globalphotographer