#Imostar: Meet Izunna Twinstar the man Illuminating Stages and Inspiring Success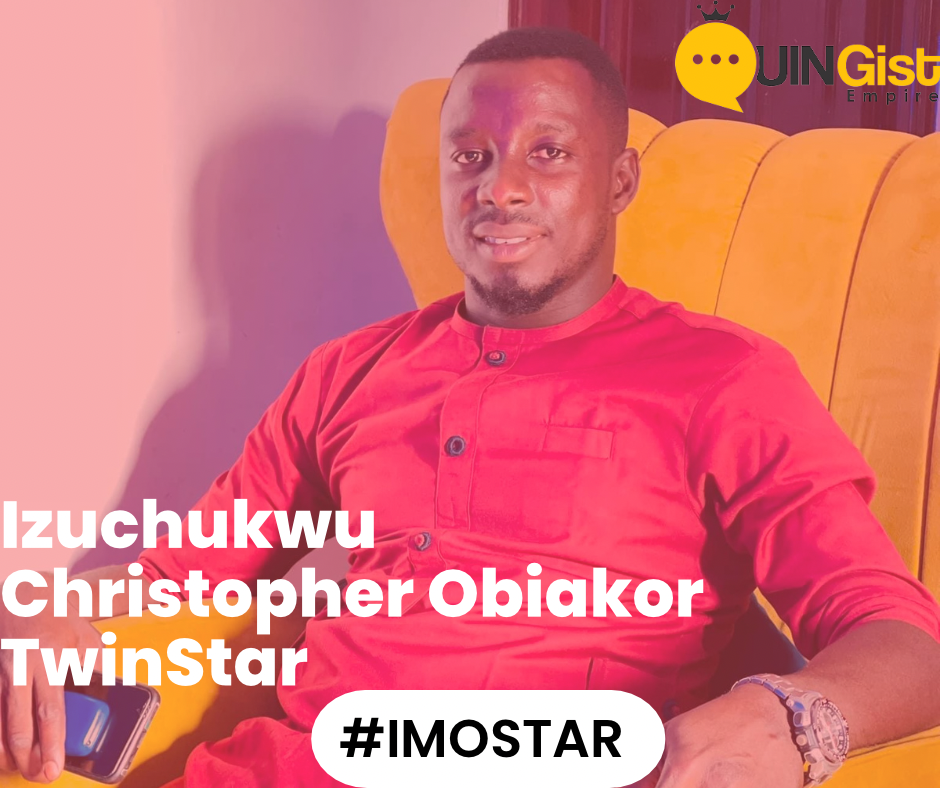 #Imostar: Meet Izunna Twinstar the man Illuminating Stages and Inspiring Success
In the bustling world of entertainment and business, Izuchukwu Christopher Obiakor, popularly known as Twinstar, stands out as a multifaceted and accomplished individual.
Hails from Umuchinemere Achi Mberi in Mbaitolu, with roots in Port Harcourt and upbringing in Lagos, Twinstar has carved a remarkable path as a CEO, event planner, businessman, realtor, and advocate for personal development. With a passion for excellence and a drive to uplift others, he has become a shining star in his industry.
Izuchukwu Christopher Obiakor, one of the duo twins of Twinstar, is a dynamic force in the world of entertainment and business.
Twinstar's journey to success can be attributed to his innate talent, creativity, competence, discipline, and unwavering focus. As the CEO of Twinstarlighthouse Productions, he specializes in stage engineering, lights, sounds, and LED daylight screens. Bringing his expertise to vendors in Imo State, the Southeast region, and beyond, he has delivered awe-inspiring masterpieces that have elevated the entertainment landscape. His professionalism and attention to detail have earned him a stellar reputation, leading to collaborations with numerous companies, brands, and individuals across Nigeria.
Twinstar made history as the first brand to bring the Lagos standard of stage production to Imo State. Prior to his entry into the scene, event organizers had to source stage, sound, lights, and LED vendors from Lagos or Port Harcourt. Twinstarlighthouse Productions changed the game by providing top-notch services right at the doorstep of the Southeast. Notable events such as "A Nite of a Thousand Laughs," "AY Live," and "Runway" have witnessed his expertise, meeting and surpassing all standards and requirements. His dedication to delivering excellence has left an indelible mark on the industry.
Twinstar's entrepreneurial spirit extends beyond the entertainment realm. He is the CEO of Twinstar Electrical and Electronics, a venture specializing in the sales and supply of modern electrical and electronics materials/products. With a commitment to customer satisfaction, his company offers home delivery, streamlining the process of online marketing. Additionally, Twinstar has ventured into real estate, although he keeps the details of this business close to his chest. Nevertheless, it is evident that this endeavor has been the driving force behind his success.
Despite his numerous achievements, Twinstar remains grounded and dedicated to empowering others. He has a genuine love for human and personal development, evident in his efforts to train and mentor aspiring individuals. By sharing his knowledge and experience, he has contributed to the growth of the entertainment industry in Imo State, making it easier for others to access high-quality equipment and resources. Twinstar's commitment to nurturing talent and raising the next generation of entertainers has become a hallmark of his brand.
Twinstar's exceptional contributions to his industry have not gone unnoticed. He has been the recipient of multiple awards, which serve as a testament to his talent, hard work, and unwavering commitment to excellence. These accolades further solidify his position as a trailblazer and a driving force in the entertainment and business sectors.
Izuchukwu Christopher Obiakor, better known as Twinstar, has transcended the boundaries of traditional success, making a significant impact in the realms of entertainment and business. Through his visionary leadership, unparalleled talent, and relentless pursuit of excellence, he has become a respected figure in stage production, event planning, and various business ventures. Twinstar's commitment to personal development and his dedication to nurturing talent have made him an inspiration to aspiring individuals in the entertainment industry. As he continues to innovate and uplift others, Twinstar's influence and impact are bound to grow even further.
In the coming years, Twinstar envisions expanding his reach and creating even more memorable experiences for audiences. He aims to take his productions to new heights, collaborating with renowned artists, event organizers, and brands. His commitment to pushing boundaries and exceeding expectations will undoubtedly set new standards in the industry.
Furthermore, Twinstar plans to strengthen his presence in the business world by exploring additional avenues for growth. With his thriving electrical and electronics company, he envisions expanding into new markets and offering a wider range of cutting-edge products and services. His dedication to customer satisfaction and convenience will remain at the forefront of his business approach.
In his role as a realtor, Twinstar will continue to navigate the world of real estate with shrewdness and discretion. While he keeps the specifics of this venture private, it is clear that he has a keen eye for opportunities and a knack for successful investments.
Beyond his professional pursuits, Twinstar remains a devoted husband and father. He cherishes his role as a family man and draws inspiration from his loved ones to fuel his drive for success. Balancing his personal and professional life is a testament to his discipline and ability to prioritize what truly matters.
As Twinstar continues on his journey, he aims to leave a lasting legacy not only as a successful entrepreneur but also as a mentor and advocate for personal development. Through his training programs and mentorship initiatives, he seeks to empower the younger generation, equipping them with the skills, knowledge, and mindset needed to achieve their own dreams.
Eunice Adaku Duru
14/06/2023