#ImoStar: Meet Lilian Duru-Valentine Multi-Talented Media Personality Making Waves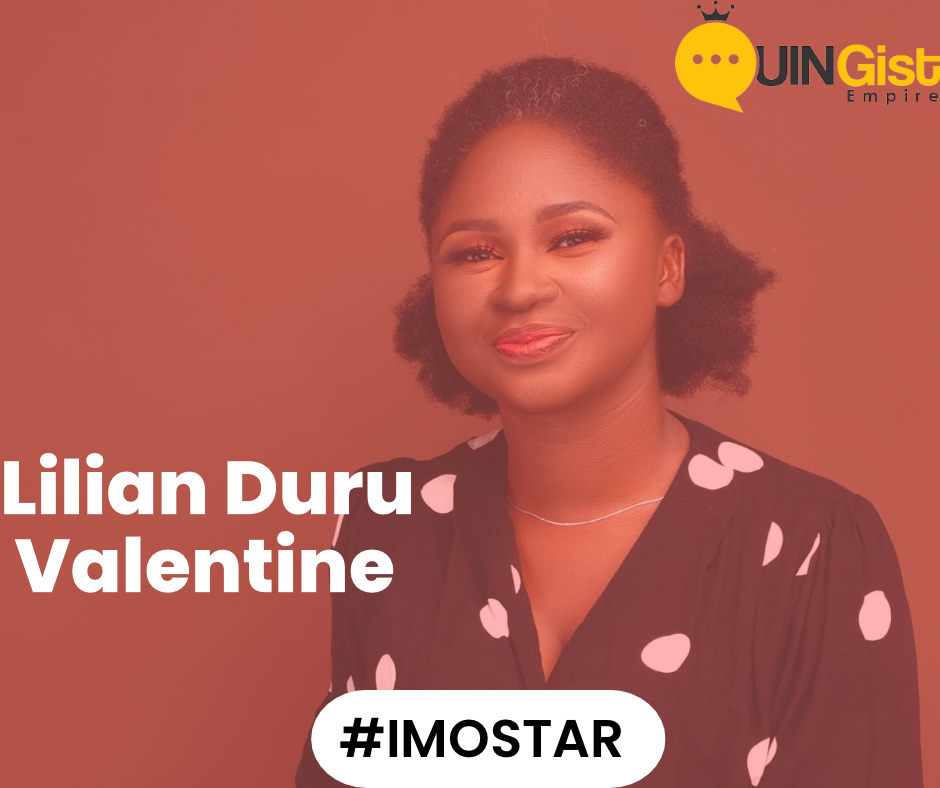 #ImoStar: Meet Lilian Duru-Valentine Multi-Talented Media Personality Making Waves
In the world of media, there are certain individuals who stand out for their exceptional talent and versatile skills. One such remarkable personality is Lilian Duru-Valentine, an award-winning newscaster, editor, broadcaster, elocutionist, event host, audio-to-text transcriber, and Ajumbaise dealer. With an impressive background and a passion for creating positive change, Lilian has made a significant impact in her field and beyond.
Lilian's journey in the media industry has been nothing short of remarkable. She has worked with renowned organizations such as Thereach104.9fm and Alaowerri TV, and currently with ToastFm, where she showcased her exceptional talent as a newscaster and editor. Her ability to captivate audiences with her eloquence and professionalism has earned her accolades and recognition in the industry.
In addition to her media work, Lilian also excelled as a diction instructor and marketer at Peter Piper Diction Academy. Her expertise in English language and education management has made her a sought-after professional in the field. Her commitment to excellence and passion for helping others improve their communication skills has left a lasting impact on her students.
Lilian holds a Bachelor of Arts (B.A.) in Education/English Language from the University of Nigeria, Nsukka, Alvan Campus, Owerri, Imo State. Her academic background, coupled with her practical experience, has equipped her with a strong foundation in English language and education. This knowledge has been instrumental in her success.
One aspect that sets Lilian apart is her dedication to making a difference and changing traditional perspectives. She is passionate about creating awareness on the need to be more and empowering individuals to reach their full potential. This drive for positive change led her to volunteer for The Mandela Washington Fellowship's Social Impact Project, where she served as a project manager and program moderator. The project, funded by The Mandela Washington Fellowship, focused on mentoring and equipping youths and students on the power of social media, accessing loans/grants, and building startups. The workshop, held at the Federal University of Technology, Owerri, Imo State, made a lasting impact on the participants and showcased Lilian's commitment to empowering the next generation.
Lilian's talent and dedication have not gone unnoticed. She has received numerous awards in recognition of her outstanding contributions to the media industry. These include the On Air Personality Award by Jamie Pajoel International (JPI), Newscaster of The Year (Female) by The OAPs Award, Most Trending On-Air Personality on Social Media (Female) by Imo Social Media Awards, and On-Air Personality of The Year by e-Celeb Awards, among many others. These accolades reflect not only her professional prowess but also her ability to connect with audiences and leave a lasting impression.
In conclusion, Lilian Duru-Valentine is a remarkable media personality whose talent, versatility, and dedication to creating positive change have set her apart in the industry. Her exceptional skills as a newscaster, editor, and elocutionist, combined with her passion for empowering others, have made her a role model and inspiration to many. As she continues to make waves in her career, we can expect even greater achievements from this multi-talented individual.
Eunice Adaku Duru
29/05/2023