#Imostar: Meet Okafor Isabella Chinenye Adaimo 2019 till date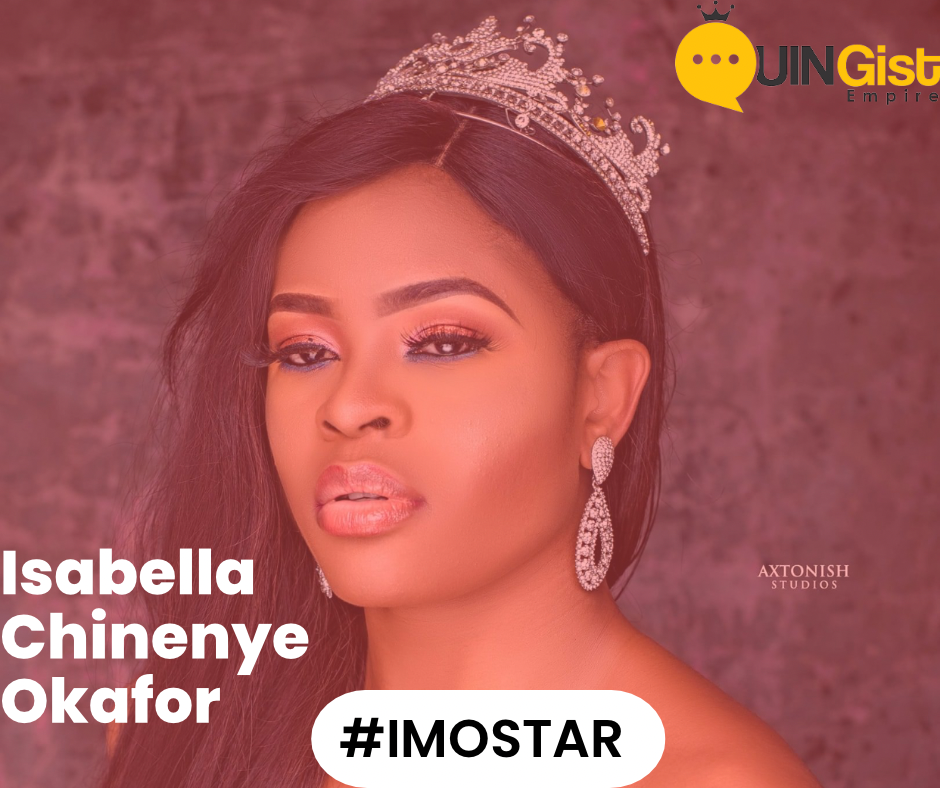 #Imostar: Meet Okafor Isabella Chinenye Adaimo 2019 till date
Okafor Isabella Chinenye is a Model, Social Entrepreneur, and Advocate for Change.
Okafor Isabella Chinenye, popularly known as Adaimo, is a name that has become synonymous with modeling, change, empowerment, and societal progress. Hails from Obowo, Imo state. Graduate of Biology from the Federal University of Technology Owerri. She is a multiple award winner, actress, model, social entrepreneur, public speaker, volunteer, an advocate for gender, youth, and socio-cultural development.
As a pageant model, Okafor Isabella has won several titles, including Miss Tourism Nigeria Culture, Miss Tourism Nigeria South East, Miss Fashion Nigeria, Adaimo 2019. She is also a runner-up for Miss NFCS-FUTO 2014 and Miss SUG-FUTO 2014. Her passion for positive societal change led her to establish the Queen Isabella Okafor Initiative, a non-governmental organization that focuses on child mentorship and development, youth and women empowerment, and environmental sustainability.
Through her NGO, Okafor Isabella has organized various programs and projects that have positively impacted the lives of children, youths, and women. The Obowo Children Christmas Party, which held in 2015, is one of such programs. It brought about 500 children and their parents together for a fun-filled, loved up, and educative atmosphere. In 2016, she organized a skill acquisition and empowerment program for youths, which engaged them in community sanitation exercises to help curb youth restiveness.
In 2019, Okafor Isabella commemorated the International Women's Day by organizing a seminar that had international leadership coach Jamie Pajoel and other notable speakers impact young Imo women on leadership and capacity building. She also collaborated with other environmental enthusiasts to organize an initiative called MOP UP OWERRI, which had the former Governor of Imo State His Excellency Ikedi Ohakim and other top Government officials and people from all works of life volunteering to keep the city of Owerri clean.
As an ambassador for women's health for the Days for Girls International Organization, Okafor Isabella educated, enlightened, and empowered the teen girls of Umunkwo Girls Secondary School on sexual abuse, abstinence, and healthy safety practices to instill decency and morals in their lifestyle. In 2020, she visited Omuma Secondary Technical School, where she and her team mentored and coached Imo secondary school teens on being socially aware and responsible.
Okafor Isabella's contributions to societal development and change have not gone unnoticed. She has won several awards.
Apart from her passion for societal development and change, Okafor Isabella loves to dance, listen to good music, travel, and play to unwind and ease off mental stress. She is indeed a role model to many, a beacon of hope to the less privileged, and a driving force behind positive societal change.
Duru Eunice Adaku
13/05/2023