#Imostar: Meet Prince Steve Obi Okoroji: A Passionate Socialpreneur and Advocate for Positive Change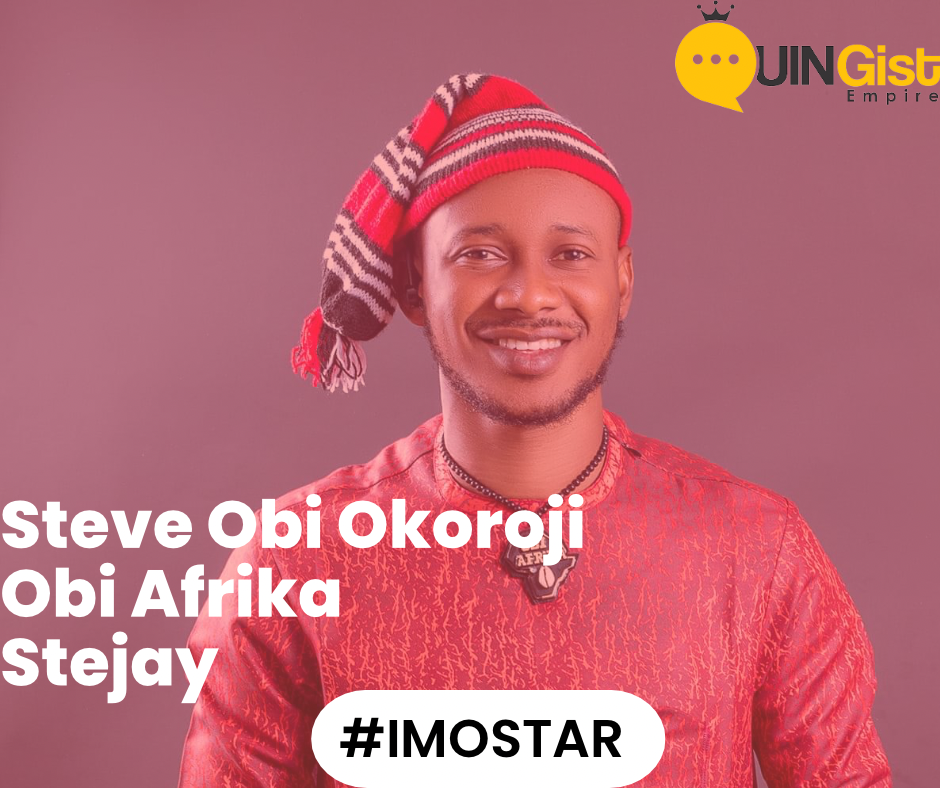 #Imostar: Meet Prince Steve Obi Okoroji: A Passionate Socialpreneur and Advocate for Positive Change
Obi Afrika, a multifaceted individual with a deep love for God's Kingdom, nature, and people's social traditions, has emerged as a prominent figure in various fields. As a SociaPrenuer, entertainer, event manager, host/compere, brand influencer, content creator, business/creative developer, human resources manager, salesperson, and the current Marketing Manager of PAX Table Water, he exemplifies versatility and commitment. Hailing from the royal family of the Okorojis in Oguta LGA, his journey has been shaped by a blend of experiences and a passion for service.
Hails from Oguta but Born and raised in Lagos, Steve obtained his primary education there before relocating to Imo State. It was during his time at the prestigious Government College Owerri that his dream as an entertainer began to take shape. Influenced by the artistic talents of Uche Ogbuagu from a young age, he found himself captivated by Uche Ogbuagu's cassette tapes, listening to them repeatedly and mimicking his lines. Graduating from Imo State University, his career flourished even further, and he discovered new passions for public social service, politics, hospitality, and tourism, inspired by figures like Paschal Okechukwu, also known as Cubana Chief Priest.
Prince Steve's involvement in student leadership started during his first year in university. He served in various roles, including Director of Socials for the National Union of Imo State Students, Chief of Staff for the Federation of Ohaji-Egbema, Oguta & Oru West Students, and Director of Socials for the Students Union Government of Imo State University. Currently, he holds the position of National Vice President of the National Assembly of Oguta Students and Director of Social Welfare for the National Association of Nigerian Students (NANS) Joint Campus Council (JCC) in Imo State.
Through his journey, Stejay has garnered numerous achievements and awards. He serves as an Indomie Campus Ambassador and has been instrumental in organizing impactful events such as the Imo Students August Meeting and the Imo Stars Award. As the convener of the Imo Students Entrepreneurs Club and the IMSU Movie Academy (Imsuwood), he has nurtured budding talents and played a pivotal role in the growth of the entertainment industry on campus. Notably, he won the Best Campus Movie award at the Village Arts & Film Festival (Villafest) in both 2022 and 2023.
Stejay professional journey traces back to his secondary school days. Even then, he displayed remarkable talent and charisma, earning recognition as the go-to host, MC, and comedian. His passion for speaking fearlessly, making people laugh, and fostering creativity has driven him to excel in his craft. However, his career path has expanded beyond entertainment into the realms of politics and brand influencing. Inspired by figures like Rochas Okorocha, he seeks to leave a lasting impact on society through his active participation in politics and advocacy for positive change.
Navigating his career has not been without its challenges. In secondary school, Steve's popularity overshadowed his focus on academics, leading to a delayed graduation. Similarly, his involvement in politics and entertainment has presented its share of obstacles, affecting his academic pursuits. Despite these challenges, he has faced them with humility, resilience, and a reliance on good governance appeal mechanisms and God's grace.
Stejay's leadership style centers around human and social responsibility. Although working within a team presents its difficulties, he believes that inspiring and aligning the team's vision is essential for effective collaboration and success. His approach to leadership emphasizes passion, consistency, and the delivery of quality content.
He draws inspiration from his father and the stories he heard about his grandfather, who was not only the richest man but also the greatest philanthropist in the Oru Clan during his time. Additionally, he finds motivation in the entrepreneurial success of Obi Cubana and the impactful leadership of figures like Uche Ogbuagu, Chief Priest, and Hon Myke Ikoku. While these individuals have not directly mentored him, their achievements have left a lasting impression on his life and career.
Currently, Steve is engaged in various projects and initiatives, including the development of the Oguta Film Village, the establishment of an Oguta Coconut Farm, and the creation of a campus newspaper and campus TV.
Despite the challenges he has faced, he remains resolute and determined. He firmly believes in the value of lifelong learning and continuously seeks to expand his knowledge and skills. His calling and passion drive him forward, and he takes great pride in making a positive impact on others' lives.
Looking ahead, Prince Steve envisions a future as the Special Assistant to the incoming Governor of Imo State, where he can utilize his skills to contribute to the betterment of the state. He remains committed to staying positive, learning from past experiences, and embracing new opportunities for personal and professional growth.
In conclusion, Prince Steve Obi Okoroji exemplifies a passionate socialpreneur and advocate for positive change. From his beginnings as a secondary school comedian to his current roles as a marketer, influencer, and political leader, he has demonstrated a commitment to making a difference in the lives of others. With an unwavering dedication to his craft, a resilient spirit, and a heart for service, Prince Steve continues to leave an indelible mark on society as he strives to make Imo State work again.
Eunice Adaku Duru
16/06/2023