#Imostar: Meet Sixtus T Okechukwu Empowering youths Through Passive Income, Network Marketing, Public Speaking, and Real Estate.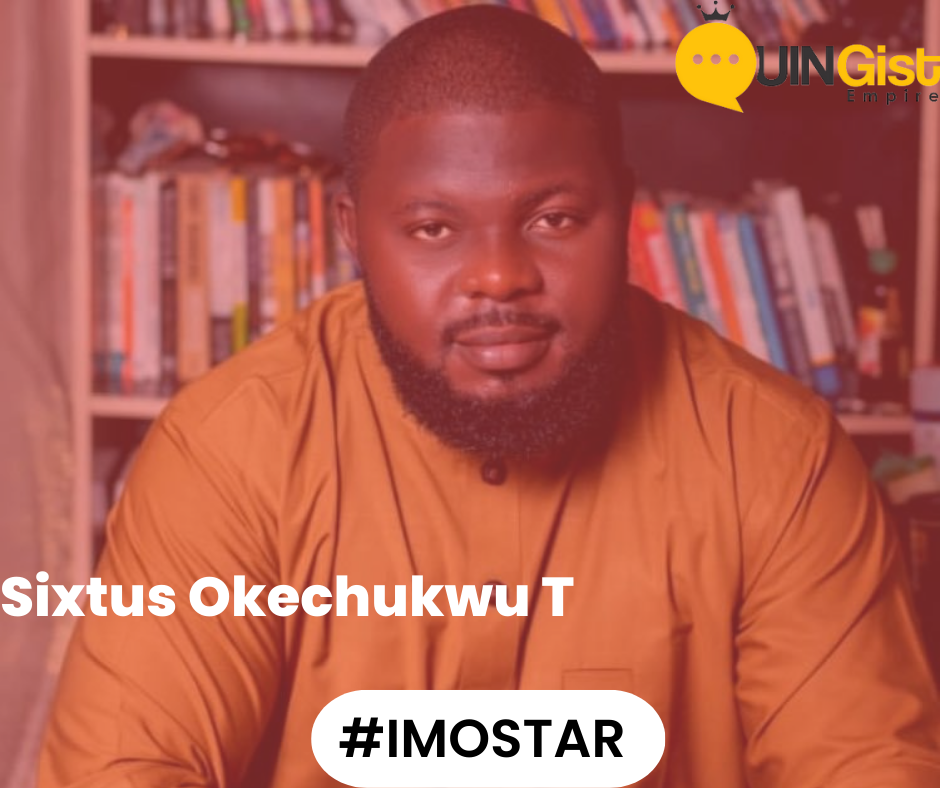 #Imostar: Meet Sixtus T Okechukwu Empowering youths Through Passive Income, Network Marketing, Public Speaking, and Real Estate.
In today's fast-paced world, individuals like Sixtus Okechukwu are making a significant impact in their communities through their expertise and passion. Hails from Imo State, Sixtus T Okechukwu has emerged as a prominent figure, advocating for passive income, excelling in network marketing, captivating audiences as a public speaker, and facilitating real estate ventures. With his multifaceted approach, Okechukwu is transforming lives and empowering individuals to achieve financial freedom and personal growth.
One of Sixtus's key areas of focus is advocating for passive income strategies. He firmly believes that everyone should have the opportunity to create multiple streams of income and attain financial stability. Okechukwu educates individuals on various passive income opportunities, such as investing in stocks, real estate, and online businesses. Through his guidance and mentorship, he inspires others to take control of their financial futures and achieve long-term financial success.
As a network marketing professional, Sixtus Okechukwu has honed his skills in building successful teams and creating sustainable income through network marketing companies. With his expertise, he helps individuals understand the power of network marketing, guiding them in choosing the right company and providing strategies to succeed in the industry. Okechukwu emphasizes the importance of personal development, effective communication, and nurturing strong relationships to thrive in network marketing.
Sixtus Okechukwu's passion for inspiring others led him to become a captivating public speaker. With his engaging presence and motivational speeches, he uplifts audiences and shares insights on personal growth, financial literacy, and entrepreneurship. Okechukwu's dynamic speaking style, coupled with his relatability and authenticity, leaves a lasting impact on his listeners, empowering them to chase their dreams and overcome obstacles on their paths to success.
In addition to his pursuits in passive income and network marketing, Sixtus Okechukwu has established himself as a trusted realtor. Leveraging his deep knowledge of the real estate market, he assists clients in finding their dream homes or making profitable investments. Okechukwu's commitment to understanding his clients' needs, attention to detail, and negotiation skills make him a reliable partner in real estate transactions. Whether it's buying, selling, or investing, Okechukwu provides guidance and expertise to ensure his clients achieve their real estate goals.
Sixtus Okechukwu's passion for empowering individuals through passive income, network marketing, public speaking, and real estate has made him a respected figure in Imo State. His advocacy for financial freedom, dedication to personal growth, and ability to inspire others have touched the lives of many. Through his guidance and expertise, Okechukwu has become a catalyst for positive change in the lives of individuals seeking financial independence and personal success. As he continues to make a lasting impact, Okechukwu's contributions to his community and beyond are truly commendable.
Eunice Adaku Duru
17/05/2023