#Imostar: Meet SoloP the Multi-Talented Entertainment Dynamo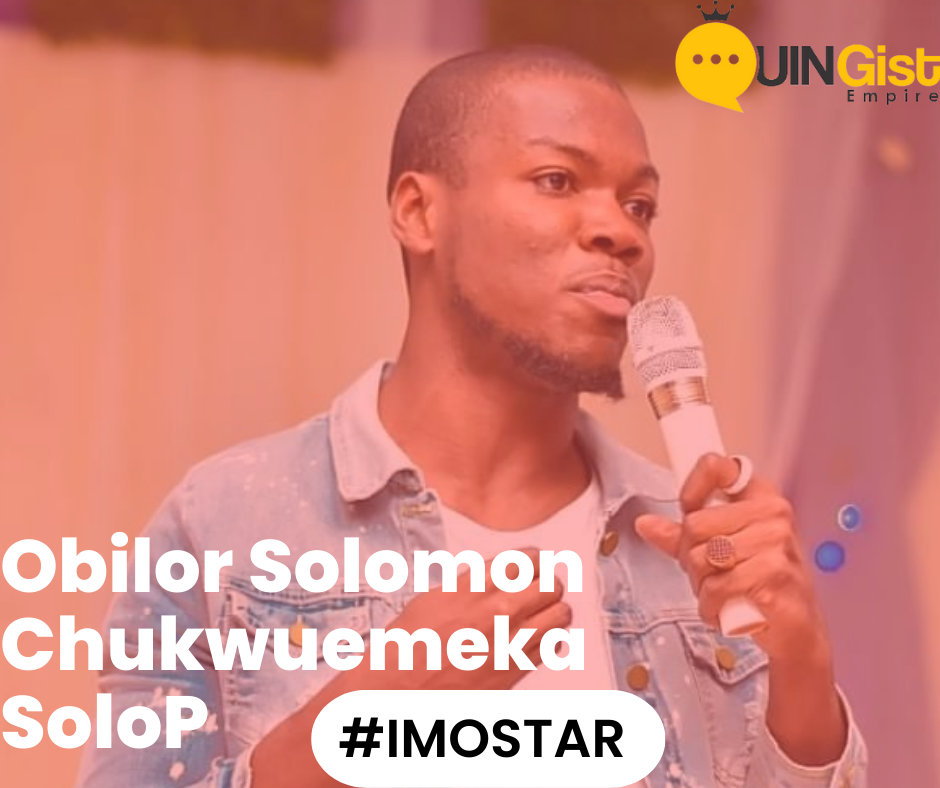 #Imostar: Meet SoloP the Multi-Talented Entertainment Dynamo
Obilor Solomon Chukwuemeka, also known by his stage name SoloP, is a multi-talented individual who hails from Isu LGA in Imo State. Born in Benin City and raised in Lagos State, SoloP has emerged as a prominent figure in the entertainment industry as a stand-up comedian, MC, and photographer. With his unique blend of talents, he has captivated audiences far and wide, leaving them in fits of laughter and joy.
SoloP's journey into the world of comedy began even before he went to Imo State University. His passion for making people smile and bringing happiness to their lives propelled him to make a career in entertainment. Armed with quick wit, charisma, and an uncanny ability to connect with his audience, SoloP quickly gained recognition for his exceptional comedic skills.
As the brand owner of 'MAN OF TALKS' and co-owner of 'COMEDY GOES TO CHURCH' – a gospel comedy event, SoloP has showcased his talents in numerous notable comedy events, not only within Imo State but also beyond. His performances have left a lasting impression on both audiences and fellow comedians, earning him a reputation as a top-tier entertainer.
What sets SoloP apart from his peers is his commitment to delivering clean and classy comedy. In an industry often marred by vulgarity and off-color humor, SoloP stands as a beacon of positivity. His performances are a testament to the fact that laughter can be achieved without compromising on values or resorting to offensive material.
One of SoloP's missions is to put Imo State on the entertainment map. By showcasing his talents locally and nationally, he aims to bring attention to the wealth of talent present in his home state. SoloP firmly believes that Imo State has the potential to become a hub for entertainment, and he actively contributes to making this vision a reality.
Through his performances, SoloP brings smiles, happiness, and laughter to people's faces and lives. He understands the power of laughter to heal, uplift, and unite individuals from all walks of life. SoloP's comedy transcends barriers, engaging with diverse audiences and leaving a positive impact wherever he goes.
Beyond his comedic endeavors, SoloP is also an accomplished photographer. His keen eye for detail and artistic sensibilities shine through in his photography work. By combining his skills as a comedian and photographer, SoloP has carved out a unique niche for himself in the industry, allowing him to express his creativity in multiple ways.
SoloP's journey is a testament to the power of following one's passion and staying true to one's values. With each performance, he continues to inspire and entertain, leaving a lasting impression on all those fortunate enough to experience his comedic genius. As SoloP's star continues to rise, we can expect to see him leave an indelible mark on the entertainment landscape, solidifying his place as one of Nigeria's most talented and beloved entertainers.
In a world that can often be filled with negativity, SoloP's dedication to spreading joy through clean and classy comedy is a breath of fresh air. He is a shining example of how laughter can bring people together and make the world a brighter place. With his unwavering commitment to his craft, SoloP is well on his way to achieving his mission of putting Imo State on the entertainment map and leaving a lasting legacy in the hearts of his audience.
Duru Eunice Adaku
22/05/2023