#ImoStar: Meet the extraordinary man called Jamie Pajoel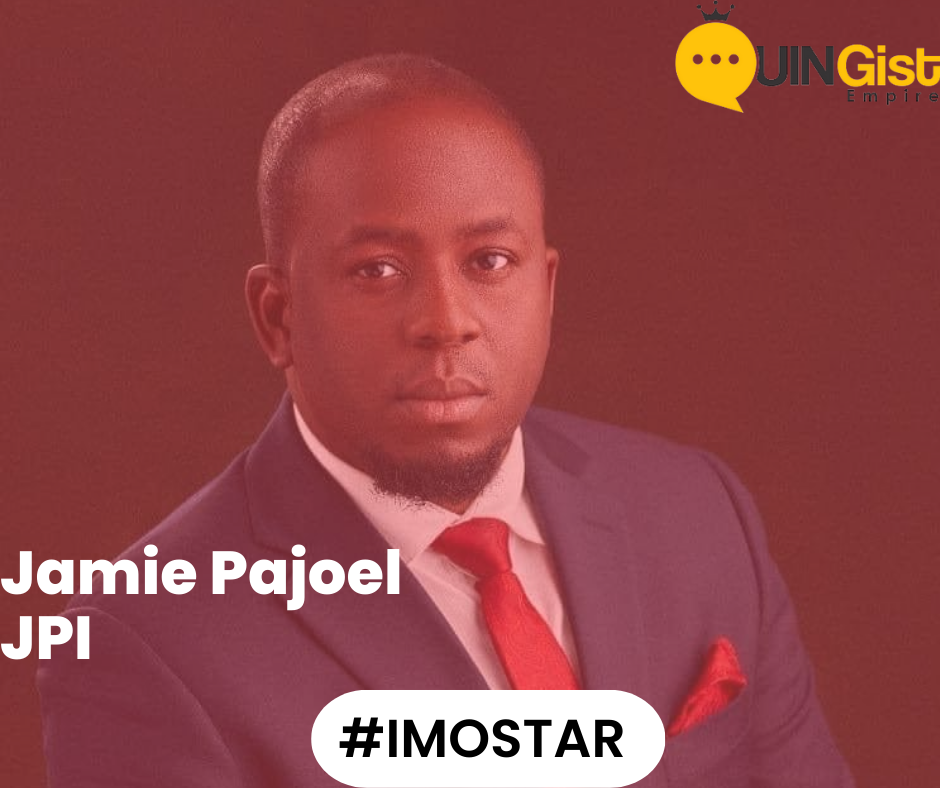 #ImoStar: Meet the extraordinary man called Jamie Pajoel
Jamie Pajoel is a name that resonates with leadership, education, and social development. He is a renowned educator, entrepreneur, consultant, leadership coach and public speaker who has made significant contributions to leadership development, work culture, and people, he has impacted many individuals and organizations in Nigeria, Canada and beyond.
Jamie Pajoel is the Founder of Jamie Pajoel International, an organization dedicated to promoting Legislative Leadership Education. He is also the President of Vantage Canadian College, an institution focused on providing quality education and training to students.
Hails from Imo State, Nigeria, Jamie Pajoel is a true example of how hard work, determination, and resilience can lead to success. He migrated to Canada in pursuit of a better life and has since made significant contributions to the country's educational and leadership sectors. Jamie Pajoel's passion for education and leadership development has led him to work with various institutions, government agencies, and corporate organizations.
Jamie Pajoel is the CEO of Jamie Pajoel International, Vantage Heights Capital, Vantage Certifications, and Vantage Group, which comprises of Vantage Consulting, Vantage Migration, Vantage Capital, and Vantage Canadian College.
Jamie Pajoel International is a management consulting and professional services firm that provides cutting-edge solutions to organizations and governments across the globe. The company is dedicated to improving work culture, enhancing people and culture, and developing leadership capabilities at all levels. Jamie Pajoel International offers customized training, coaching, and mentorship programs that are designed to empower individuals and teams to achieve their full potential and create value for their organizations.
Vantage Certifications is a leading provider of certification and accreditation services in the areas of quality management, environmental management, occupational health and safety, and information security. The company offers a comprehensive range of certification programs that help organizations to meet international standards and best practices in their respective fields. Vantage Certifications is committed to providing impartial, reliable, and efficient certification services that add value to its clients' businesses and enhance their reputation in the marketplace.
Jamie Pajoel is also the convener of the Jamie Pajoel International Annual Leadership Conference, a premier event that brings together leaders from diverse backgrounds and industries to share their experiences, insights, and best practices. The conference provides a platform for networking, learning, and collaboration and features keynote speeches, panel discussions, and interactive sessions that cover a wide range of topics related to leadership, innovation, and change management.
In addition to his entrepreneurial ventures, Jamie Pajoel has also made significant contributions to the academic community as the CEO of Vantage Canadian College, a leading educational institution that provides high-quality training and certification programs. The college is committed to providing innovative and practical learning experiences that prepare students for successful careers in their chosen fields. I can proudly say that establishing Vantage Canadian College in Nigeria is one of the best Jamie Pajoel's notable achievements.
Jamie Pajoel's achievements and contributions have been recognized by various organizations and institutions, Leadership development is another area that Jamie Pajoel is passionate about. He is a recipient of the State of Michigan Leadership Award and has also been a delegate to the President Bill Clinton Leadership Program, where he had the opportunity to engage with other global leaders and exchange ideas and experiences. These accolades are a testament to his leadership skills and his commitment to the development of leaders.
He believes that the success of any organization lies in its people. Therefore, he invests in his team and creates an enabling environment for them to thrive. He fosters a culture of inclusiveness, transparency, and accountability that empowers everyone to give their best.
In conclusion, Jamie Pajoel's contributions to the educational and leadership sectors are immense. He has impacted many lives and has inspired many to achieve their goals. His work culture, people, and leadership development skills are qualities that make him stand out.
Jamie Pajoel is a visionary leader and entrepreneur who has made significant contributions through his various ventures, he has demonstrated a commitment to excellence, innovation, and social impact, and has helped to empower individuals, teams, and organizations to achieve their full potential. His passion for leadership and his entrepreneurial spirit continue to inspire and motivate others to create positive change in their communities and beyond.
Duru Eunice Adaku
14/05/2023