Invitation: Conversations with The Don ( Emeka Nobis) at 43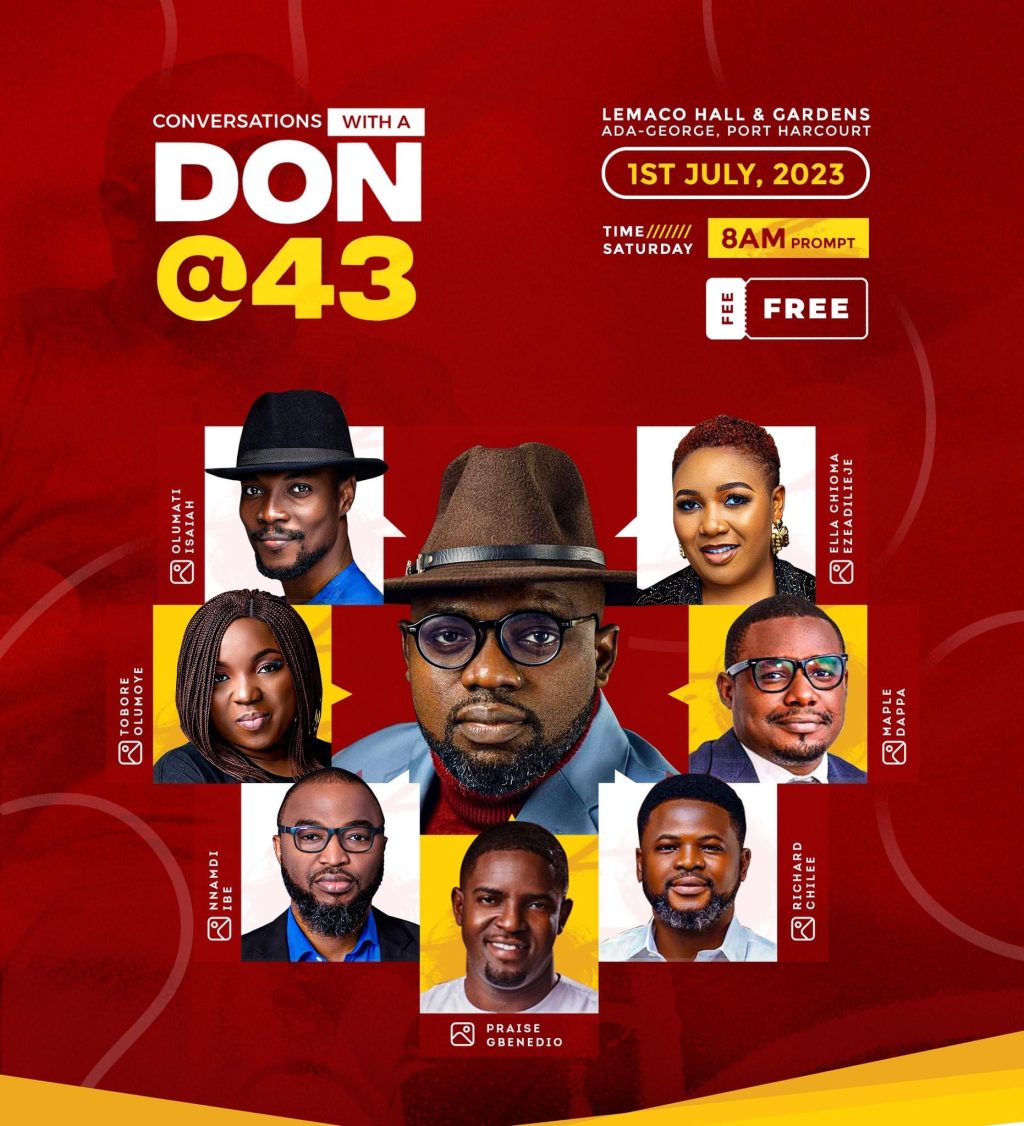 Invitation: Conversations with The Don ( Emeka Nobis) at 43
Join us for an inspiring and thought-provoking event, Conversations with the Don at 43, happening at Lemaco Hall & Gardens in Ada-George, Port Harcourt, on Saturday, the 1st of July, 2023, starting at 8 am on the dot.
This exclusive event will bring together a dynamic lineup of influential personalities who have made significant contributions in their respective fields. Prepare to be enlightened and empowered as they share their insights, experiences, and secrets to success.
Our distinguished speakers include:
Jamie Pajoel – A Renowned Canada based Leadership Coach
Olumati Isaiah – Renowned Entrepreneur and Business Strategist
Ella Chioma Ezeadilieje – Award-winning Actress and Philanthropist
Tobore Olumoye – Media Personality and Host
Maple Dappa – Acclaimed Musician and Songwriter
Nnamdi Ibe – Financial Expert and Wealth Coach
Richard Chilee – Inspirational Speaker and Author
Praise Gbenedio – Fashion Designer and Style Influencer
The event will be expertly hosted by Emeka Nobis, the Don of Shameless Marketing, who will ensure an engaging and interactive atmosphere throughout the day.
As an exciting highlight, we have organized a special panel session on "You, Leadership, Success, & Wealth" with our esteemed guest, JAMIE PAJOEL INTERNATIONAL, a renowned Leadership Coach based in Canada. This session promises to provide valuable insights and strategies for personal and professional growth.
Don't miss out on this incredible opportunity! Register now for FREE by clicking this link: https://bit.ly/DonAt43 to secure your spot at Conversations with The Don at 43.
Join us as we celebrate the accomplishments of the Don at 43 and embark on a journey of inspiration, learning, and personal development. We look forward to welcoming you to this transformative event!
For inquiries, please contact us at:
Email: emmynobisdon@gmail.com
Phone: +2349025153322
Note: Limited seats are available, so secure your registration at the earliest to reserve your place at this remarkable event.
Eunice Adaku Duru
12/06/2023