Jamie Pajoel Sponsor 27 Imo Youths in Attending JPI Annual Leadership Conference in Kigali, Rwanda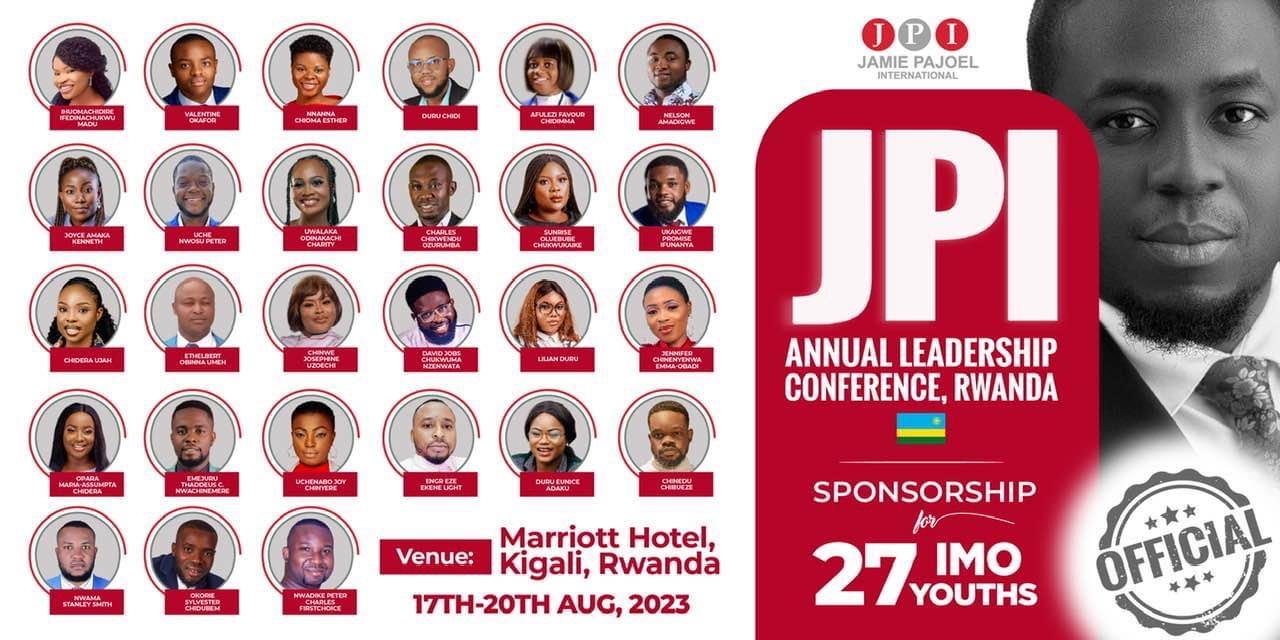 Jamie Pajoel Sponsor 27 Imo Youths in Attending JPI Annual Leadership Conference in Kigali, Rwanda
According to Jamie Pajoel, "The greatest investment is HUMAN CAPITAL DEVELOPMENT" hence he made a hard decision to take up the task of sponsoring 27 Imo State to attend JPI LEADERSHIP CONFERENCE, in RWANDA ????????
This is a platform and opportunity NO BODY gave in. He is successful so that others can be successful through him. Jamie is living a LEGACY for generations to come.
Leadership positions now require individuals who can strategize effectively, act decisively, drive performance, cooperate successfully, and invent imaginatively.
JPI Annual Leadership Conference will assist experienced leaders and senior-level professionals in distilling solutions from global experts that will help them enhance their personal and organizational productivity.
It combines existing knowledge, case studies, and practical discussions based on current realities to equip participants with contemporary leadership abilities and values to promote sustainable organizational growth and profitability.
The JPI Annual Leadership Conference in Kigali, Rwanda in focus on Organizational Leadership, Simplifying Processes, identify underlying problems in Business and addressing ineffective Leadership practices, all of which can give rise to a dysfunctional system if ignored.
This will incorporate real case studies and best practices needed for developing personal effectiveness, leadership competences and driving organizational growth and success.
JPI Annual Leadership Conference is open to all professionals and business personnel from all walks of life, including but not restricted to all Government officials, Captains of industries, Senior Executives, Managing Directors, HR Professionals, Consultants, Bankers, Doctors, Engineers, Artists, Fashion Designers, Entrepreneurs, Senior and Middle Level Managers from different organizations across Africa.
Register now for the Rwanda Leadership Conference Experience.
www.jamiepajoelinternational.org/rwanda
For Enquiries Call: +234904 812 4612 or +234813 682 7008
info@jamiepajoelinternational.org