Ji Mbaise: Between the fighters, runners, buyers and sitters By Chinedu Hardy Nwadike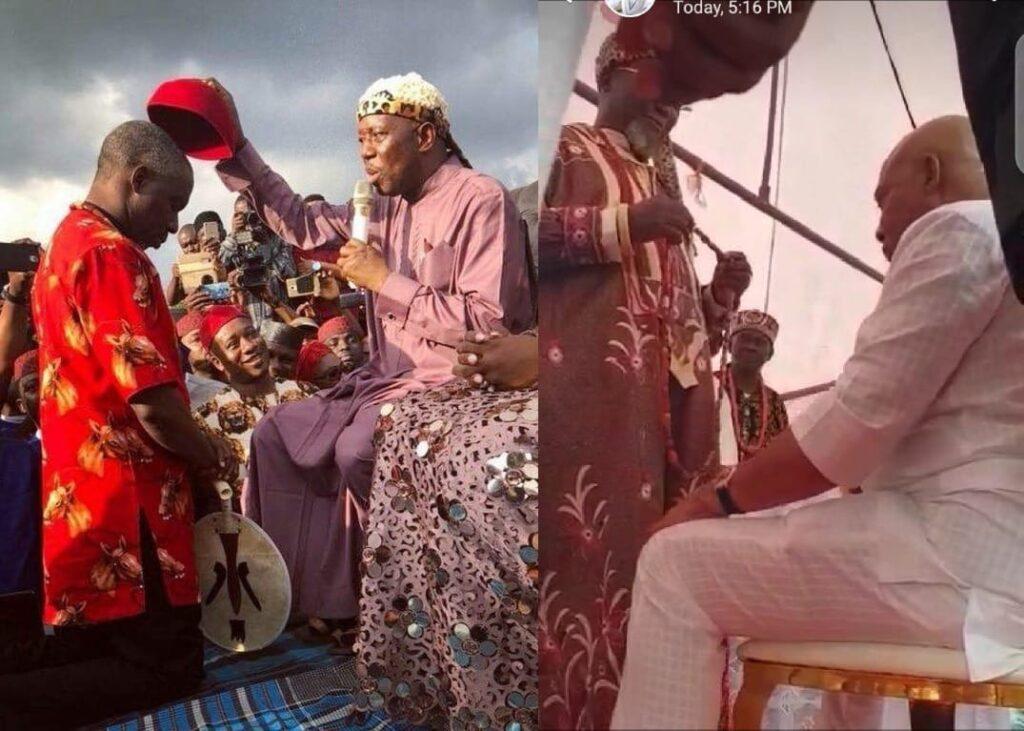 Ji Mbaise: Between the fighters, runners, buyers and sitters By Chinedu Hardy Nwadike
As expect the Mbaise nation in Imo State has produced another annual spectacle in the name of New Yam Festival.
What was supposed to be a cultural festival at least or maybe a carnival if the entire clan is united keeps being divided into pieces of what used to be a whole.
Ji Mbaise used to be a sacred celebration as Iri Ji (New Yam Festival) is known to be across Igbo land, but the since the political veil was turn in Imo and politicians especially the governors and Gubernatorial aspirants have turned it into a cold war wrestling ring.
The history of Imo State has not done the celebration well with packets of violence recorded in the time of Rochas Okorocha.
The same Rochas Okorocha, seeing the political gold mine the Mbaise nation could be ensured his anointed successors Mr. Uche Nwosu is conferred on a chieftaincy title that will end up see some traditional rulers suspended when that succession plan failed on 2019.
The heat if that event has lingered till date as every other political leader in the state has followed that divide and rule template set by now Orlu Zone Senator, Chief Okorocha.
While the game was ahead of 2019 Gubernatorial election, the Mbaise nation later unveiled that they are owners of the chess board when a total of 149,971 votes were recorded in the three local governments of the clan.
The candiate of of Peoples Democratic Party PDP, Hon. Emeka Ihedioha raked 127,241 of that 149,971 votes, more than 50 percent of the 273,404 that saw him emerge Governor before being ousted by the Supreme Court.
With politicians now knowing that there could even be more votes from the three local governments, they now do everything possible to be politically relevance in the area.
Pray For Traditional Rulers
Mbaise traditional rulers need prayers as they have been the spear probing the heart of their sacred heritage.
Should one say it's all about money and power as that would be unfair accusations, but the words have still been said as traditional rulers often don't have a choice as to dance to the tune of the state governor or their agents, if they don't want to see their Staff of office missing the next morning.
Most times they are divided between political parties or should i say between the braves and betrayals or PDP and APC.
Whichever way, someone must have the leftovers and make it look like the main meal.
Whoever takes his cut first, politics or tradition, still leaves the rest for politicians who are not in power.
The Buyers have been ready.
In 2018 Eze Leo Nwokocha, then Chairman of the Mbaise Council of Traditional rulers worked against the directives of Ezurezu Mbaise who through the then President-GeneralChief Cyril Anyanwu, canceled the general Iri Ji Mabise.
Eze Leo Nwokocha succeeded and even when the event was boycotted by prominent Mabise sons and daughters, then Governor Rochas Okorocha ensured it had an attending crowd that will be the envy of the history of the event.
Uche Nwosu got the title and even when many would replace got with bought, something of similar sounds but different meanings and intentions, the truth will depend on.your political alignment then and now. It will keep changing.
Even when Ezurezu Mbaise condemned and disowned the actions of the traditional rulers, one can never deny the fact that the event happened and we will never forget.
We will also not forget the events that took place when Okorocha's succession plan failed. How traditional who found favour in the sight of ousted Emeka Ihedioha bullied the others with suspensions and banishments.
It's even a sad story like in Ukraine where they say Russia is fighting with the west via Ukraine, while all the bombs go off in not USA, UK, but in Ukraine.
This is me saying Mbaise is only hurting Mbaise.
The Sitters Have Arrived
Maybe i don't know much about Igbo traditional institution, maybe because i read history books authored by men who are Europeans at heart.
We understand the absoluteness of the power of a Governor, but having one seated while a traditional rulers stands to confer Chieftaincy title on him makes it look like a joke.
We don't have to make our tradition a joke just because of money and power.
I see the traditional rulers who let that happen same i see all the bishops of "Agnedo" diocese who attended Bola Tinubu's unveiling of his vice presidential candidate.
It is a real joke and slap on both sides of the faces of the entire Mbaise Nation.
Governor Hope Uzodinma will not actually be the first politician sitting to take a title, it has been happening in Imo State, so it won't be a big deal, no one should eve border i said this; I'm even sorry for bringing it up.
But you all know what is right or wrong depending on where your daily bread comes from.
The Runner Keeps Running
Like in mathematics where we have to find variables like x and y with some constants, it has been the case of Hon. Emeka Ihedioha, the constant who have found Rochas Okorocha in the past and is now solving his way to finding the values of Governor Hope Uzodinma.
Sadly he has been fighting to run alway, always picking what is left after the people in Government House have taken their share.
Sadly he wasn't able witness much of this event as a governor, and just that once in 2019, he was able to make it a perfect carnival for "Umunne Governor" with other governors like Rt Hon Aminu Tambuwal in attendance.
Ever since, Ihedioha will simply find a way to have his personal celebration boycotting whichever version organized for the "owner" of Douglass House.
It was same this year and one will begin to wonder when this will end. Won't it be good to have just one event with everyone in attendance or must it always be held in two different days for people with two different political ideologies – surely a waste of funds but business for decorators, caterers and others.
Emeka Ihedioha will always be an Mbaise man and no matter how one sees it, the 'Mbaise Agenda' will always be alive politicians like him understands what it means to be the foremost custodian of this mandate.
Last time i delved in a similar subject, i had my twitter handle "hardynwa" suspended for almost a year for reasons that was never explained by the company. Something unknown persons even called me to brag about achieving.
I received threats via calls and emails from people within and outside the country all because a group of people who feel their wrong is good, exist.
In this case, if the truth is what it is meant to be, i expect more, but then as they say that once upon a time begins a story, there could much more for us all if we work together to reduce wastes and damages caused by politicians who lack sustainability mentality.
My name is Chinedu Hardy Nwadike and i write from Owerri, Imo State. chinedu@otowngist.com