#JPI Annual Leadership Conference Held By Jamie Pajoel Is The Largest Leadership Event In The Southeast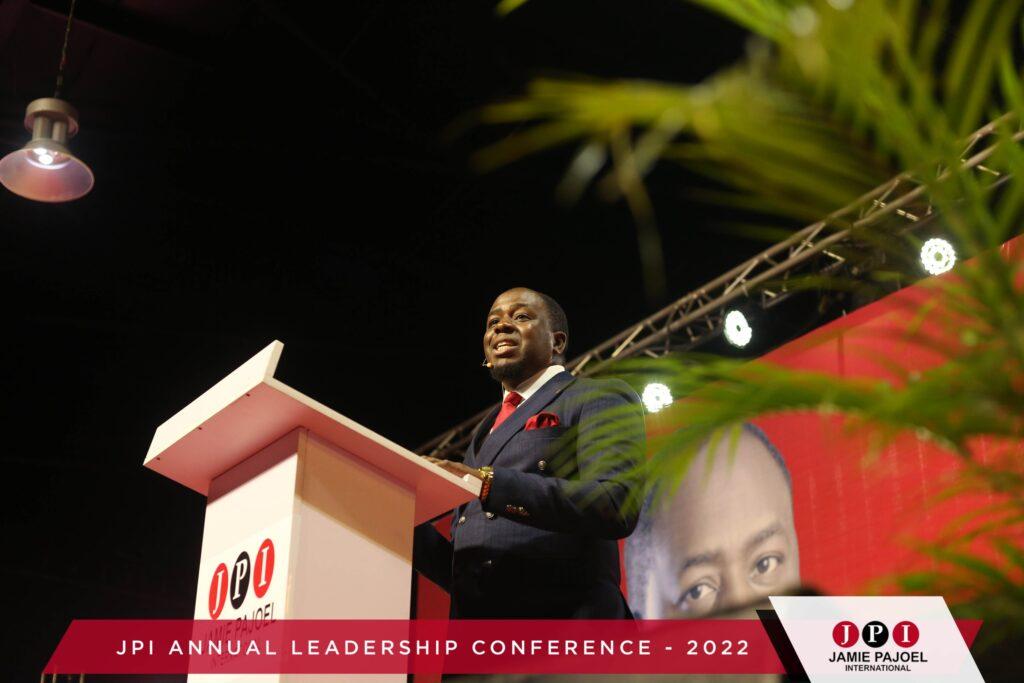 #JPI Annual Leadership Conference Held By Jamie Pajoel Is The Largest Leadership Event In The Southeast
OVER 3000 DELEGATES ATTENDS JPI ANNUAL LEADERSHIP CONFERENCE ON THE 13TH OF AUGUST, 2022
Jamie Pajoel International a globally recognized NGO with operations in Canada and Nigeria held its Annual Leadership Conference with over 3000 Delegates in attendance.
JPI Leadership Conference engaged a wide array of participants including Civil Servants, Lawyers, Doctors, CEO, Civil Societies, Youths, Founders and Coordinators of NGOs and some international delegates across other countries
The conference incorporated case studies as well as best practices in redefining Leadership and Governance, which brought out recommendations that will help build sustainable systems and improve standard of living in the country.
Speakers at the Conference includes;
H/E Mr. Peter Obi, Jamie Pajaol, Dr. Linda Iheme, Prof. Pat Utomi, Hon. Dr Chris Asoluka, Dr. Linus Okorie, Dr. Summy Smart Francis, Adepeju Jaiyeoba, Nnadi Austen, Dr. Edema Oreofe.
Chief Executive Officer Pamtech Group, Engr Chidomere Ndubuisi , Ajah Excel , Barr Ndidi Anike- Chairperson FIDA Imo branch, Emeka Nobis were panelist at the talkshow.
In the keynote address, the presidential candidate of Labour Party (LP) Mr Peter Obi used the conference to groom and brainstorm on the need for leadership based on example, as he said that 100 million Nigerians are currently living in poverty amidst the nation's huge resources.
He stressed that "Nigeria has all it takes to be a great nation, but added that the country's greatest setback was bad leadership, corruption and poor policy implications."
Speaking on the theme "WAY FORWARD" Obi stated that the Nigerian economy cannot advance with the current state of poor power supply, a situation that has kept the country backward.
According to him, if Nigeria can generate 20,000 megawatt, the country's economy would transform within a shot period of time.
"Nigeria has borrowed 500 million dollars in the last 20 years, if Nigeria had spent 5 per cent of the money borrowed so far on entrepreneurship and power generation, the country will compete with advance countries.
"Our leaders have continued to talk about poor revenue, today we have 100 million Nigerians living in poverty and yet our leaders have not found solution to our problems", he said.
He however advised Nigerians to remain steadfast and always be ready to contribute meaningfully to the growth of the nation.
Prof Pat Utomi in his speech said vision and ideas were the key factors to drive any economy.
He said any leadership without a clear vision was bound to fail, adding that Nigerian leaders failed the country due to poor vision and ideas.
According to him, a 21st century leader must be familiar with the system and understand properly the dynamics of leadership.
Dr Linus Okorie, Chief Executive Officer GOTNI Leadership Center in his submission blamed Nigeria's poor economic situation on maladministration of previous leaders.
The convener of the conference, and founder Legislative Leadership Education, Canada, Ceo Vantage Migration, President -JPI Mr Jamie Pajoel, stated that the conference was aimed at incorporating case studies, redefining leadership, governance, and to bring recommendations that would help sustain the system.
He said the 2022 annual JPI leadership conference would also incorporate people of different professions across the nation and some international delegates
Pajoel stated that internal limitation was a big factor that could work against the success of any nation or individual.
"Internal limitation is very dangerous, as a nation or individual, we need to learn how to manipulate limitations to address counter productive syndrome.
"We must be ready to develop ourselves, our capital is the relationship we keep, we must be ready to utilize it.
"Generational curse is not spiritual but human factor, what we are facing today in Nigeria is the actions of our past leaders, we must be ready to confront the situation in our time", he stated.
He attributed negative interpretation as the major cause of setback. "Negative interpretation helps the mind to work against you.
"Don't allow fear to stop you, be positive minded and confront every situation with faith", he advised.
Jamie Pajoel International has over the years supported Imo State youths by giving them global opportunities to attend international programs. It's an NGO with a vision to support over 1000 families under JPI Family Support Series, Provides Education Scholarships through JPI Global Exchange Program and support young entrepreneurs to gain access to funding through JPI ENTERPRISE GRANT AWARD