#JPI: Meet The Conference Speakers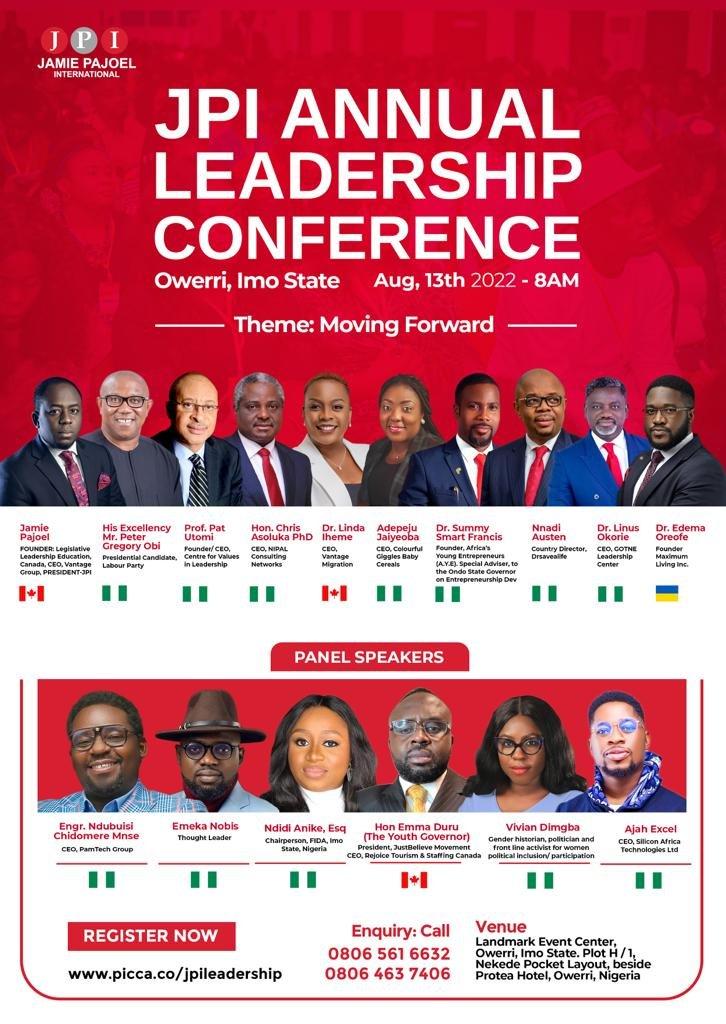 JPI ANNUAL LEADERSHIP CONFERENCE!!!
It is with great pleasure that we write to announce that Prof. Pat Utomi will be speaking at the biggest Leadership Conference in the Southeast on the 13th of August.
If you are yet to register, just click to join the delegate group
Venue: Landmark Event Center, Owerri, Imo State.
Plot H / 1, Nekede Pocket Layout, beside Protea Hotel, Owerri, Nigeria
CONFERENCE SPEAKERS
JAMIE PAJOEL -HOST
FOUNDER: LEGISLATIVE LEADERSHIP EDUCATION, CANADA, CEO, VANTAGE GROUP, PRESIDENT- JPI
His Excellency
Mr. Peter Gregory Obi
PROF. PAT UTOMI Prof.
Founder/ CEO: Centre for Values in Leadership.
Hon.Chris Asoluka PhD
CE0 NIPAL consulting Networks
Dr. Linus Okorie
CEO: GOTNI Leadership Centre
Summy Smart Francis (Dr)
Founder, Africa's Young Entrepreneurs (A.Y.E)
Special Adviser, to the Ondo State Governor on Entrepreneurship Dev
Dr. Linda Iheme
CEO: Vantage Migration
Adepeju Jaiyeoba
CEO: Colourful Giggles Baby Cereals
Nnadi Austen
Country Director, Drsavealife
Dr. Edema Oreofe
Founder: Maximum Living Inc
PANEL SPEAKERS
Engr. Ndubuisi Chidomere MNSE
CEO of Pamtech Group
Dr Muomalu Chinwe
MBBS, FMC Paed. Mph Liverpool
Neonatologist
Cradle and Mum Specialist
Hospital , Owerri.
Ajah Excel
CEO, Silicon Africa Technologies Ltd
Under Vivian
Gender historian, politician and front line activist for women political inclusion/ participation.
Hon Emma Duru
President JustBelieve Movement and CEO Rejoice Tourism and Staffing Canada.
Ndidi Anike, Esq.
Chairperson, FIDA, Imo State, Nigeria.
With years of ground-breaking experience, Jamie Pajoel International has become a globally recognized NGO with operations in Canada and Nigeria. Jamie Pajoel International is a registered non-profit organization under the government of Canada to serve as a platform for human capital development.
This year, JPI ANNUAL LEADERSHIP CONFERENCE aims to engage a wide array of participants including Civil Servants, Lawyers, Doctors, CEOs, Civil societies, Founders and coordinators of NGOs, and some international delegates across other countries. The conference will incorporate case studies and best practices on redefining Leadership and Governance and bringing out recommendations that will help build sustainable systems and improve standard of living.
Conference Date: August 13th, 2022
Time: 8am- 4pm.
Venue: Landmark Event Center, Owerri, Imo State.
Plot H / 1, Nekede Pocket Layout, beside Protea Hotel, Owerri, Nigeria