#Movie: Funke Akindele's 'Battle on Buka Street' makes history in US theaters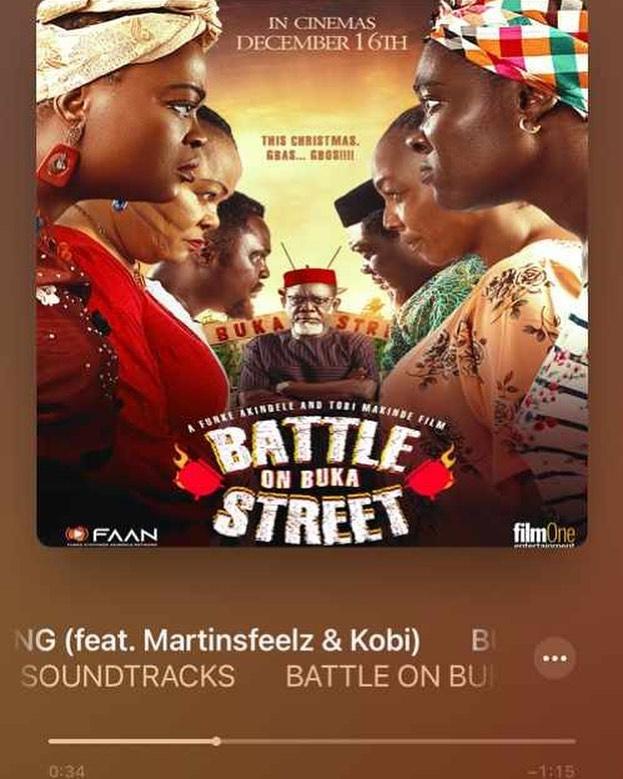 #Movie: Funke Akindele's 'Battle on Buka Street' makes history in US theaters
January 4, 2023040
On Wednesday, film production and distribution platform FilmOne Entertainment (Nigeria) announced that "Battle on Buka Street" has grossed more than $61,000 in theaters across the United States.
In a statement, they noted that over the four-day New Year's weekend, the film grossed $61,000.
The film, directed by Funke Akindeleit was distributed by FillmOne and Part Two Media in the United States with support from Amplify Africa.
The film tells the story of two women who find themselves at odds again after a long rivalry when they start food businesses on the same street.
The cast ensemble includes Funke Akindele, Mercy Johnson, Femi Jacobs, Tobi Makinde, Sola Sobowale, Kevin Ikeduba, Nkem Owoh, Tina Mba, Femi Jacobs, and Wumi Toriola.
According to FilmOne, with the support of Amplify Africa, the film, released in December, is the first of its kind in the US.
Its controlled releases at 11 Regal Cinemas in small shows resulted in sold-out runtimes across the country.
They add that it is Nollywood's first indigenous release in the United States.
Major US theater Regal also noted that the film was added to another 11 locations in the second week due to strong demand and sold-out tickets.
Exceed expectations
Following its wide acceptance, Craig Shurn of Part Two Media said that they always knew that 'Battle on Buka Street' had the potential to do well in the US.
According to him, its blockbuster results and its status in Nigeria were decisive, but they never expected these figures for the first US Nollywood release.
"All credit to star, director and producer Funke Akindele, who worked her magic on her over 15 million Instagram followers," he added.
He also highlighted that Africans in the US have been starving for a movie like this.
"The US African Diaspora has been underserved and hungry for true African content, especially theatrically, for a long time. It's an honor to finally bring you 'Battle on Buka Street'. It's a great start, and it's exciting what the future holds."
Moses Babatope and Kene Okwuosa of FilmOne Entertainment added that with the huge release of 'Battle on Buka Street', the Nigerian film has come full circle and gained more attention from international audiences.
"As Nollywood's first indigenous release in the US, this film is performing beyond expectations and is an indication of what we should expect this year for world premieres of Nigerian films. In a few months and years, we expect Nollywood releases to be a constant feature in theaters across the US, Europe and beyond," he added.
FilmOne and Regal Cinemas also announced that the US and UK should look forward to Toyin Abraham's "Ijakumo: Born Again Stripper" on January 13.