#MYS2021: Mbano Youths Summit 0.1, Taking the lead as youths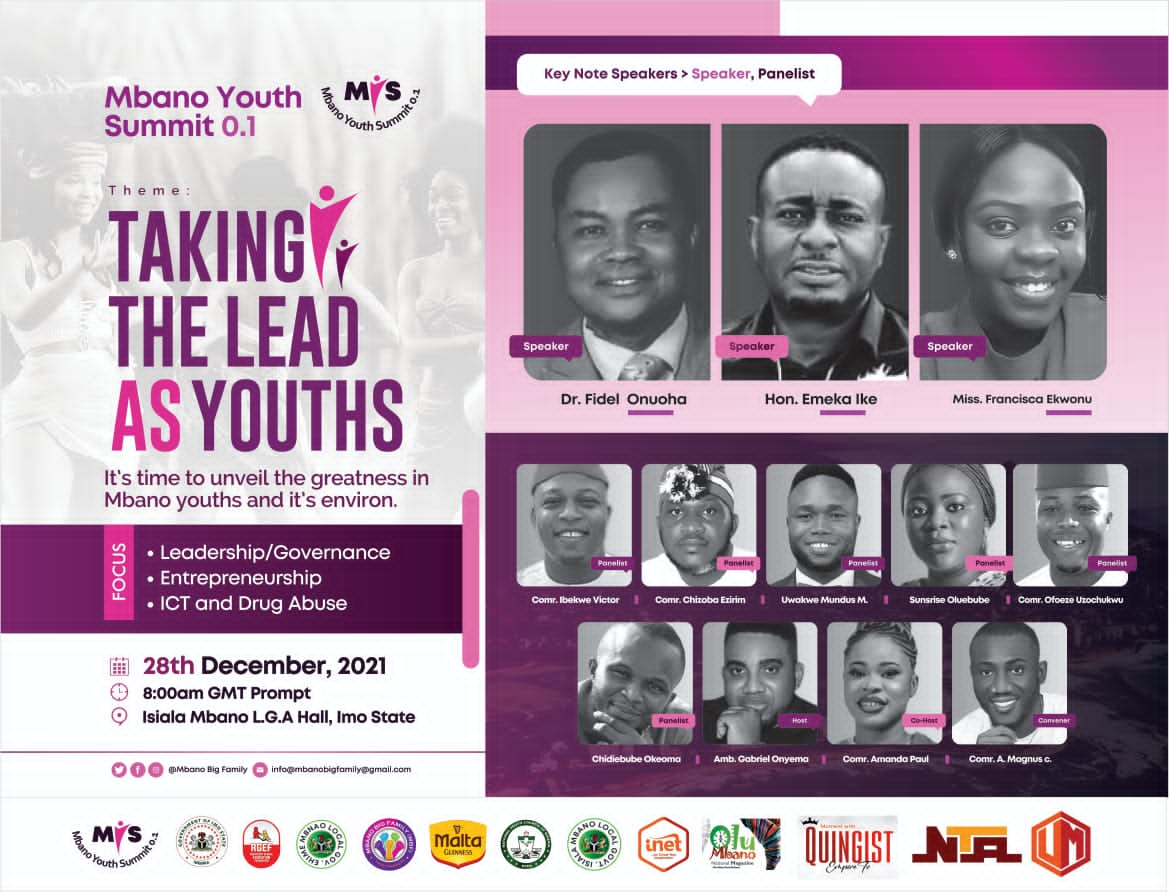 #MYS2021: Mbano Youths Summit 0.1, Taking the lead as youths
It's a season of youths awakening, and Mbano youths are not left out.
Are you a Progressive Mbano Youth?
Do you believe in Development?
Are you hungry for a better Change?
---
This Summit is for you…
Mbano Big Family, a group made up of sons and daughters of Mbano both Isiala and Ehime has raised to set the pace for others to follow…
---
Mbano Big Family presents Mbano Youths Summit 0.1, the first of its kind, Theme: Taking the lead as youths
It's a time for youths to wake up and make some certain changes, it's time to unlock the greatness in Mbano Youths…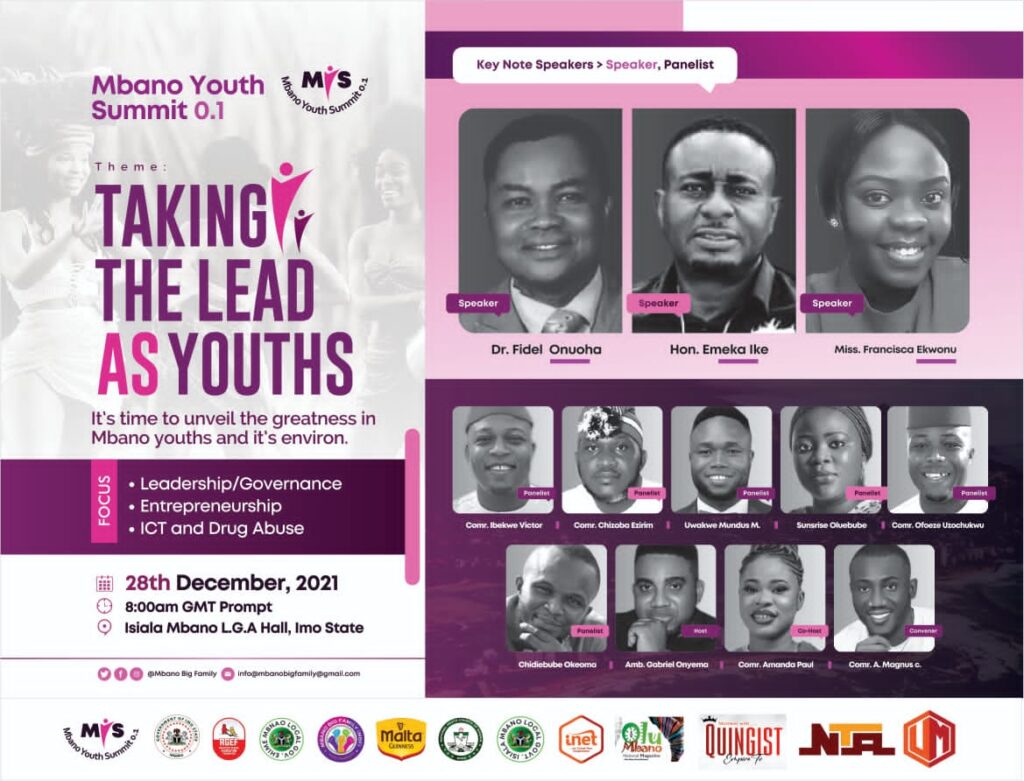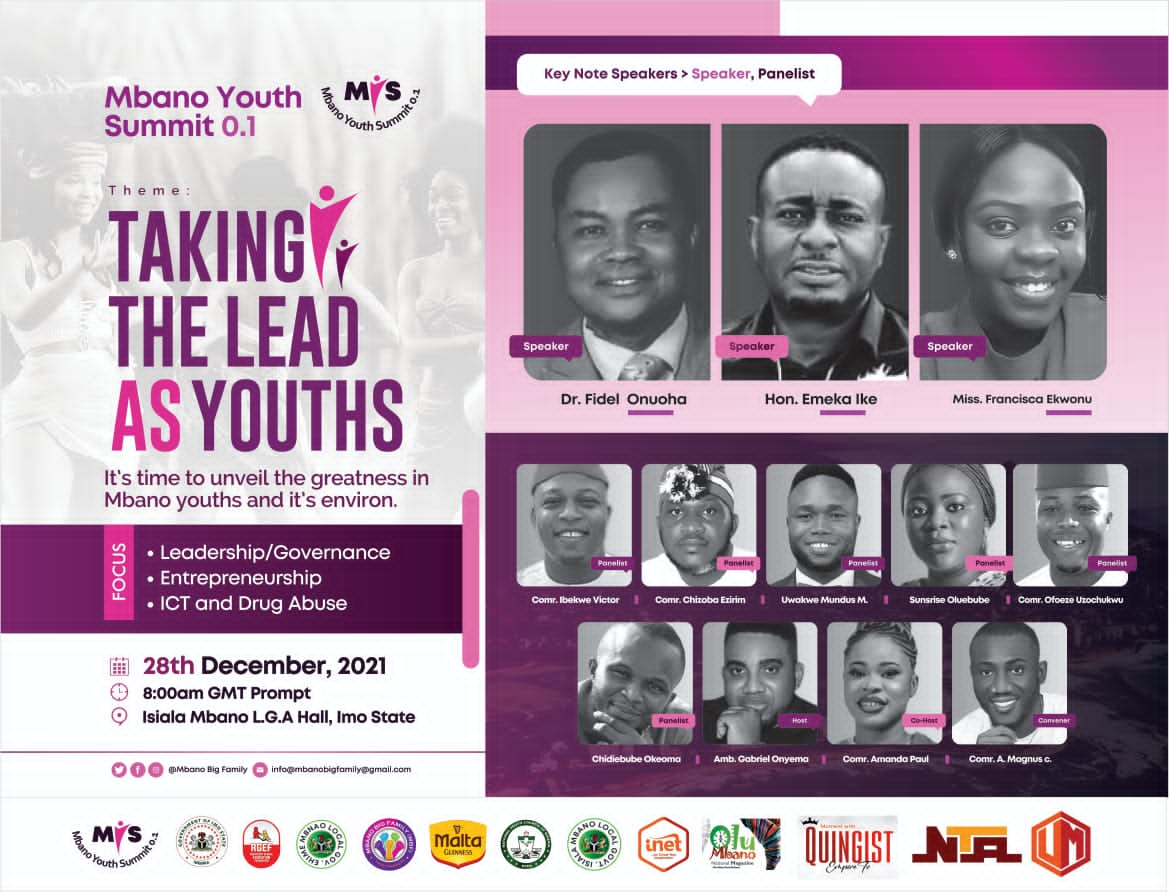 Speakers are:
Dr. Fidel Onuoha
Miss. Francisca Ekwuonu
Hon. Emeka Ike
Panelists are:
Comr. Ibekwe Victor
Comr: Chidiebube Okeoma
Amb. Chidera Gabrial Onyema
Miss. Sunrise Chukwukaike
Comr. Amanda Paul
Mundus Uwakwe M
Comr. Chizoba Ezirim
Comr. Oforeze Uzochukwu
Comr. Magnus A.O.
And many others.
---
Make a Date with Mbano Big Family on Tuesday the 28th of December, 2021
Venue: Isiala Mbano LGA Hall
Time: 8:00am
---
As we discuss and Suggest way forward For Mbano Youth's.
For more inquiries contact: 08132211804 and 0814 825 4353