#NewKidney4Nora: A campaign to raise 19Million for LoveNora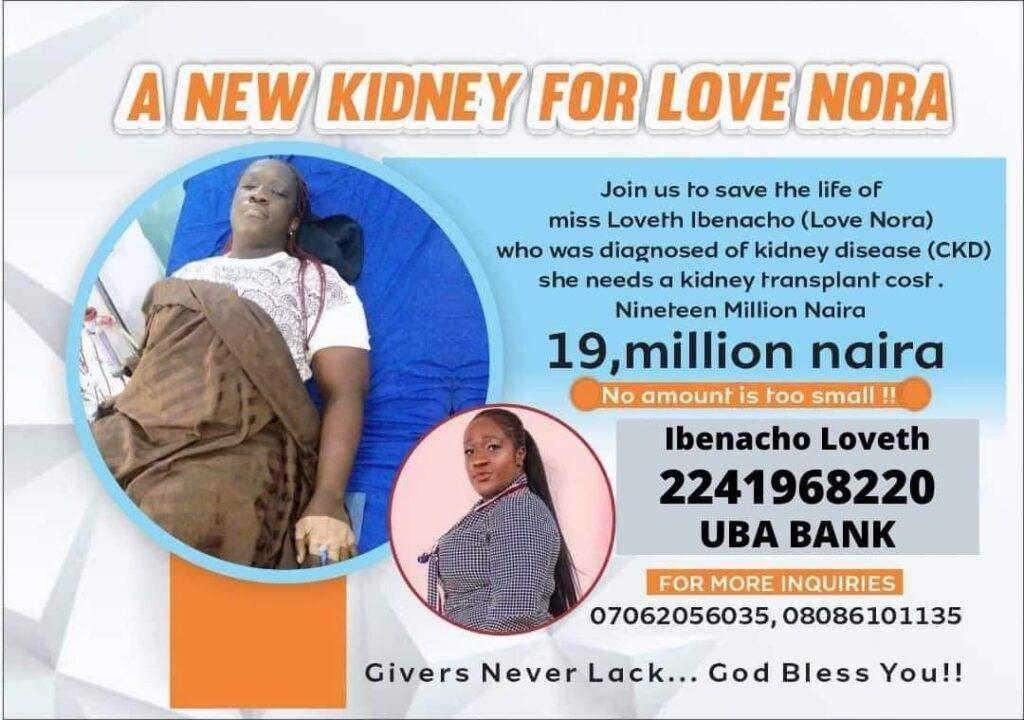 #NewKidney4Nora: A campaign to raise 19Million for LoveNora
An Imo based lady with visions and a lot to offer is in need of help, it has not been an easy for her and her family, moving from one hospital to the other, all to keep her alive.
This is an official flag off for the #NEWKIDNEY4NORA Campaign.
Love Nora has gone for series of scans and tests and the results shows that not only is her kidney affected, but her liver was affected and the scan reveals that she has fibroid too.
Dear Family, as we all are praying, please let's SUPPORT LOVE NORA FINANCIALLY,
Enquiries has been made from different hospitals, she needs 19Million naira (19,000,000) Naira for both the transplant and her overall general treatment (the liver & the fibroid) and also the expenses of the 2nd person that is to go with her.
This may sound huge but I believe it is nothing if we all unite our forces.
Please, we need each and everyone's hand on deck now for Nora.
Please tag everyone you think can be of help to us now, we need every single help we can get.
Please send any form of support to her account below
??????????????????
ACOUNT NUMBER:2241968220
BANK: UBA
ACCOUNT NAME: IBENACHO LOVETH OLUCHI.
#NewKidney4Nora #SaveLoveNora