#Nigerian men arrested in India for allegedly duping 60 women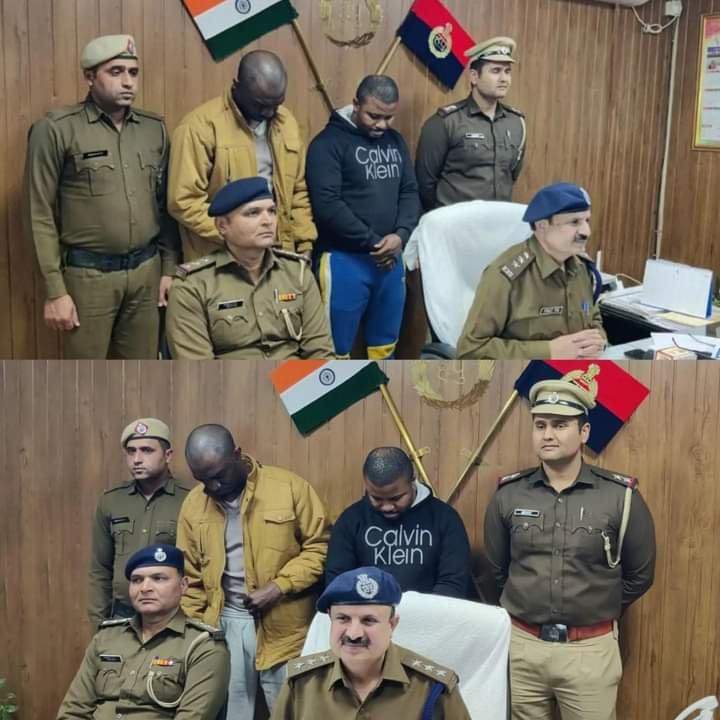 #Nigerian men arrested in India for allegedly duping 60 women
Two Nigerian men arrested in India for allegedly duping 60 women on matrimonial sites by posing as doctors and engineers
Two Nigerian nationals have been arrested in India for allegedly duping at least 60 women from different states of millions of rupees on matrimonial websites.
The suspects identified as Martin Valentom and Tony Ifeanyi, were arrested by Gurugram police from Delhi's Duraj Vihar and Mohan Garden respectively on Monday night, February 6, 2023.
Police said the fraud came to light when a woman from Sultanpur in Uttar Pradesh, living on rent in DLF Phase 2, lodged a police complaint on February 2, stating that she was duped of ₹70,000.
Preet Pal Sangwan, assistant commissioner of police, (crime), said they formed teams and started investigating the case.
"A man approached the victim through a matrimonial website and introduced himself as Kuma Jordan — a pilot based in Bangalore in July last year. After chatting for a few days, he told the victim that he is from France after which she stopped talking to him," he said.
The woman alleged that in July 2022, she accepted a request from a man who claimed to be from Bangalore and later shared her mobile number with him. Both of them started talking but when the woman came to know that the suspect was not from India, she stopped entertaining him. "On January 1, I sent a New Year greetings message to him by mistake and we again started talking. He told me that he will visit India for a vacation and shared his air ticket," the victim said.
On January 31, the victim received a call from 'Mumbai airport' and officials wanted to verify her credentials. "They asked me to pay ₹55,500 for the suspect's release because he was carrying a lot of Euros. I paid the amount in a bank account number given to me. After a few minutes, Jordan called me and asked me to transfer ₹15,000 more for flight tickets from Mumbai to Delhi and I again transferred the money. After 30 minutes, I again received a call from the 'airport' and a woman told me to pay ₹95,000 as custom duty, but I refused," she said in her complaint, requesting anonymity. Lib